I sweated so much this weekend that I feel like a walking piece of beef jerky today. With temps in the mid-upper 90's with high humidity and a heat index in the 100's, it was just disgusting. There's no other word for it. Welcome to Texas summer. It's gross, I hate it.
I also had a lot of outside plans for the weekend, so the heat was unavoidable. We're still waiting for the back hay field to get cut (could it stop raining for just like a week please?), since right now the grass is too high and thick to safely ride out there. In the meantime we've been exploring the neighborhood, looking for other open, already mowed spaces where we could also ride. The neighbors are nice, and we met one on Saturday morning that is happy to let us do conditioning work around his big field. We still need to stalk/hunt down talk to the guy across the street with the HUUUUUUGE pasture, but we're making friends and progress.
On Saturday most of my outdoor activities were limited to riding and running errands, so I was hot and sweaty and gross, but not too bad. On Sunday I was perhaps a bit too ambitious. I was up early for a 7am bike ride with my dad… since I busted my ankle I had to stop running and cycling for a few weeks, and it was getting annoying. Especially because I had already started the Nessie race, logged exactly two workouts for it, and then hurt myself. Grrr. But that stupid ankle is mostly back to normal again, so while we didn't do quite as many miles as usual, we did log almost 16. Now I'm only 4 miles away from finishing Nessie. If I'd known I was that close I would have just kept pedaling, but lord it was SO humid and gross yesterday morning, we were both ready to be done. Sweat was dripping off every inch of my body and puddling on the asphalt. I'll wrap up Nessie this week, when it's maybe slightly less miserable outside.
After the bike ride I headed out to the barn. I haven't jumped since we were at Holly Hill a few weeks ago, and somehow we now find ourselves only 3 weeks out from leaving for Coconino, so uh… guess it was finally time to set up a few jumps in the new arena and get back in the full swing of things. It felt like it took forever and approximately 5000 trips back and forth for Hillary and I to set up some jumps (if you board/ride at a place where you never have to lug jumps in and out of the ring and set courses, be grateful! I always took that for granted…) and by that point we were both dripping sweat before we even got on our horses. Heat index: 104 degrees.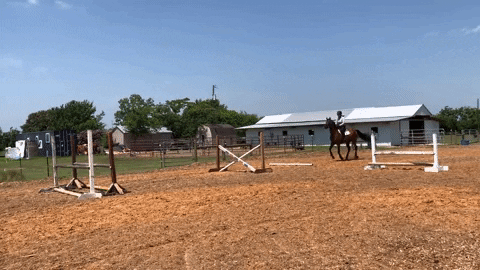 Hillary jumped Dobby first while I set jumps for her (Dobby did his first grid!), then we switched roles. Henry was REALLY EXCITED to be jumping again. And kinda rude. And cocky. And full of himself. The heat kind of worked in my favor in that regard, as soon as he started getting hot he suddenly became a lot more rideable. He really needs to get out for a good long gallop this week and get some of the HENNY out of his system. He had a really light few weeks while I was out of commission with my various injuries, and you can tell he's a little wild.
After I was done riding I drove down to do a bodyclip, where I added lots of horse hair on top of the multiple layers of sweat and dirt that I had already accumulated. By the time I got home around 5, I was feeling quite gross. And quite thirsty. And quite spent.
A cold front blew through last night in quite dramatic fashion (complete with tornadoes and hail) so we've got a little respite from the severe heat for a few days at least, with highs only in the 80's. It's only 59 at Coconino right now. SIGH.