Since Henry got his SI injection on Friday, he was on stall rest for the weekend. And since free weekends are rare around these parts, I took the opportunity to head up to the h/j show in Waco to visit Luxe EQ… and to get fitted for my TUCCI's, of course!
I've been ogling Tucci's for years and somehow know a lot about them, but I had never actually tried them on. This is by design, because once I try something on, it tends to come home with me. Now that I know for a fact that I'm getting them, it was finally safe to try some on. It helps that I'm built very average… there's nothing particularly odd about any of my proportions, and most things tend to fit me off the rack. In this case, the 39H (extra tall) were perfect.
They really did fit like a glove, which is very convenient… no full customs required. They were also super comfortable, especially considering they were brand new boots. I don't think I realized just how much the sole in my Mondoni's had worn down until I had them both on at the same time. Poor Mondoni's. For $200 boots, they've really hung in there pretty well for the past 3 years.
So the Tucci's (I ordered the Marilyn, no patent, with a navy top) are officially on order! Hopefully they'll be here within a couple months… I am obviously in desperate need.
I also took the time to paw through all of the new stuff in Luxe EQ (one of my favorite things, it's like Christmas only not as fun because I don't actually get to keep any of it). Starting with the new Miss Shield, which wins the award for the best box I have ever seen in my life.
Not gonna lie, the box alone kind of made me want it. But box aside, I liked the profile of the Miss Shield… the brim was a bit bigger and wider than the regular one, but without being HUGE or ridiculous or overpowering like some other brands. It seems like it would work well on lots of different face and head shapes. There are some better pics from all angles on the website if you're curious about the profile.
They've also got the new MaeLort waterproof backpacks, which seem to be the hot new thing popping up right now all over social media. This is the first time I've seen one in person.
Plus the new Winston colors. They have a medium blue coat now that is a super pretty, kind of French blue shade. I couldn't get a good picture of it with my cell phone in that light, but here's the stock photo: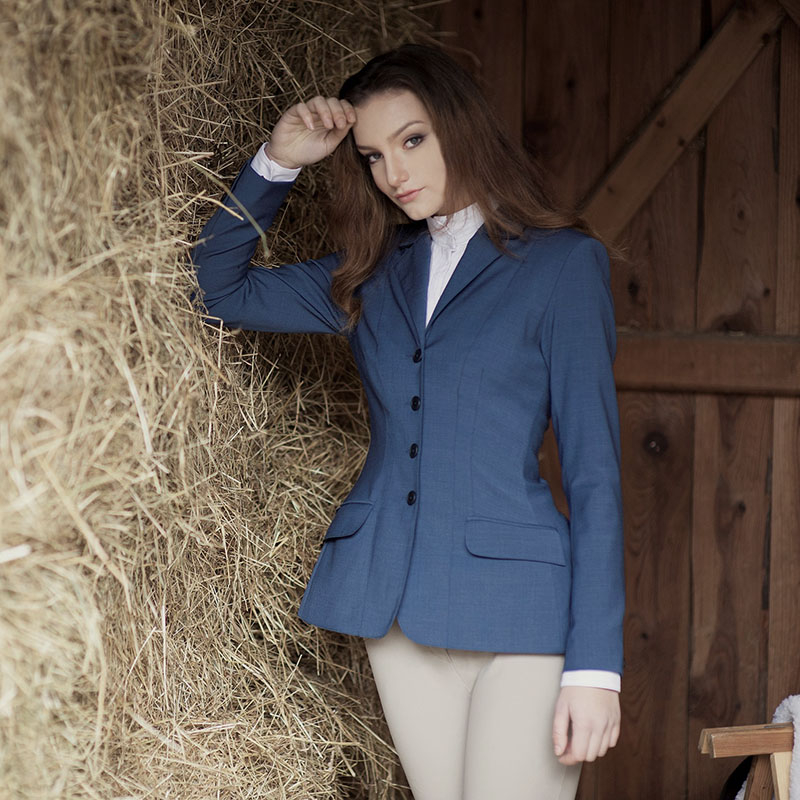 It looks a bit lighter than that in bright light. It's such a nice color, especially in the new Devon model with camel accents. Someone with a chestnut or a gray needs to buy it (looking at you, Hillary). And then of course there were all the new Winston sweaters. I was partial to the Ruby:
And approximately 9 million colors of TS sunshirts, because one thing TS really excels at is color choice (there were new breech colors too… I was oddly drawn to the Purple Heart ones). The new teal-sh looking shirt was pretty, although granted goes with nothing I own.
There were lots of pretty new show shirts from Le Fash and Cavalleria Toscana too, which I also failed at getting photos of. CT might have my favorite line of show shirts… they're unique without being too crazy. And then of course, winning the outerwear game is Asmar. Loved this look that Luxe EQ had on one of their mannequins:
One of these days I'll actually go in there when I have a little more cash to burn (ha!) and buy some of the things I've been lusting after for years. There's just so much cool stuff living in that mobile, it's dangerous.
But omg YAAAAAY TUCCI'S!!!