Now that it's stopped raining in Texas and our fields have dried up, we're back to being able to ride outside of the ring as much as we want. This is a happy time, because Henry and I are both big fans of doing as much work outside of the ring as possible.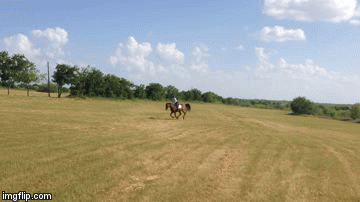 He's still well-behaved in the confines of an arena, but he's a little grumpier, a little more sullen, and a little harder to motivate. When the footing is good in the fields, we really only go in the ring to jump, since, ya know… that's where the jumps are. So we might only ride in the ring once a week or so.
If it's a dressage ride I usually take him out to the smaller field right next to the barn. In prepping for the 3 Day we've added a long walk or long trot before/after pretty much every ride, even dressage days, and it all seems a lot less monotonous going round and a round a field instead of round and round the ring. Plus Henry really likes to pretend to spook at random things, especially bushes, and who am I to take that joy away from him?
For straight up conditioning rides and gallops we go down the street to the big hay field. I've got that place down to a science – one lap at a 220ish mpm trot is exactly 5 minutes, and it's a lot easier for my brain to handle 8 or 9 laps than it is to embrace the reality of a 40-45 minute trot. I can't even imagine trying to do that in the ring, I think I'd stab myself in the eye out of sheer boredom and Henny would probably decline to continue carting my butt around.
As an eventer, riding outside of the arena is obviously pretty essential. You have to be able to control the horse in a wide open space, get yourself and your horse used to traversing varying terrain, etc. Plus you just need SPACE to gallop. Can't do 450mpm gallops sets in an arena. Not without being really freaking scary, anyway. Most of the eventers I know ride outside of the ring at least a few times a week.
But I also know a lot of people that rarely, if ever, ride outside of the arena. Many because they just don't need to, but for some people I know it's a fear issue. Like the lady I knew forever ago who wouldn't even walk a single step outside of an enclosed area – she would even mount/dismount in the ring and always close the gate. I guess that's a control thing? And then there are the horses who seem to genuinely lose their shit outside of the ring. Granted, I've never had one, but I've heard of these mystical creatures.
How often do you ride outside of the ring, and for what purposes?