Steph, a fellow blogger who is also breeding her mare this year, did a post on why she picked the particular stallion that she did. I thought it was a good idea, and interesting to follow her thought process, so I stole it. Or forcefully and unofficially blog hopped it, however you want to look at it.
Like most things with horses, the choices we make about breeding are so very personal. A lot depends on the exact mare in question, the exact person in question, what the foal is intended for, and the current circumstances. There's no such thing as a "right" or "wrong" answer, and there are hundreds of different choices that could work just as well as the next one. Choosing a stallion is a bit overwhelming. It's not as simple as "this one is really pretty, let's go with him!".
While I had always toyed with the idea of keeping one of Sadie's babies for myself, I didn't really have a solid plan as to which one, when, or by whom. I've been involved in the breeding world for a long time and have a lot of opinions about bloodlines, so just the thought of trying to pick a stallion for her was anxiety-inducing. Then on our Belgium trip last year I kept seeing young horse after young horse that I absolutely LOVED, and they had one thing in common – they were all by Mighty Magic. He ticks all of my personal "must have" boxes:
at least 60% TB (he is 88%)
some Holsteiner blood (they're guaranteed to jump)
approval by a major European-based registry (he's approved with pretty much all of them)
average size (I don't want a giant horse to try to keep sound)
a competition record in eventing (MM won the 7yo World Championship at Lion d'Angers)
offspring competing in upper level eventing (while most are still too young to be upper level horses, there are some starting to pop up)
a very good canter (I always buy for canter, so it makes sense to breed for it too)
Side note: not gonna lie, it was serious icing on the cake that Mighty Magic is homozygous bay, because I'm not a chestnut fan. His excellent test scores for rideability are always nice to see too. He currently shows international level dressage with a young rider.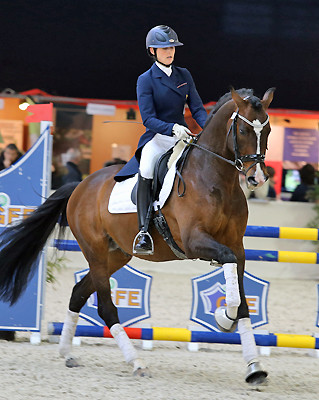 While in Belgium I was lucky to be in the midst of breeders who had used the stallion a lot, seen/owned a ton of his offspring, and knew a lot about what he produced and what kind of mare he matched best with. MM is based in France, so they're in a prime location to know a lot more about him than what I'd be able to glean from the internet. I spent quite a while picking the brain of one breeder in particular, and after showing him my mare options (at that time I had two), describing them both, looking at their pedigrees, talking about the tendencies of the offspring, what I wanted, etc, he told me which mare he would pick. Luckily, that was Sadie.
And ultimately, the mare is the most important piece of the puzzle. I love Sadie, had a lot of fun raising and riding her, she has a fantastic work ethic, she's a good mover, and she has plenty of jump. If I got a carbon copy of her, I wouldn't be upset. Ok, I would prefer that her baby be a lot less inclined to smash things with it's butt (RIP Michelle's stall walls, trees, truck wheel well, and pretty much 80% of things on her property).
We also discussed Jaguar Mail for her, but ultimately decided that their jumping styles might not be a good match. So I came back to the States and proceeded to scour the internet looking at more Mighty Magic foals and figuring out what bloodlines he crossed best with. Just so happened that as I watched youtube video after youtube video, the babies I liked most were out of mares with Hanoverian blood. Sadie is half Hanoverian. To go one step further, the winner of the 5yo Bundeschampionate for eventing in 2015 was by Mighty Magic out of a Hanoverian mare that shares several bloodlines in common with Sadie. That sealed the deal.
And now… we wait…