I am a big fan of riding bareback. Especially for long walking hacks, or those super hot summer days where it's just too hot to be bothered to tack up, or even sometimes for dressage rides to get a better feel for what the horse is doing and my own aids. I'm convinced that it's really beneficial when it comes to highlighting bad habits or position flaws. I ride bareback pretty regularly, at least a couple times a month even up to a couple times a week in the summer, and I feel like I would definitely do it more often if I had a good bareback pad. Right now I use a half pad or a saddle pad, which does the job comfort-wise but tends to slip and slide around, tending to become more of an impediment if you want to travel above a walk. It's annoying.
I've always had it in the back of my mind that I should invest in a good bareback pad, but so many other things have always come first. I think I'm finally to the point where my other tack situations are well-managed (or, uh… overmanaged) and since we're not so much in major competition mode right now and I'm sitting on some Visa gift cards, it seems like it might be time. Except… holy crap there are SO MANY bareback pads on the market. Since I've never owned one, trying to choose has been really daunting.
Here's what I know:
I know that I don't want one of those cheap fake fleecey ones that have the girth attached way too far forward. I don't like the material and they don't stay in place well and everything about it fills me with hatred.
I know that I want one with a generous contour cut, to allow for high withers. Because thoroughbreds.
I know that I prefer one with english girth billets, so that I can use my own girths.
I know that I don't want a "treeless saddle" or stirrups/stirrup attachments on the pad.
I know that I need enough padding to where when Henry inevitably spooks, he won't break my vagina with his aforementioned high withers.
I know that the only bareback pads I've ever tried before are the cheap fleecey ones and the Thinline, and I didn't like either one.
Beyond that, I know literally NOTHING.
So I've been scouring the internet for a while, looking at all my options. When I found ones that looked interesting, I emailed or messaged the company to ask for more information. Most were really helpful. Some never responded. I think, from all of my obsessive stalking, I've narrowed it down to four contenders. They vary a lot, both in style and in price.
My old faithful Riding Warehouse does have a decent selection of bareback pads. The Horsedream and the Stargazer, while plush and dreamy AF, are massively over my budget. But they do carry the Best Friend pads, which I've found generally good reviews for. It comes in navy (always a bonus), it isn't fleece, it has a little contour to the topline (I'm not convinced it's enough, but maybe), and I think the girth is attached far enough back to work. Of course, it does have the western cinch style girth, which I don't want, and it's not as padded or structured as I had in mind. But, at $65 it's the cheapest of my options.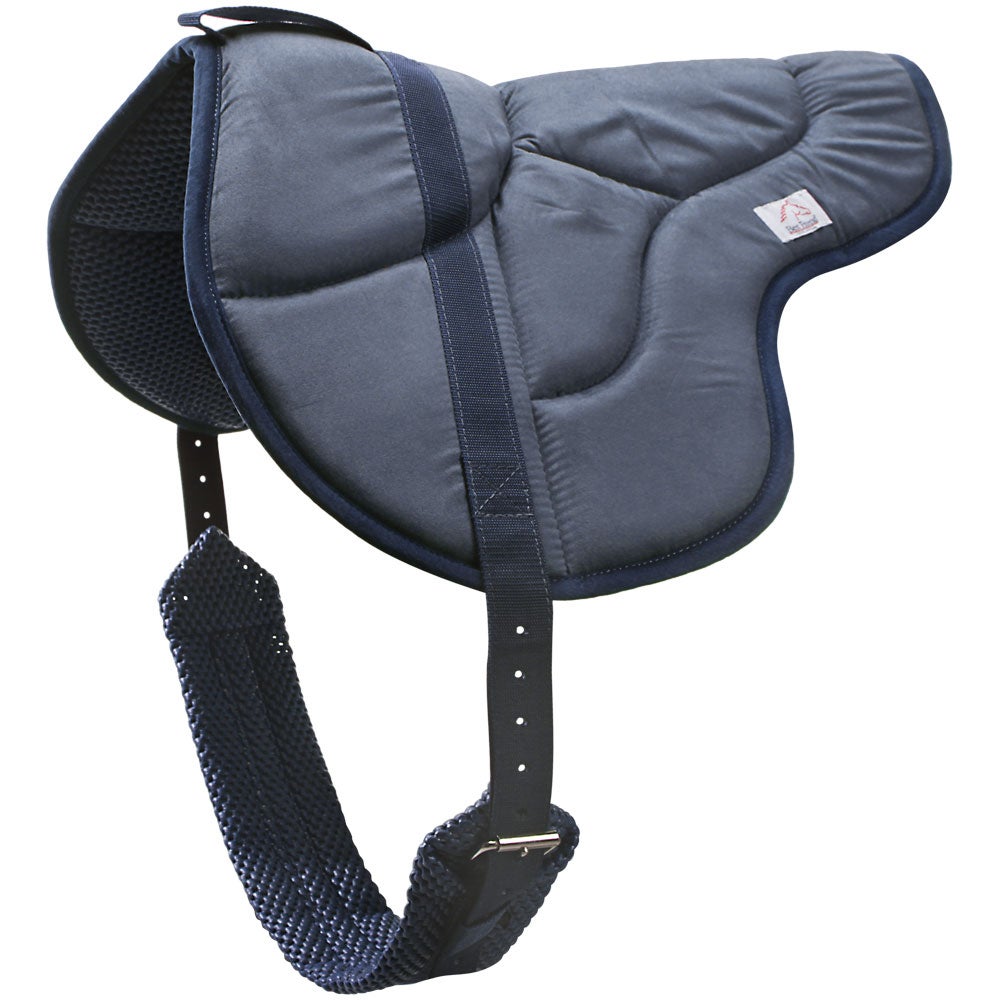 Going to the next price point, I found the Barefoot Ride-On pads at $185ish. Still has about the same amount of padding, but it's a little more structured, has the english billets, and also has some dees if I wanted to attach a breastplate or something. Unfortunately this is the only company that didn't respond to my messages/questions, which bums me out. Also the color options are boring/awful. Not sure the good things are enough to be worth 3 times as much as the Best Friend, and the lack of communication from the company bothers me. A lot.
If you bump up the price point to $280 we get to the Brockamp pads, which are beautiful. The US Brockamp dealer answered all of my questions in a lot of detail and was super nice, which means a lot. Brockamps are made in Italy, and the foam is structured to give the rider more stability as well as give the horse's spine more clearance, which prevents rubbing or binding. Really important qualities for Henry in particular who is really bothered by both of those things. The Brockamps seem to be very popular in Europe and thus are perpetually back-ordered. They come in a huuuuuge range of colors, and the US dealer has a few in stock, although not in either color I would want (navy or dark green), so I'd have to wait 2-3 months for the next shipment to come in to get one of those colors. But they DO have every feature I'm looking for, albeit in a bit higher price point than I had in mind (still nowhere near the Horsedream or Stargazer range though!). Then again, if I had a pad like this I'd probably ride bareback a lot more.
And then, because if there are beautiful and expensive things in the world I will definitely find every single one of them, there are the Trailmaster pads. They start around $250 for synthetic or $350 for leather, varying according to what exactly you want (I actually like the synthetic more – small miracle). They're handmade in the USA completely custom, with just about any colors and fabrics and features you want and available in high wither cut. I mean come on. They are just gorgeous. More minimalist for sure than the Brockamp, a bit less padded and without as much structure for the rider. I love that they use wool felt topped with a thin layer of memory foam. I feel like it would put me closer to the horse for flat work, with the tradeoff being that it's less secure. Hmmmmm. The owner of the company was again helpful at providing info and answering my questions.
I'm torn. My wallet says to go with the cheapest option, but after seeing the really nice ones it's hard to be enthusiastic about the others. I do think I ride bareback enough to justify a nice pad, and if I had a nice pad I would probably ride bareback even more. Plus a good one should last for quite a long time. But then again, it's not a small chunk of change. And if I did opt for a nice one, I'd have to choose between the Brockamp and the Trailmaster.
Halp me.