If you were on social media the past few days, you may have seen the new data analysis study regarding air jacket safety. If not, see this link (be aware, this is the summary… you have to have a subscription for access to the full paper). Basically the authors analyzed FEI fall data, and from this data concluded that "Riders wearing an air jacket had 1.7 times (95%CI 1.14–2.64) increased odds of sustaining a serious or fatal injury in a fall compared to riders not wearing an air jacket.".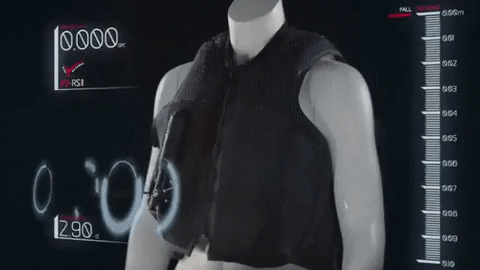 While I've been questioning air jacket safety and the lack of research surrounding them for years, I think it's important to recognize what this study is really telling us before anyone gets too up in arms or jumps to a conclusion about air jackets or the study. The conclusion of the study states:
Riders wearing an air jacket were over represented in the percentage of serious or fatal injuries in falls compared to riders who only wore a standard body protector. Further research is needed to understand the reason(s) for this finding. It is recommended that additional data on injury outcomes, rider characteristics and the biomechanics of falls be examined in future analyses, and that air jacket and body protector characteristics be further investigated.
So really, this study says "hmmm… we need to research this to figure out why we're seeing this trend in the numbers.". Which we do. While correlation does not equal causation, the data we do have definitely raises some questions and highlights the need for more and better data. There has been very little research done regarding air jackets as they relate to equestrian usage, and we really don't know anything about failure rates, their influence on fall trajectory and direction of impact, potential destabilization of injuries, the risk of burst fractures, potential differences between inward inflation and outward inflation, any possible mental/risk-taking factors, other rider-related factors that might come into play with their use, etc etc. There are a lot of unanswered questions.

It's also important to recognize that the FEI data itself is not very complete. Since it's from FEI, it is all upper level competition data, but it's not giving us particularly specific information about the types of injuries or how they occurred. I personally would be very interested to know what kind of body protector was worn under the air jacket in these cases, because it sure seems like people love to throw them over a 10+ year old cardboard-thin Tipperary and call themselves safe. (On my sandbox for a minute asking people to PLEASE invest in a good quality BETA 3 approved vest and replace it every 4-5 years, whether you wear an air jacket or not… we know for a fact that those work)
One of the authors of the study, Lindsay Nylund, commented on social media with a bit more information:
Thank you all for your comments and questions in relation to this study. I cannot respond to them individually as the debate has progressed, so I will try to address some of the major points raised. Firstly, the conclusion was, "riders who wear air jackets are over represented in the number of serious/fatal injuries in falls." The results of the data analysis revealed a 1.7 times increase in relative risk. The probability that this finding was due to chance is less than 1 in 100 (p=0.009).
Nowhere does the study conclude that air jackets are the cause and no recommendation is made that riders should or should not wear an air jacket. Unfortunately the data available to the authors could not establish the reason(s) for the finding and hence why it is suggested that further research and investigation be carried out. The discussion section of the paper, explores some of the possible reasons for the finding to provide some focus on where future research efforts could be focused, but these should not be confused with the conclusions or imply causation. The reason(s) must either be due to air jacket characteristics (such as lanyard pull forces – reported in a Swiss study to be in the range of approx. 20 to 60 kg, or possible restriction of torso movement transferring injury risk to the head/neck, etc.), AND/OR due to rider characteristics (such as riders who wear air jackets having increased risk of injury in falls due to rider anthropometric characteristics or fitness levels, or pre-existing injuries, more rotational falls, etc.), that were different from the cohort of riders who fell not wearing an air jacket.
The analysis was limited to injury outcomes in falls (expected versus actual), not differences in fall rates for riders wearing/not wearing an air jacket – we did not have data on the number of starters wearing an air jacket. If 55% of the 3,305 riders who fell were wearing an air jacket, then you would expect 55% of serious/fatal injuries to be for riders wearing air jackets (if air-jackets were doing no good or no harm). While there may well be confounding factors that are unrelated to air jackets, the counter-intuitive finding in the data suggests that the matter needs to be investigated.
Indeed, the study raises more questions than it provides answers, however it does highlight the need for further research and investigation. It is up to each rider to decide whether they think the benefit of wearing an air jacket outweighs the potential risk that it may be increasing their overall serious injury risk, but wouldn't you prefer to know that there may be a problem and make your own decision? It is fine to speculate about possible reasons and this can assist researchers to identify the data that needs to be collected and analysed. Important questions which need to be answered are: What are the rider, air jacket, and body protector characteristics that we need to collect data on? What is the best way to collect this data? How and when can it be obtained? How can we as riders, instructors, and industry bodies support the research that is needed to understand the reason(s) for the finding? What is it going to cost and how can it be funded? How quickly can further research be carried out? Thanks again for your comments and questions.
It has always bothered me how our industry has swallowed this item as a safety revolution, hook line and sinker, without having any actual research to back that up. It also concerns me that it seems as though most people think that the air jacket is more important than the body protector underneath. Or that the large majority of wearers do  not follow the recommended service, maintenance, and inspection protocol. For example, Point Two's policy says "We recommend you have your vest or jacket serviced yearly or after six inflations. Your safety depends on it.". I don't think I know anyone who actually does that. Some companies don't even offer any kind of servicing or maintenance protocol. If you like wearing an air jacket, by all means please use it. But understand what it's meant to do, what it's not meant to do, and understand how to care for the equipment properly. And, ya know… put a good quality body protector underneath.
So why, in this FEI data, do we see such a disproportionate number of injuries with riders wearing air jackets? We don't know. Could be so many reasons. Maybe air jackets are safer in some instances or not others. Maybe they have an effect that we don't know about. Maybe there are other factors at play that would change the data completely and show that air jackets really do help prevent injury. The bottom line is that we have no idea. This data analysis just illustrates how little we DO know, and how much we need some solid research into the air jacket safety equipment so that we can understand how/if it really works. The next question is: how do we get those answers?