If you follow Riding Warehouse on social media (I have to assume that you do, because if not you're missing out on all kinds of things), you may have noticed their ongoing #WinItWednesday campaigns. As you can probably guess from the name, they give cool stuff away pretty much every Wednesday to one Riding Warehouse follower. This week I'm really excited to team up with them for a big giveaway – you could win a Champion helmet of your choice!
Some of you may remember my Champion skull cap review from January, and I've really continued to love my Pro-Ultimate SNELL skull cap. It's comfortable, very ruggedly-made, and I love all the little features like the metal safety buckle, removeable liner, and extra ventilation.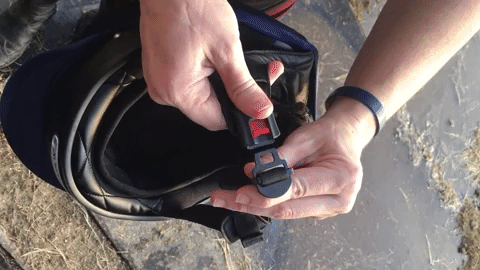 There are only 4 equestrian helmets in the world that carry a SNELL certification and Champion Pro-Ultimate skull cap is one of them. It definitely gives me a little more peace of mind to know that I'm wearing one of the safest helmets on the market.
For those who don't need a skull cap, Champion has a variety of other styles to choose from as well. The brand is just now starting to establish themselves in the US, but they've been a leading brand in the UK for a long time and have a great reputation for safety and high quality construction.
How to enter? There are two ways! Check out the facebook post here:
Or the Instagram post here:
You can enter on both, if you choose!
If you don't want to take your chances with the giveaway, ALL Champion helmets are 15% off exclusively at Riding Warehouse through this Sunday, June 16th! I really can't say enough good things about mine, it is by far the best skull cap I've ever owned.