Oh, Horze. That company name, it's so bad in the American market. But initial awkwardness aside, my experiences with the company's products in the past have been a bit hit or miss. The prices were always right, but sometimes the quality left me wanting. I had only tried one pair of their breeches, and that was a couple years ago. The fit was weird on me and I didn't like the fabric, so I sold them and that was the end of my Horze breeches experiment.
Lately I've noticed that it seems as though they've started upgrading the fabric on some of their basic models. The Horze Grand Prix breech, which used to be a cotton blend (which I hate with the burning passion of a thousand dumpster fires) was now showing as 93% polyamide, 7% elastane – very similar to a lot of my favorites. They also upgraded to a silicone knee patch, another favorite feature of mine. Ok Horze, you win… I'll give you another shot.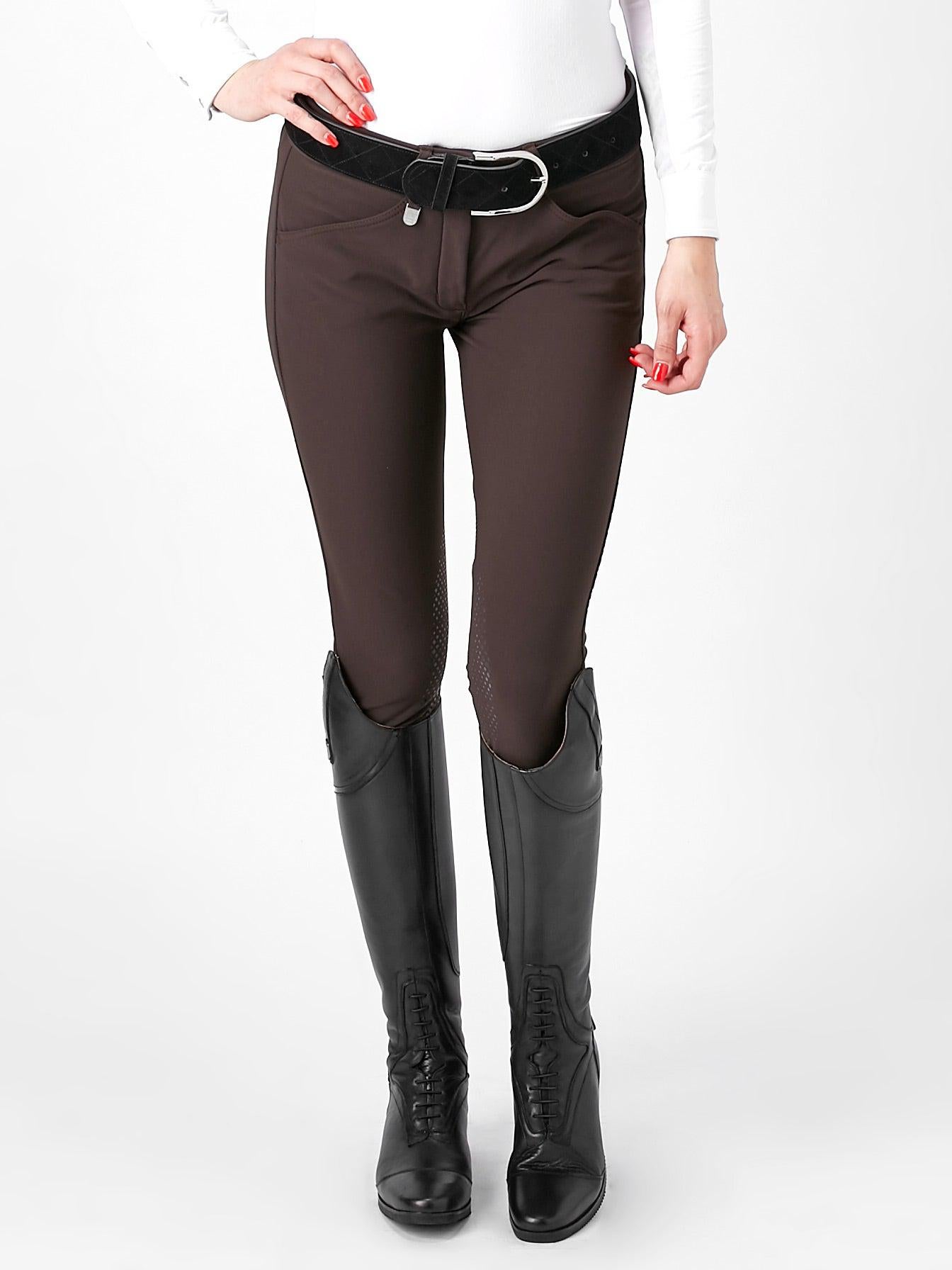 The price for the Grand Prix breech is really reasonable at $99 from Riding Warehouse (or $89 each if you buy 2 or more) for the knee patch or $109 ($99 each if you buy 2 or more) for the full seat. Plus you can get 10% off those prices with coupon code FB10, or 15% off for USRider members with code USR15 (you have to supply your member number to use the USRider code!). Solidly in the under-$100 category! I went with the knee patch, because I'm always a bit worried about silicone full seats being TOO sticky for me, and a nice chocolate brown since it's one of the few conservative colors I didn't already have.
My first impression was that the fabric is VERY similar to the Romfh Sarafinas. It's nice and stretchy, not too thick, not super thin, and quite comfortable. I like the fit a lot too, it's more of a mid-rise and nicely tailored for the female figure – NO WAIST GAP. I got size 42, which they equate to a US 30, and the sizing is right on par with all of my other 30's. At 5'5″ with a very average length inseam, the hem hits right above my ankle. Very short-legged riders might find them to be a touch long, but they could be a good option for those with a longer inseam. The breeches have a stretchy panel built into the bottom that allows them to be nicely fitted to the lower leg. Extra fabric on the lower leg is a huge pet peeve of mine, they absolutely must be smooth under the boot, and these are.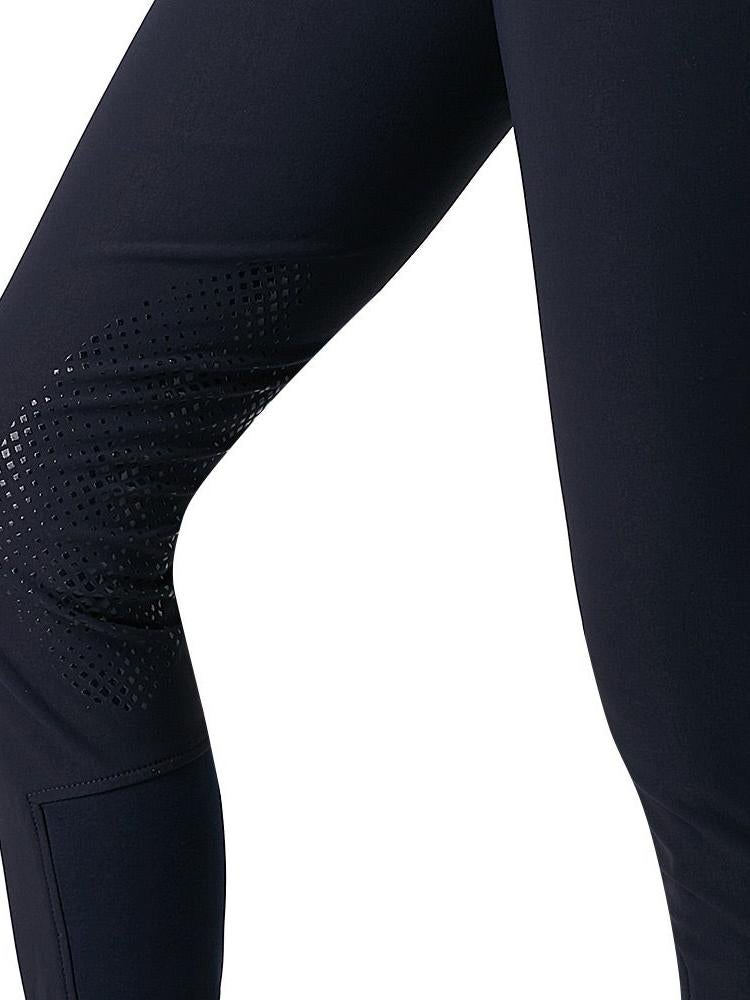 They have a euro seat, which is basically a must-have feature these days, and to my relief the branding is VERY subtle. There's just a small flag looking tag under the waist on the back, a small metal tab on the front that says Grand Prix, and the metal buttons at the fly have a Z on them. Don't worry, they don't say Horze anywhere visible. The styling really makes them look a bit Pikeur-esque (ie more expensive than they are!).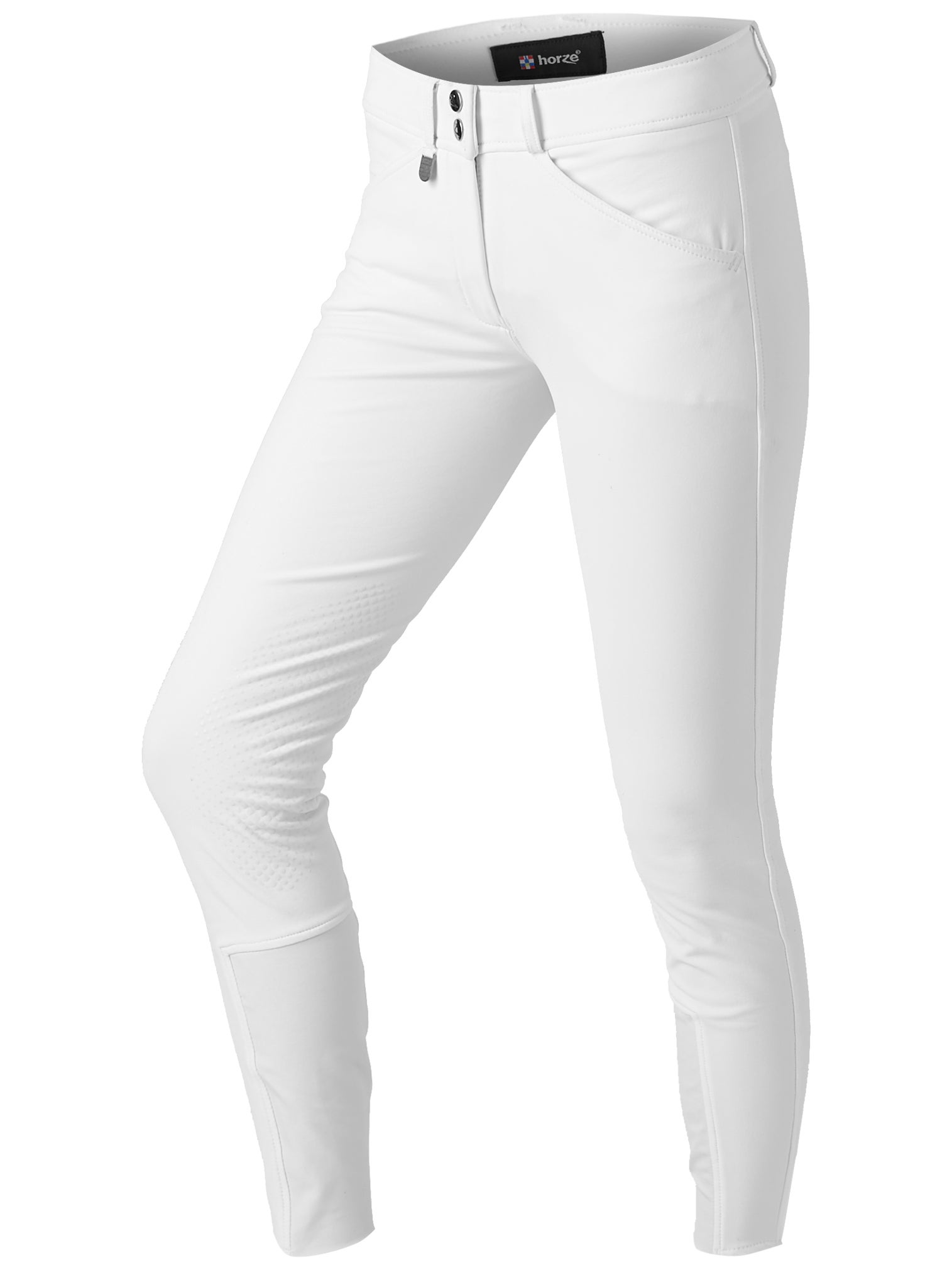 I've been using and abusing these breeches A LOT, and they're holding up remarkably well. They wash well, and the fabric helps them stay pretty clean between washes. They're quite comfortable both in and out of the saddle, and they don't sag or slide down or get funky in the crotch. So far they show zero wear.
I also like that the silicone knee patch is quite mild. It's made up of a bunch of little dots of silicone, which makes the grip less intense than a larger strip of silicone. I doubt the full seats would be overly sticky. The grip on the knee patch version feels quite similar to a regular suede patch when you're in the saddle.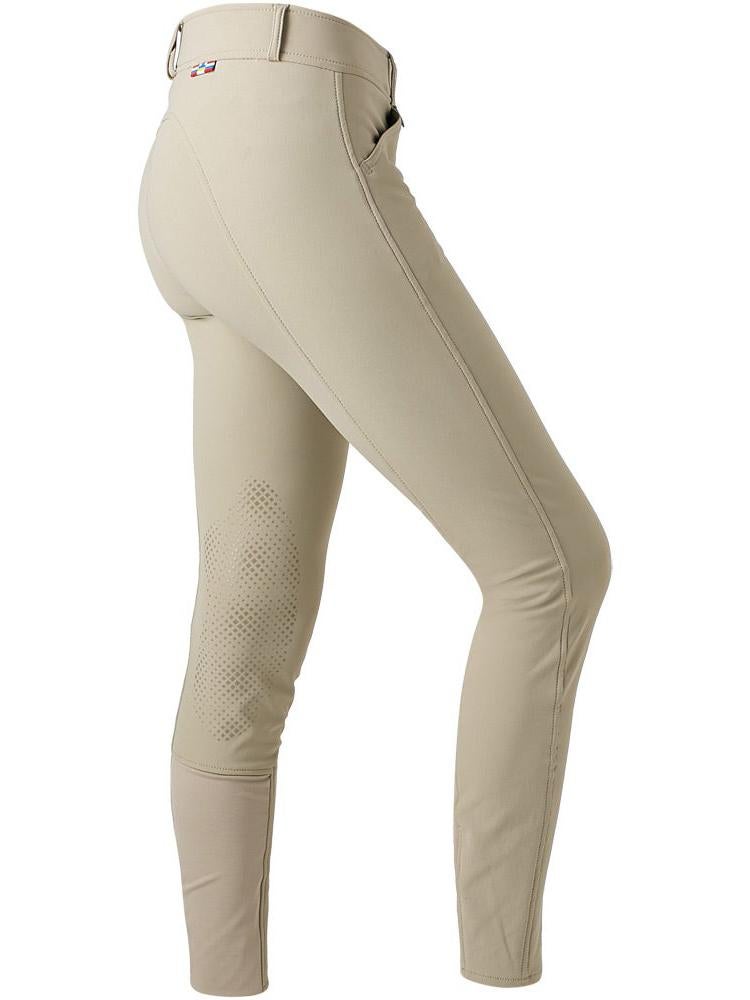 If you're in the market for a good budget breech, I'd definitely give these a shot. They're not far off the price of something like the ever popular Piper breeches, but they are light years better in the quality and fit department. The fact that they come in white and tan make them a great low-budget show breech option as well. I definitely want to add a white pair to my collection next!