I've always had pretty good luck with ordering things from overseas, at least when it comes to fit. Saddles, breeches, bridles, coats, shirts, boots… you name it, I've probably taken a blind leap of faith. My success rate is probably because I'm really annoying, and if I don't trust a size chart I'll email and ask, and/or do some deep dive googling. I did the same thing for this last batch of stuff too, especially the pretty blingy coat that I'm so obsessed with.
The size chart seemed a little wonky so I messaged the shop that had them and asked how the sizing ran. I gave them my measurements and asked which size they'd recommend, since the size chart put me in between sizes. She said that they run small and I should size up, but I was still kind of waffling on it so ultimately I decided to order both sizes and just sell whichever one didn't fit.
Well, joke's on me because neither of them fit. I'm not sure why one would recommend sizing up, because IMO they run big. Like bigger than the Motionlites, which are very "American" sizing in a world where most stuff is smaller European sizing. Even the medium coat was super baggy. I laid it out and measured it across the bust and it was 19″… REALLY big for a medium in any kind of equestrian clothing. My bust measurement is 35.5″, so… yeah, 38″ is a no. In the shirts (which had a different size chart?) I had ordered a small and a medium. The medium was definitely big, but the small sort of fit. The body was about right, but the arms were quite tight (maybe I should stop lifting weights lol). Honestly I struck out with all 4 pieces, despite thinking I was so smart for ordering two size options of each. Total fail.
I had also ordered a shirt and a pair of breeches from Germany, and the shirt fits great (and I LOVE IT) but the breeches are too big in the waist. Being in between sizes is getting really annoying. I was hoping a true European brand might fit a bit smaller but no.
One other thing did fit, and that's the set of boots that I ordered for Henry. I tossed them in the cart on a whim because I really wanted some navy everyday brushing boots, and these Weatherbeeta ones were only $25 a pair.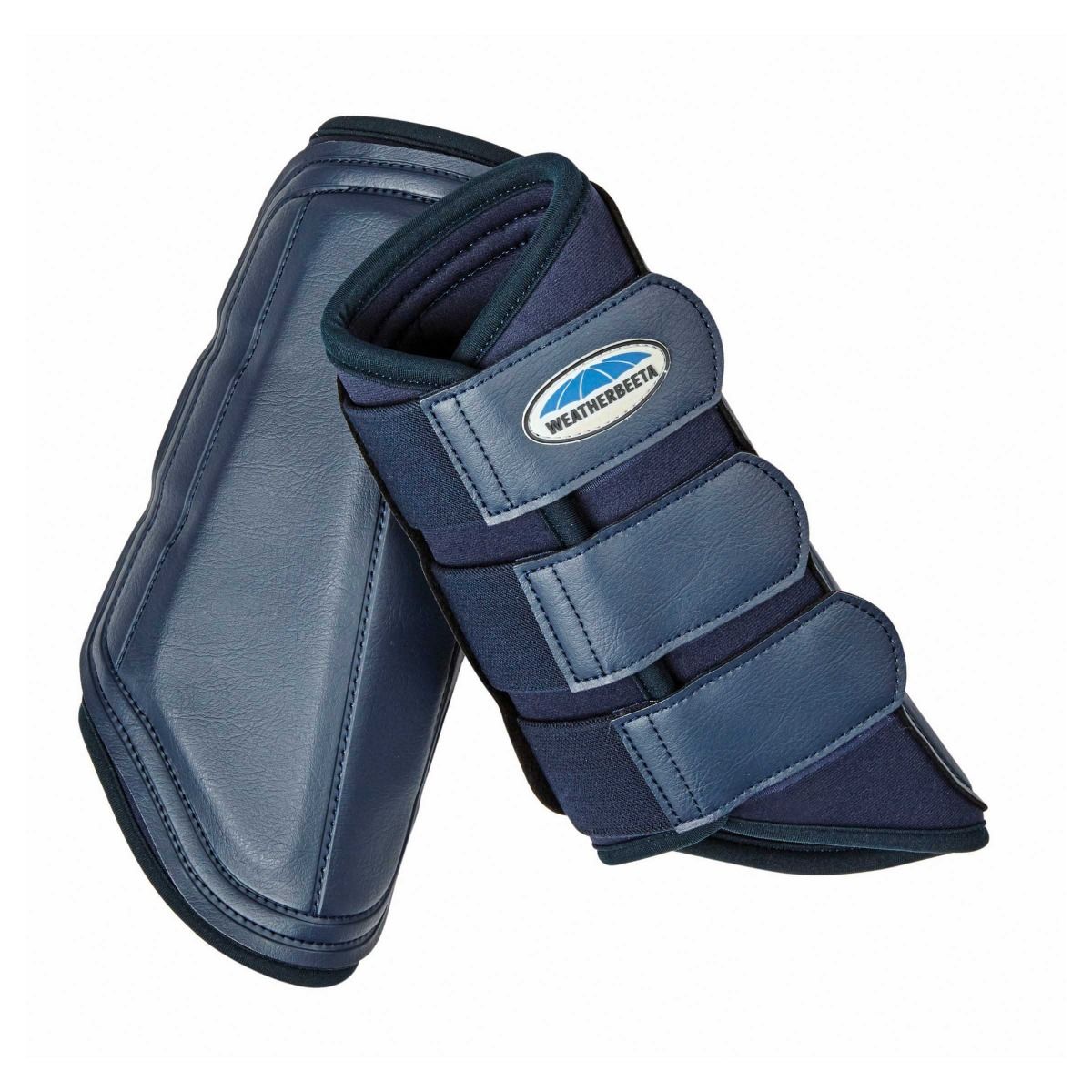 Their size chart was also a little weird, and the internet said the straps run long, so I ordered a pair of cob size for the front and full size for the rear. The straps are a little long but they fit well otherwise, and so far so good. They're actually pretty nice little lightweight brushing boots and I love the color. We'll see how long they last.
The downside of buying things from overseas is that returns aren't really feasible, so now I find myself with yet more clothes to sell. The medium coat got scooped up fast but I still have the large (it's 20″ across the bust) that I'd sell for $160 USD and the medium shirt (18.5″ across the bust) for $45 USD.
Plus the breeches (white with silver piping, knee patch, size 30) which I'll sell for $75.
I also have some other show shirts to sell, all around a 37″ish bust size, but I still need to go through and make a list. If you might be interested let me know. Oh and a couple pairs of Kerrit's Icefil tights in size Large, navy and black.
In the meantime, if y'all see any good deals (new or secondhand) on Horze Grand Prix or RJ Classics Gulf breeches in size 28, send them my way please! I also like Montar, size 40. I've been strongly considering trying the Struck, since they have in-between sizes (I wish more breech manufacturers would do this, like jeans sizing), but they're really expensive. Like… really expensive.
Oh yeah, also I have my dressage saddle for sale too – an 18″ Devoucoux Loreak. I have not yet summoned the energy to list it anywhere but my personal facebook page, but… I really do need to get on that.
I really hate selling shit, buying it is more fun. Well… usually, anyway.