I'm not gonna lie, y'all, I get more excited about Mondial du Lion (aka the 6 and 7yo eventing world championships) than I do pretty much any other event all year, 5*'s included. There's just something really fun about seeing the top up-and-comers in the sport, many of which we're also seeing on the world stage for the very first time, and trying to pick out which ones will be the next big superstars. Because have no doubt, the next big superstars are definitely here among the field somewhere.
I thought about holding off on this post until after MdL was over, to include scoring statistics and results stats, but if there's one thing I've learned from analyzing all this data by now, it's that it really doesn't matter where a horse finishes at MdL, it matters that they participated. Particularly in the 7yo class, which has been the springboard for a massive number of top horses. Remember WEG 2018, when more than 1/3 of the field had competed at MdL earlier in their career? Some of them had finished at the top, some of them had barely completed, but what mattered most is that they had been. So you can keep up with the live stream and the results (oh and also DEFINITELY go take a look at the jumps, they have the prettiest courses in the world, hands down – fight me) on your own… let's take a deep dive into the horses themselves.
Starting with the 6yo (2*) horses, there's definitely a wide variety. Most are jumper-bred with blood, per usual in event horse breeding, but there are also several dressage-bred horses in attendance – not super unusual at this lower FEI level, but it will be interesting to see if any of them return at 7 to contest the 3*. Jazz is represented by 3 horses – two as grandsire, one as great grandsire – and dressage stallions Ampere, Follow Me, and River Dance each have an offspring in the field as well. The blood percentage of the dressage-bred horses are all between 30-40%, definitely lower than the overall field average of 50%.
While those horses are relatively anomalistic for what we're used to seeing in upper level eventing, the rest of the field is stacked with familiar names. There are two direct offspring of OBOS Quality 004, Contender is the grandsire of 2 (plus the great-grandsire of another via his son Contendro), Rosalier xx is the damsire of two, and Sir Shostakovich xx appears on the dam side of two. There are other very familiar thoroughbred names with representation, including Imperius xx, Noble Roi xx, Mytens xx, and Hand in Glove xx. There are no full thoroughbreds in the field, not particularly unusual for Europe, but 4 horses have one full TB parent – all of them being the dam. 82% of the horses in the field have Holsteiner (largely C line to Capitol or Cor de la Bryere) or Selle Francais (largely to Quidam de Revel or Galoubet) within the first two generations.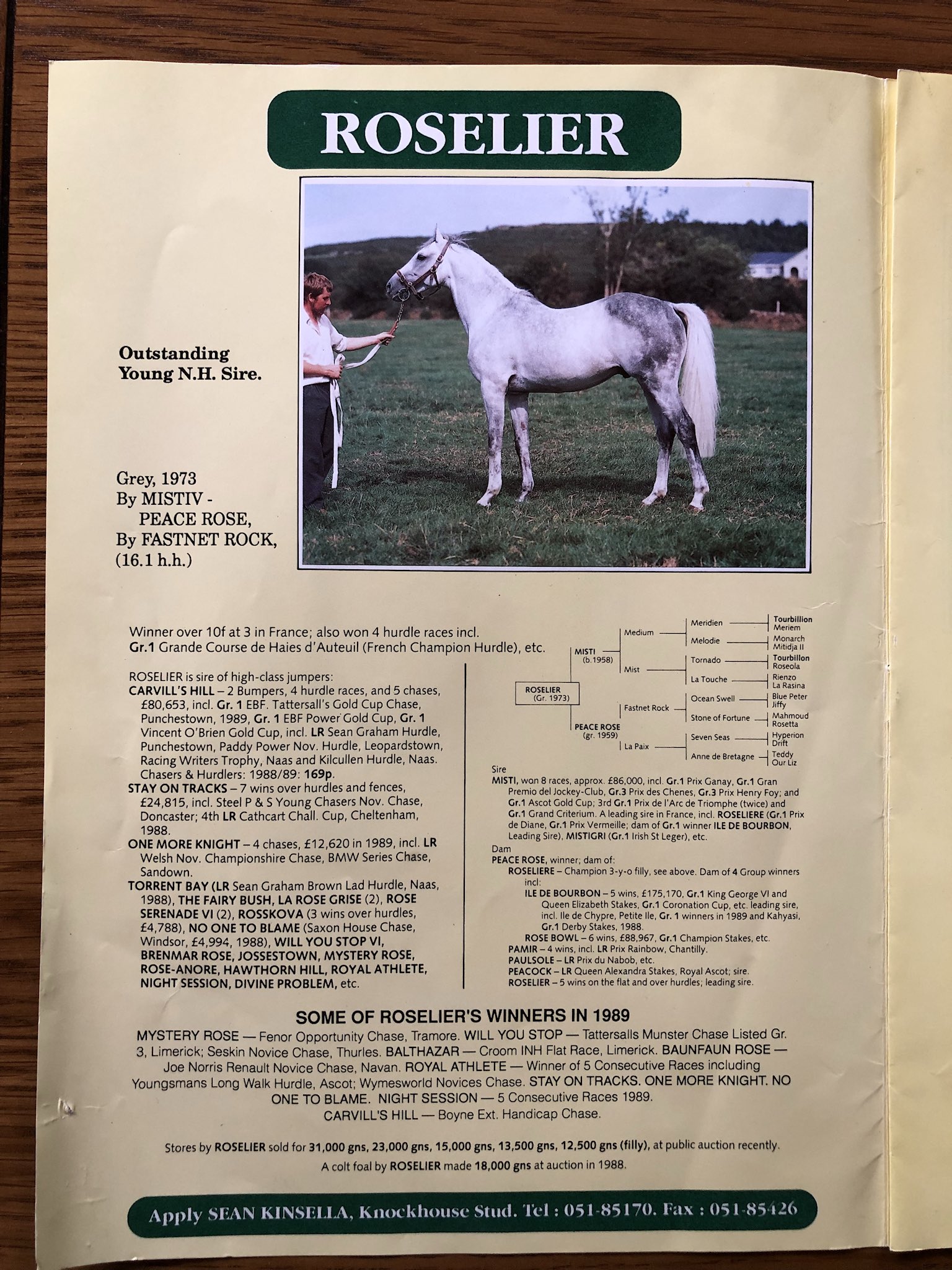 Some of these 6yo's also come from very successful and well-producing mares. Ollie Townend's mount Cooley Rosalent has a full sibling competing at 4*. Dia van het Lichterveld Z is out of a mare who competed through 4* level herself with Karin Donckers. The dam of MHS Brown Jack is also the dam of 5* horse MHS King Joules (by TB stallion Ghareeb xx) and a 1.60m showjumper. Keenabout Wonderland's dam has produced two other FEI-level event horses and three 1.50-1.60m showjumpers. Ballygriffin Chacoa Power's dam has two other FEI-level eventing offspring, one at 3* and one at 4*.
The 7yo class is where things really start to get interesting. These horses have more FEI starts under their girths, and 3* is where we begin to separate the wheat from the chaff when it comes to top level talent. There is only one fully dressage-bred horse in this field (Quasary du Hans, by a Quaterback stallion out of a Rotspon mare), although dressage lines still show up here and there in a few pedigrees. Sir Donnerhall has one offspring (she's interesting for another reason, we'll circle back around to her in a minute), Sandro Hit can be found in the grandsire spot in two horses, and Fuerst Nymphenburg is the damsire of another. Again though, jumper lines are the overwhelming majority. This field does have a slightly higher blood average at 52%, although still no full blood participants. Four horses do have a full TB parent – 3 as the dam, 1 as the sire.
Vigo d'Arsouilles is the sire of two horses in the field, from full blood or high blood % mares, which caught my eye because this isn't the first time in recent years that we've seen successful event horses from a Vigo x blood cross. There's also been Fletcha van't Verahof (5*/WEG), Leipheimer van't verahof (4*), Extebaria van't Verahof (4*), Lamicell Unique (4*), and Ruben de la Pomme (4*). Vigo's sire Nebab de Reve is the grandsire of one other horse in the field as well.
Diarado is the only other stallion with two direct offspring in the field, although several stallions have multiple representations within the first four generations, including Contender, Lux Z, Carthago, Quick Star, Indoctro, Casall, Corrado, and Amethist. OBOS Quality 004, who has 2 offspring in the 2*, has one more in the 3* as well. While there is a lot of blood in this field – and 7 horses have a full TB damsire – only one TB stallion is seen more than once in the first 4 generations: Exorbitant xx. Again we see some familiar TB names though, like Count Ivor xx, Master Imp xx, and Esteban xx. There are also 3 horses in the field with full French Anglo-Arab sires.
Things really start to heat up (for me the mega-nerd, anyway) when you take a closer look at these horses' dams. Hooney d'Arville (one of the Vigo offspring) is a homebred of rider Lara de Liedekerke, who competed the dam at WEG 2010. Hush A Bye Baby's dam has also produced 4* horses Balham Mist (by Mill Law) and Colorado Blue (by Jaguar Mail). Kilandra Capitol is out of the same mare that also produced 5* horse Harbour Pilot C, who represented China at the 2014 WEG. Don't Worry de Lameth's dam competed through Prix St Georges level dressage herself. Global DHI's dam and Irene Leva's dam, ironically both by Amethist, each produced a large number of offspring – a whopping 17 and 18 respectively (and none were via ET), mostly jumpers through 1.50m level. Spring Thyme de la Rose, by dressage stallion Sir Donnerhall (see I told you we'd circle back around eventually), is out of Lucinda Fredericks' 5* mare Prada. Prada also has two 2016 ET foals by Mighty Magic that I'm now stalking, thanks to this particular rabbit hole.
The TL;DR version? These two fields are super interesting. You've got a wide variety of blood, from 28% to 87%. You've got a little dressage breeding. You've got lots and lots of jumper breeding. You've got a multitude of sires that were successful to 1.60m showjumping, 5* eventing, and Grand Prix dressage. You've got mares that showjumped, evented to the top levels, or did dressage themselves, or have produced multiple top level offspring. Which horses will come out on top? Who will we see running at the 5* level in a few years? Do we have future Olympic gold medalists and Burghley winners in our midst (odds are WE DO!)? We'll have to wait and see…