If you're getting tired of these pedigree breakdown posts, I'm sorry. I won't stop. I've become dangerously obsessed with studying this stuff and my spreadsheets are out of control. But also this time I've tried to pull in a few more "fun facts" as I've gone through the field, so hopefully it's a little more interesting even for those who aren't breeding nerds.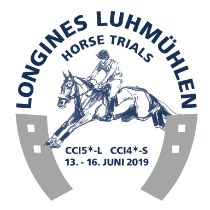 Today is Day 2 for dressage at Luhmuhlen, which is always one of my favorite cross country courses. It looks like something straight out of a Grimm Brothers fairy tale, like you might turn the corner and run into Hansel and Gretel. If you have a Horse & Country subscription (do I have a subscription to pretty much all of the streaming equestrian event channels on the internet? maaaaaybeeeee…) you can watch the live stream online. If not, Eventing Nation has pretty good coverage.
This year there are only 34 starters in the 5*, an even smaller field than Kentucky, but it's chock full of an interesting mix of heavy hitters and first timers. My usual disclaimer: if I was unable to find enough of a horse's pedigree to calculate a meaningful stat, they were excluded from the numbers.
As usual, the most represented stud book is Irish Sporthorse, with 10 entries. Of those 10, 4 have traditional Irish breeding (no European warmblood). Despite the Holsteiner studbook having only 3 horses representing, 55% of the field carries some Holsteiner blood within the first 3 generations.
The average blood percentage of the field is 56%. I looked at the pedigrees a little differently this time in that I broke out one more generation of sire information. This time I looked at the entrant's sire, the sire's sire, the dam's sire, and the dam's damsire. This revealed something kind of interesting. If you look at just the sire, sire's sire, and damsire, the number of full thoroughbreds is about the same – 7 horses have full TB sires, 7 horses have full TB sire's sires, and 8 have full TB damsires. But if you go back a little more and look at the dam's damsire, the number of full thoroughbreds doubles – to 15. That's exactly half of the pedigrees that can be verified that far back. Is it an important place in the pedigree to have blood, or is that just a coincidence?
This field is chock full of horses that came up through the FEI young horse classes – 62% of the field participated in 6yo and/or 7yo 2* and 3* classes.
Several sires show up more than once throughout the field, with Irish Sporthorse stallion Touchdown being the sire of two horses and the sire's sire of another. Touchdown (now deceased) was a 5* showjumper, sired by the Selle Francais legend Galoubet and out of an Irish mare that had a full TB sire. Touchdown has been a successful producer of showjumpers through the 1.60m level and eventers through the 5* level.
The stallion that shows up the most throughout the field, despite having no direct offspring, is Contender. He is represented via his sons Contendro I, Contendro II (full brothers), Con Air, and Cristo.
For the thoroughbred stallions we see a lot of the usual names like Heraldik xx, Master Imp xx, Mytens xx, Damascus xx, and Sir Ivor xx.
The most eye-catching horse in the field is probably Tullabeg Flamenco, who is hard to miss with his buckskin coat, 4 white socks, and a blaze. I am admittedly a little obsessed with him, so I fell down a rabbit hole while looking into his breeder and family. Bear with me here. Tullabeg Flamenco is one of at least 6 full siblings, out of a skewbald Irish mare named Tullabeg Heidi and by the dun stallion Tullabeg Fusion.  One of the older full siblings, Tullabeg Vision, is competing at the 3* level. Another, Tullabeg Tango, is being produced by 2018 WEG silver medalist Sarah Ennis and currently competing at the 2* level.
If you dig more into the families and siblings of the entrants, you find some other very successful mares. The dam of Ascona M, Naomi IV, is also the dam of Clifford M, a 4* horse ridden by American rider Charlotte Collier. Ascona M is by Cassaro, while Clifford M is by Cristo (one of the Contender sons mentioned above). Cristo is also the sire of  Luhmuhlen entrant, Calle 44.
Paulank Brockagh's dam, Calendar Girl (by TB stallion Triggerero xx) is also the dam of 4* horse Paulank Kings River. Both horses are ridden and have been brought up through the ranks by Australian Sam Griffiths. Palanks Brockagh is by Touchdown, and Paulank Kings River is by Kings Master (by TB stallion Master Imp xx).
On a sort of interesting note, American hunter stallion Ultime Espoir also has an offspring in the field – Efraim. Of course, as is typical of many hunters of these days, before Ultime Espoir came to America, he was a jumper in Europe. Efraim is one from one of his earlier European crops.
Let's see how the weekend unfolds! The leader after dressage is Brookpark Vikenti, a traditionally-bred Irish horse with 81% blood by the TB stallion Master Imp xx. Can he keep his lead? Who are you rooting for?