If I had to sum up the 2018 show season in one quick sentence, I would say that it definitely did not suck. Not even a little bit. There were moments that sucked, don't get me wrong. We tried a lot of new and harder things this year, and growth is rarely comfortable. There's still A LOT to work on and plenty of room for improvement. Overall though, I feel like I learned a lot and so did the boys. There were ribbons, which was fun, but mostly we're all better than we were when we started, which is the real point. Also if you had told me at the beginning of 2018 that I'd end the year with a Prelim horse and a FEH Champs winner, I'd probably still be laughing.
The year started out a little bit slow, as far as shows go. 2017 was our first year running Training, during which it became pretty comfortable. Over the winter into 2018 I focused more on trying to smooth things out and nail down some of the harder stuff, which carried into spring as well. But in January we did go to a small local show and do our first Prelim combined test. The dressage definitely felt challenging, but we muddled through it for a 38. The stadium was about half Training height and half Prelim height, relatively soft, although we had a couple rails. It was the perfect first little intro to something a bit bigger, starting to experiment with pushing the boundaries of our comfort zone.
February was disgustingly cold/wet and March was pretty consumed with Presto, XC schooling, and side gigs. Our next show and first recognized show of the year wasn't until the first weekend in April, at Texas Rose. Dressage was tense but relatively obedient, stadium was a little flat (story of my life) and lacked focus on my part, but XC was fantastic and a really nice confidence boost to start the season. Texas Rose used to scare the pants off me, but Henry made easy work of it.
A couple weeks later we went back to the small local venue for another try at the Prelim combined test, with a better dressage and a clear stadium (still with a "soft" course, with some set below height) to finish on a 35. This was the show where I tried out the hackamore for SJ, and really liked how Henry felt in it.
After that I got a bit distracted with getting Presto settled in at the barn, and playing with him, and generally felt a little uninspired about our usual list of recognized shows. Plus a lot freaked out about paying board on two horses. I decided to buckle down on the finances a bit until I felt less cringey writing that big gross check every month, and sat out the rest of the spring recognized shows. That didn't stop us from having Presto make his big fancy show debut in May though, at the same little local venue doing an in-hand trail class.  There was a lot of neighing, but overall he was a freaking champion about everything. He mostly went just to hang out and see the horse show sights, but his 3rd place was an adorable bonus.
The next weekend it was Henry's turn, and we went to Trainer's barn for a Clear Round jumper show, doing one Training height round and one Prelim height round. This show wasn't messing around with their measuring stick, and the Prelim jumps were all set to legit Prelim height and width. Trainer gave her official seal of approval to the hackamore, and Henry was a beast.
By the end of May everyone decided they wanted to go spend two weeks showing at Chatt in July, and I couldn't resist the temptation to join. I'd made a good bit of extra money from some side gigs, and was itching to branch out to a venue we'd never been to before. So with Georgia penciled in during the summer, I sent in a hasty entry for the June schooling horse trial at MeadowCreek, to knock some rust off and get a XC round in.
This show was a bit of a "trial" in a lot of ways. We'd just started a new approach to Henry's dressage, and Trainer wasn't going to be at the show but gave me very explicit instructions on what to do. And wouldn't you know it?
This ended up being a turning point in our dressage. Before that we were usually mid to lower end of the pack after dressage, but since then I don't think we've been out of the top 5. We had one rail down in stadium, but a double clear XC helped bump us back up to ultimately take the win.
After MeadowCreek it was Presto's turn again, and I hauled him down to Houston for his first official FEH class. I really just wanted him to score 70 or above, not really expecting him to make the Championship qualifier cutoff of 72, especially not with Peter Gray (one of the Championships judges) judging. Presto was SO growthy at that point. While he placed 4th out of 4 nice yearlings, I was thrilled with his score of 75.95. He was qualified for Championships!
A few days later, Henry and I left for Chatt. The first week was so hot and humid and miserable, I was really regretting all my life choices that led me to Georgia. Dressage continued on it's "better" trend from MeadowCreek, though, and cross country was AWESOME. I really love going to totally new venues and jumping totally new things. Stadium was borderline tragic when I lost a stirrup, panicked for no actual reason, and rode Henry directly INTO an oxer. We survived, albeit with 8 penalties. I decided I really should buckle down on addressing my show anxiety, because that was just dumb.
Week two saw an even better dressage (scoring what I think was our first 9 ever), and a much improved stadium, although still with eight penalties. The number doesn't always tell the story. But I did accidentally try to kill us both on XC when I rode terribly to the upbank out of the water and Henry had to pull out a 5th leg to save us. Granted, the course ate so many people that we still ended up 6th. I just couldn't put all 3 phases together either week of Chatt, which was frustrating.
The best part of that whole Chatt adventure was getting to spend all that time with my trainer, getting lots of lessons and feedback. When you rarely get more than a lesson a month, if that, having a bit of a "summer camp" like that is SO valuable. We got a lot done in that two weeks.
After Chatt Henry got his annual vacation while it was too freaking hot to do anything else. In August Presto put on his big boy bridle and went to a local h/j show to do the hunter breeding class, so I could get one more show outing under his belt before FEH championships. He behaved himself pretty well, and was the winning yearling by default since he was the only one.
Henry was back to work by the end of August, but it's still too damn hot to event around here that time of year. The next show on the docket was again for Presto – FEH Central Championships! I opted to have Martin Douzant show him for me, so I could sit back and enjoy seeing my little baby horse do his thing. I had zero expectations for Champs, really just wanting to not be last. I was shocked when he scored a 79.9 (an 80.2 from Robin Walker, and a 79.7 from Peter Gray) to win the yearling colts and take Reserve Champion overall yearling. I don't take FEH results that seriously when it comes to accurately predicting a horse's future, but considering what a rough start Presto had, it was still a really amazing and fun moment. As a "hobby" breeder, with a 2nd generation homebred, I was hella proud. Still am.
The following weekend it was Henry's turn, with the recognized event at Willow Draw. We hadn't shown there before, partly because it's a one day, and partly because it intimidated me a little, but Henry was perfect. He put in a very solid dressage (except for an unnecessary flying change – oops) for a 32, I finally got my act together in stadium for a clear round, and he was a little machine on XC (even when I tried to bury us at the trakehner), finishing on our dressage score for 2nd place. FINALLY I managed to put together 3 good phases.
The fall seemed to pass like a blur after that. The next weekend we went to another Clear Round jumper show at my trainer's place, doing more Prelim classes. There were a couple small mistakes, but Henry was super, and we were both really feeling comfortable at the 1.10m height.
If spring was a little slow, we were making up for it now. A couple weeks later we headed to Louisiana for Holly Hill, all by ourselves. The dressage judge really hated us (to be fair, she seemed to hate everyone) and we got our worst score of the year, a 39, on what I felt like wasn't a bad test. We put in another good stadium round though – clear – and a REALLY FUN clear XC. A couple of fences had me worried, but Henry was on fire. We finished on our dressage score again for another 2nd place.
There was no rest for the wicked, and a couple weeks after Holly Hill we were off to Texas Rose for our first P/T. I was relatively terrified, because Texas Rose is by far the biggest most intimidating venue in Area 5, and why I let trainer talk me into doing my first "real" Prelim stadium there, I had no idea. The dressage was ok, aside from my error (hey there's no half pass in Prelim dressage, just FYI), and we got another 9 on our test for a score of 34. For a first recognized Prelim test, with an error, I'd take that all day long. Stadium was huge and terrifying, I wanted to die, but aside from goofing up one fence, it was a decent round. There were rails down, but it wasn't bad. An unfortunate slip on XC led to me having to circle in a combination, picking up a 20, but I was still really happy with the show. I left feeling like maybe we could really do this Prelim thing for real.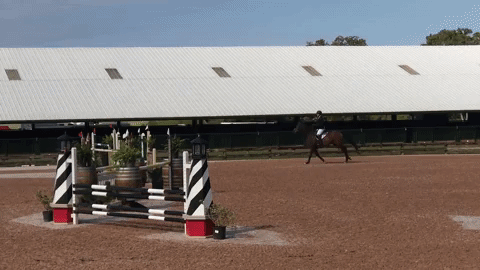 Which was good, because turns out we really were doing this Prelim thing for real. We officially entered our first Prelim horse trial, with Trainer's blessing, at a schooling show in December, held at a venue that uses the same courses as their recognized events. Legit Prelim without the added pressure and cost of recognized, and it was free since I had so many volunteer credits to use. Can't beat that. My only goal was to finish, but Henry really stepped up and blew me away. He got a 30 in dressage, our best score of the year. A few rails fell in stadium but it was a solid round, just a bit flat and quick, which doesn't work that well when your horse isn't particularly careful. But on cross country, he was a freaking machine. We had one of our best rounds EVER at any level, everything flowed really well, and he was just eating it up. I took my time on purpose, so we had lots of time penalties, but we finished with no XC jump penalties and a newly minted PRELIM horse.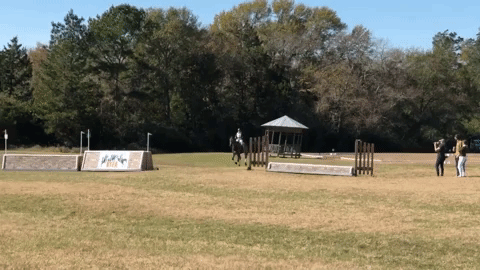 2018 was quite a year! What stands out to me most is the growth, partially in skillset but mostly mentally. Some things went well, some things didn't, and some things are still an ongoing process. But my viewpoint has changed, the way I look at showing has changed, and my goalposts have moved yet again. I learned so much throughout the year, about riding and about myself, and I'm so grateful to have Henry and Presto to take me on this journey. I'm not sure that any year will top this one, but I sure am looking forward to finding out what 2019 has in store.