It's probably no secret that I'm a real lover of equestrian-related technology. My Cambox helmet camera is probably one of my all time favorite purchases, and I've been having a lot of fun lately with the Seaver smart girth. I've looked into automated camera systems like Pixio and Soloshot, since I always ride alone and therefore rarely have media of it, but have never been able to justify the cost. It was easy to just pretend like they didn't exist, purposely avoid their social media, and try not to be too jealous when other bloggers posted about theirs.
And then, because I'm pretty sure the universe loves to taunt me, I made the mistake of going to Riding Warehouse's "New Items" page again last week. Yeah, the page that always ends up getting me into trouble. I can't help it, y'all, I love looking at all the new stuff so I check it all the time. And it seems as if RW has been really busy upping their technology game, because there were several fun little gadgets that stopped me in my tracks.
First, of course they're carrying the Soloshot now, both the Optic65 and the Optic25 models. OF FREAKING COURSE. The Soloshot is the camera system I wanted. My US Rider discount would bring it down to $466 for the Optic25, which, while a lot better than the sticker price of $550, still puts it solidly in the "hahahaha no effing way" territory for what is essentially a for-fun item. Owning two horses on a small budget does not leave that kind of play money left over. Still, I can't decide if I'm really happy they're carrying it since it makes the price more realistic, or really sad that they're carrying it because now I get to be taunted by it all the dang time.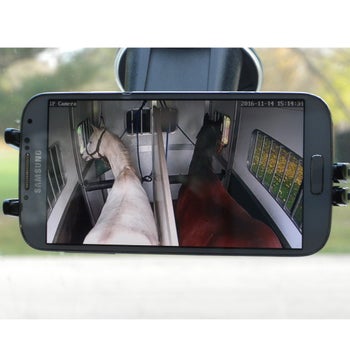 I also noticed that they've added a bunch of Trailer Eyes products to the lineup, including the Trailer Camera system and the WiFi Trailer Cam.  I'm kind of obsessed with those things. I LOVE being able to see what the horses are doing in the trailer and keep an eye on them to make sure nobody is in trouble back there. Luckily with my small little, um, vintage trailer I have front windows so I can at least see their heads and make sure they're upright/eating hay. Next trailer, though… I will definitely buy some kind of trailer camera system. I've gotten so accustomed to being able to see them that now I'm beyond paranoid if I can't, and the camera systems are pretty cheap considering.
As if those weren't enough, I kept scrolling and saw that they're carrying the new UHWK helmet camera. It's a bit bigger and bulkier and less fancy than my Cambox, but has a similar front mount style and is specifically designed for a helmet. It definitely looks way better than a GoPro or the side mount cameras. The most interesting thing about it is the price – with a discount it comes in around $150. I'm far too in love with my Cambox to stray to something else, but it could be a really interesting option for those who like the design of the Cambox but don't want to spend quite that much money. Somebody buy it and try it and report back!
Anybody own any of this stuff? Actually, don't answer that question if you own a Soloshot. Unless you hate it, then feel free to tell me how much I don't need it.
We won't even talk about all the fancy new Majyk Equipe pads, or the fact that they're now carrying all the MotionLite colors or the EQ3 MIPS helmets. I'm trying to pretend like none of this exists. Why do I even go look at the New Items page all the time? WHY? I need a 12 step program. Or a winning lottery ticket. Preferably the latter.