Next time someone gives me the stink eye in the grocery store after I've been at the barn, I'm just gonna pretend like I'm haute couture instead of a hot mess. The equestrian trend still seems to be hanging in there, and this season has delivered a couple of real winners.
For instance, Tory Burch, who made paddock boots and half chaps that aren't actually paddock boots and half chaps. Or, in their words, "1 boot, 2 ways"! And they're $625. And you can't even ride in them. Stop it.
Time to put on your half chaps and paint the town, I guess?
Then there's J. Crew. Aside from the fact that they have completely unrealistic ideas of "barn hair", they also don't know how to spell reins.
I dunno about y'all but I totally dress like that and stare longingly into pastures.
They also think that this giant red scarf/blanket thing is very equestrian chic. Because I dunno about y'all, but I always wear a big red cape when I ride.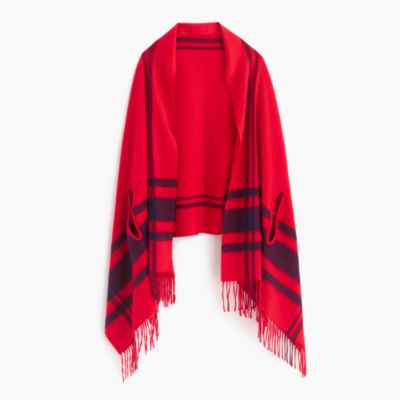 Not sure how to wear it? No worries, Ralph Lauren also thinks that a red cape is very equestrian, and they show us how it's done.
Too bad nobody told them that a pinque coat has to be earned, not purchased. Faux pas, Ralph Lauren, faux pas!
But Riding Warehouse has a fall clearance sale (up to 75% off!) going on, if you want actual riding clothes that serve an actual purpose and are not stupid expensive.