Man, it's been a while since I did a Small Business Spotlight. Why I haven't done this particular company before, I have no idea, because I've been getting stuff from them since 2014. For shame. But I'm here to correct my oversight now, and just in time for the madness that is the holiday season!
Two Socks Designs is a semi-local company to me that basically does just about anything and everything custom and/or cute. Shirts, saddle pads, hats, patches, any kind of embroidery, banners, decals… you name it, they do it. I first came across them at a small horse show, where I bought my ever popular (and still 100% accurate) "World's Okayest Rider" shirt.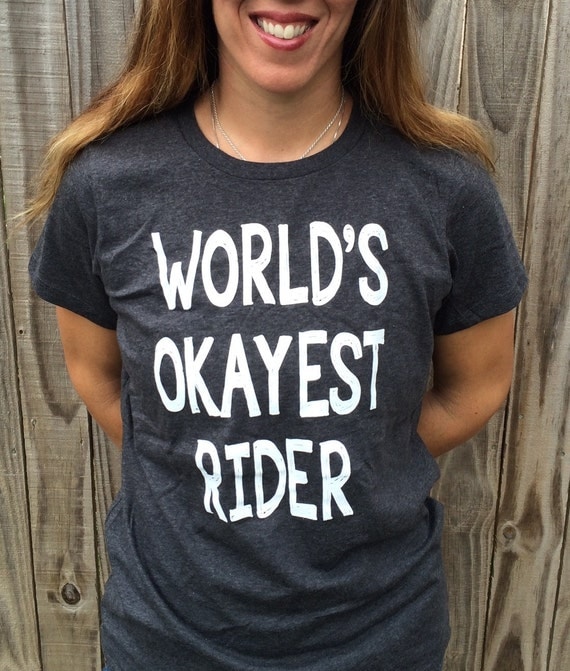 The following year, Two Socks did the awesome custom unicorn design (which they came up with!) on our team saddle pads for AEC's, coordinating the unicorns to our individual colors. This year Two Socks made all the banners and polo shirts for the Willow Tree sBs inspection. Everything I've ever seen that has come from them has been fabulous, and very well done.
So, without further ado, let's get to know a little bit more about Two Socks, in their own words!
When did you start Two Socks Designs and where did the idea for the business come from?
I come from a family of entrepreneurs, so I knew for a long time that I always wanted to have my own business as I was pretty miserable in the corporate world working for other people.  By chance, back in 2011, I happened to wash my half chaps (who washes half chaps?!) with all of my saddle pads, which naturally turned them all blue.  I ordered new ones, took them to a chain embroidery place to be monogrammed, and was shocked that they charged me like 25 bucks to embroider a name.  There were so few font options and colors to choose from and was all just so…boring.  And just not "me".  It was right then that I decided that the world needed fun saddle pads and I was going to make that happen.  I had no idea how to sew, or what an embroidery machine even looked like, but before I knew it, Two Socks Designs came to be.
How many employees do you have?
Up until earlier this year, it has been only me, with my husband making the occasional trip to the Post Office.  Artwork creation, social media, email correspondence, order fulfillment, shipping/receiving, accounting and maintenance are some of the many jobs you learn to balance as a small, one-person business owner.  I am fortunate in that my business has steadily grown over the years, so when my mom retired earlier this year, my parents made the decision to relocate from Oklahoma to San Antonio, TX, and now my mom helps me with getting orders cleaned up and ready to ship.  She is still very leery of running the machines, though.
What is your background in horses?
I started riding hunter/jumpers back in Oklahoma in the late 90s, and like the rest of us crazy equestrians, it's been pretty much where all of my money goes ever since!  I just began leasing Metro, a giant 18.1 hh TB, that I plan on competing in TIP/Take 2 classes next year, and I also have my long-time partner, Casino (for whom Two Socks Designs is named) that is being leased out to a lovely dressage rider.  Most of your readers know Michelle from Willow Tree Warmbloods by now; I also have one of Michelle's 2015 babies, Jag "Carrera R", that will be started under saddle next year.  He has two adopted pony friends, Spradley and Turbo, that keep him company.  Wow, that sounds like a whole lot of horses when I put it on paper…Have I mentioned that my husband is a really nice and understanding person?
Any interesting notes on your business or products that you would like people to know?
Although Two Socks Designs is best known for embroidery, I also offer screen printing and vinyl decal and banner printing.  I don't have any minimum order requirements on embroidery or printing, so if you just need one of something, I can help.
Also, If you are looking for a cool and unique equestrian-themed gift this year, please take a look at the Two Socks Etsy Shop, www.etsy.com/shop/twosocksdesigns.  More items will be added to the shop in the very near future and everything in the shop can be customized.
Finally, to see more of what I do, please visit my website, www.twosocksdesigns.com, or check Two Socks out on social media, www.facebook.com/twosocksdesigns or on Instagram, @twosocksdesigns.
P.S. – A huge thanks to Amanda for the chance to tell her blog readers about what I love to do.   Reading your blog is always an enjoyable part of my day and I'm always waiting to hear what will happen next in the Henny and Presto sagas!
Now to the extra fun part – the giveaway! Like the above saddle pad? You could win it!
There are 3 different ways to enter, feel free to just choose one or stack the odds in your favor and do all 3.
1) like Two Socks Designs on facebook
2) follow Two Socks Designs on Instagram
3) leave a blog post comment here and tell us what your favorite Two Socks Designs product is (I highly recommend perusing the Etsy store on the gallery on their website!).
YOU MUST CLICK THIS LINK TO OFFICIALLY LOG YOUR ENTRIES
The giveaway will stay open for one week, then I'll announce the winner on 11/6. And if you want to place Christmas orders from Two Socks (which I highly recommend, their stuff makes for fantastic gifts), now is the time to start thinking about it! They can make just about any idea come to life, but they do get quite busy in the holiday season so it's best to order early.