You know how sometimes these random bits of horsey information just live in the back recesses of your brain until you actually see/do something that brings them to the forefront again? I've been having that experience over here this week.
I don't even know where I originally heard or saw this, but I knew there had been some kind of study done about horses seeming to prefer drinking out of of blue buckets. Specifically light blue or turquoise.
Maybe I heard it on a podcast, maybe I'd seen someone post it on facebook… who knows. I had definitely heard about it, but it just kind of went in one ear and out the other since it was information that really didn't pertain to me. I've never in my life owned a turquoise bucket, I always tend to buy ones that match my stuff, like navy, black, dark green, etc. I was skeptical that it was particularly true at all but reasoned that it probably just had something to do with how horses see color. I know that horses have dichromatic vision, so they mostly see blue and yellow with everything else in shades of gray or brown… mostly red is really indistinguishable for them.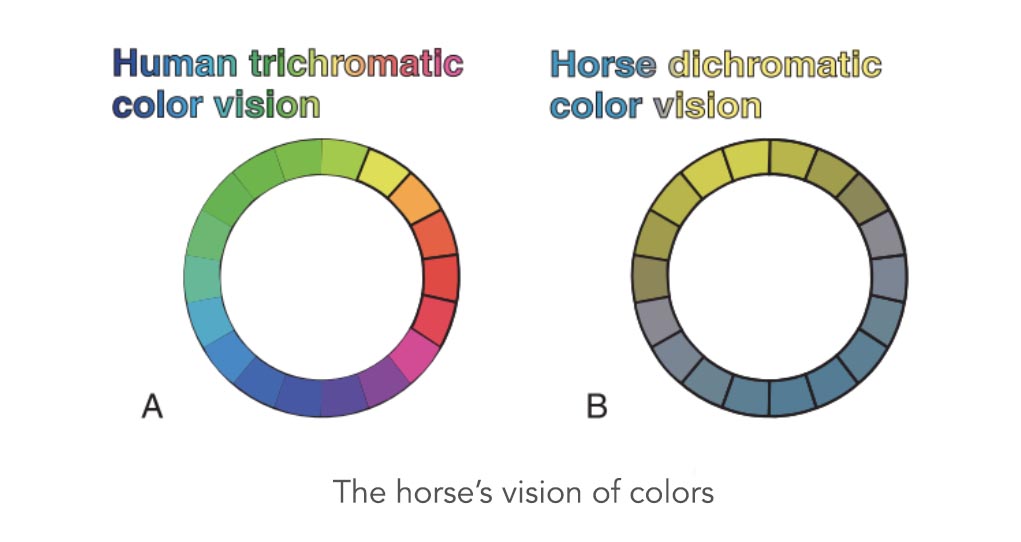 I have an app that I like to use on XC at shows to see the jumps how the horses do – it's always really interesting. What seems bright or crazy colored to us almost never looks like way to them.
Anyway, back to buckets.
When Grace got here and we got her stall ready, we originally pulled the two red buckets out of the stack of barn extras. Then we realized that one of the red buckets had a crack in it, so it got traded out for the next bucket, which happened to be turquoise. She had a red bucket and a turquoise bucket in her stall, and I didn't think anything of it. Fast forward about a week and I started to notice that no matter where the turquoise bucket was (I dump and clean the buckets daily so sometimes it ended up returned to the corner spot and sometimes it ended up in the middle spot) she ALWAYS drank more of the turquoise bucket than the red one. Even when she came into her stall and went to get a drink, she would pass the red bucket and go straight for the turquoise one.
Once I noticed it I started moving the turquoise one around on purpose, and sure enough EVERY single night she would pretty much empty that one and barely touch the red one.
But, ya know… maybe it was just Grace? I figured a better test would be Henry. He had two purple buckets, and he ALWAYS ALWAYS ALWAYS uses his corner one just for discarding his unwanted hay scraps into (he won't drink it unless he's absolutely desperate in the middle of summer and he's already drained his other bucket). So I grabbed the second turquoise bucket out of the storage barn and put it in the corner position. I'll be damned, y'all. I'll be damned.
It's been 3 nights now and he's drank more from the turquoise corner bucket than he has from his previously preferred bucket every single night. I can't even stress how bizarre that is, he just does not drink from the corner bucket ever.
I have to admit that I think there's definitely something to this whole bucket color thing. I mean, I'm not sure that they're drinking more overall than usual, but they definitely do seem to show a preference when it comes to which bucket they drink from if given a choice. Don't mind me, just off to buy a bunch of ugly turquoise buckets…