I promise I won't post about the tiny home thing very often, since this is a horse blog after all. It's kind of a big deal for me though, preparing to have a tiny home built, and then subsequently moving into it and living in it. Plus technically it's going on a horse farm, so… it's relevant. Either way, when I do post anything about the house, I'll limit it to Tuesdays only and clearly title it so that you don't have to read about it if you don't want to. Sound fair?
On Sunday the SO and I went to the Tiny Home Expo here in Austin. Not for any real specific reason, I was mostly just curious and wanted to take a look at what was there to see if there were things I hadn't though of, or cool gadgets/gizmos on display. The expo was, overall, pretty underwhelming. It did have a fair number of tiny home models on display, which was good, but nothing much else worth looking at. Some of the booths didn't even make any damn sense, like all the douchey overly perfumed people trying to sell me "instant face lift". WTF? Clearly they are NOT understanding the type of people that tend to want tiny houses, because, well… we ain't that. People that are looking to live tiny or rustic or minimalist prooooobably aren't gonna buy your 10-product face care package from Mr. Walking-Axe-Body-Spray-Commercial. We came here to see creative storage solutions and compost toilets and collapsible fire pits. Just saying.
Anyway, having all the tiny home models there in the convention center was the saving grace of the expo, and made it worth the trip. We got to look inside everything from a hunting cabin to a shipping container home (by far the most godawful thing I've ever seen in my life) to a plastic dome yurt thing to a converted school bus to a "bohemian bungalow" to a gypsy wagon. It was not lacking in variety.
The builder that we're using was also there with two models, one a towable tiny home and then one park model RV, which happened to be the same model that we picked out – The Tumbleweed. It was finished out quite differently from what we've picked, but it was really good to see it again and stand in it again and confirm, without a doubt, that this was for sure our favorite. It really wasn't even a contest, we still both love the layout and the space. It's definitely bigger and lot more open than your usual tiny house.
We also took the opportunity to do some things we hadn't thought to do when we saw the model a few months ago, like take measurements for the area where the couch goes. I wasn't sure what would fit, but we've got 84+" to work with so I think we'll be able to find a smaller sectional without a problem. We also got to see some of the upgrades that we had picked out but weren't in the model we saw at the showroom, like the stainless steel farm sink and appliances, and the front load stacked washer and dryer. This one had all of those upgrades, and I loved them.
This is the video tour of the one they had at the expo. We won't be doing a back deck, since it means sacrificing a closet and a dresser in the bedroom, but otherwise the layout is the same and it's got the same size front porch that ours will.
What stuck out to me most, though, in walking through all these models, is that what I really seemed to be drawn to were the little pops of character. For the most part I'm boring, I don't like big walls of color or tons of bright accents or anything that looks busy. For those who don't remember from the first tiny house post, we picked out a quite GRAY interior. Which I like, but now I'm second guessing a few parts of what we picked out, like the cabinets and the backsplash.
I do still want the place to have character. Seeing the unique tile accents, or the stained glass panels, or the little pops of color, or even the super fun and unique drawer pulls… I loved those touches. It gave the spaces a little bit of personality and made them feel less cookie cutter, less bland.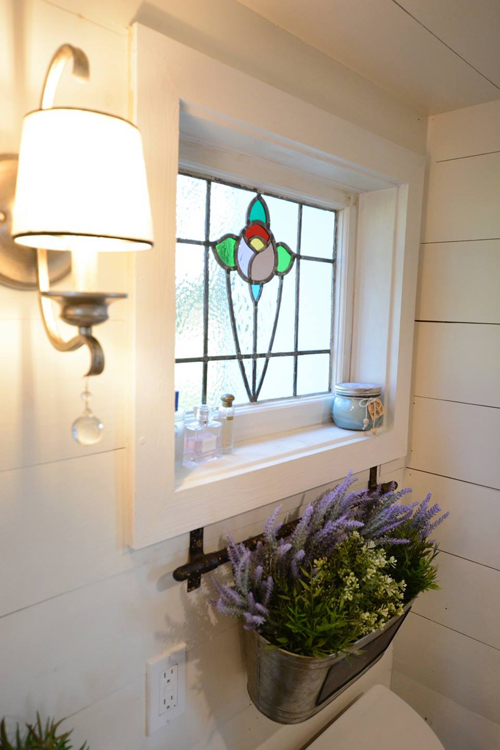 This is perhaps the first time in my life that I've wished I was a little more girly. I have  no eye for design, no concept of what will work or what won't. I don't really know how to go about adding these little things that will give the space some charm without making it look like… well, a gypsy wagon.
I went a little bonkers googling things on Sunday night, and just flipping through Wayfair to try to understand what I even like. I've never paid that much attention, to tell you the truth. I found some really cool handpainted knobs that I'm wondering if maybe we could incorporate into the bathroom or something…
I've always loved stained glass but never even thought about putting it in the house until I saw the accents in a few of these tiny houses. Then I was like OMG WE COULD DO STAINED GLASS DOORS. OR A TRANSOM WINDOW. But… thinking that might be a bit much and/or awfully permanent, so maybe I could hang a nice panel on the kitchen window or bathroom window or something and get the same effect?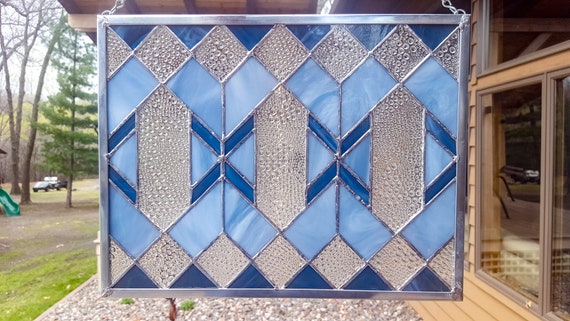 Then I realized we'd also have to pick out rugs, a couple counter height chairs for the island, porch furniture, a coffee table, and a couch… at which point I pretty much just curled up in fetal position and gave up. Thank god this place is only 399 square feet and requires very few items of decor or furniture.
Basically, I came away from the expo feeling like my mind had been opened up a lot, but that quickly morphed into feeling a bit lost and overwhelmed. I'm astonishingly bad at being able to imagine what things will actually look like in the space, and whether or not I'll even like it. Looking at all this stuff just made me think that I should hire a decorator to help us, but I'm 150% sure there's not room in the budget for that. And I'm scared they'd just put knick-knacks and shit all over the place anyway, which makes me cringe. I mostly just need guidance. Someone with a good eye and some creativity that can tell me what to buy, or like… present me with just a couple options to pick from. That would be so much easier.
Advice? Ideas? Words of wisdom? I'm all ears.