The final Fair Hill 4* is officially in the books – the end of an era, but also the beginning of a new one. Next year I'll have yet another group of 5* horses to rifle through and overanalyze… my favorite things!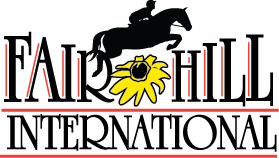 This field proved to be a good one, and particularly exciting if you are a thoroughbred fan. We had 14 full thoroughbreds, and another 7 horses who had at least one full thoroughbred parent. Plus, a TB won. I think that means we should start with them!
If we confine our digging to the first few generations, there are a couple TB stallions that show up more than once. Silver Deputy is the sire's sire of one horse and the damsire of another. AP Indy, who we saw a lot of in the YEH field, is the sire's sire of another horse here. Same for National Anthem – he was the sire of two YEH horses and is the sire of another in the 4*. The European based TB stallions Imperious and Heraldik both show up twice. Mr Prospector shows up 4 times and Buckpasser 3 times. But if you go back a little farther, the real standout here is (and not for the first time) Northern Dancer. He's in an incredible 11 horses, through a variety of different offspring. Direct ND sons Sadler's Wells, Danzig, Vice Regent and Nijinsky II make multiple appearances. Our winner, Paddy the Caddy, himself carries a triple dose of Northern Dancer.
Other sires with multiple representations within the first few generations are Contender, Courage II, Cruising, Puissance, Animo, Clover Hill, and Voltaire. All jumping blood, and none of those names should be unfamiliar by now if you've been reading these posts. Puissance is by the stallion Imperious xx, who is also the sire of the legendary Master Imp xx. Holsteiner stallion Capitol shows up in the sire's sire position three different times, through sons Cassini II, Capitalist, and Courage II. We'll circle back to that.
Personal favorite – Mighty Magic – had one offspring in the field, and although I'm not officially covering the 3* horses, he had two more there (both finished in the top 10).
Despite being a field overwhelming dominated by thoroughbred and jumping lines, dressage stallion Sandro Hit does have some representation as the damsire of QC Diamontaire (by Diarado). Of course, Sandro Hit himself does have strong jumping blood via Sandro, Gepard, and Ramiro. So… ya know. Maybe not a surprise that they can jump, especially when he's crossed with more jumping blood.
One of the most exciting figures from this group, for me anyway, is that 48% of the horses were bred in North America. That does include most, but not all, of the thoroughbreds.
If you average the entire field (including all the full TB) the blood percentage is 68%. If you take out the full TB's, the average blood percentage is 51%.
Looking at the results side of things, the top 5 horses after dressage only included one full thoroughbred (Business Ben, one of my favorite up and coming horses at the moment). There were only four double clear XC rounds: Palm Crescent xx, Fernhill Fortitude, BGS Firecracker, and Lancaster. Their blood percentages range from 33% to 100%. Double clear showjumping rounds were easier to come by, with 12 horses managing to add nothing to their score in the final phase. Two of those were full TB's, and the average blood percentage of the other 9 was 46.2%.
Only two horses finished on their dressage score – BGS Firecracker and Fernhill Fortitude. Interestingly, the sire's sire of both horses is Capitol, via Courage II for Fernhill Fortitude and via Capitalist for BGS Firecracker. Even MORE interestingly, BGS Firecracker's damsire is also Courage II (which yes, makes him double Capitol). If you remember back to Burghley last month, Courage II had two offspring finish in the top 15 there. You will never convince me that bloodlines don't matter!
Did anyone else have any favorite horses from Fair Hill? Who do you think will be back next year to contend the 5*?