Y'all, I made it. The last day of work before we leave for Coconino tomorrow. I'm so delighted, I've already planned how I'm going to make my exit this afternoon.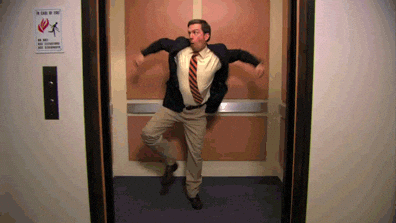 It's been a stressful couple months. Work has been crazy, and I've recently taken on more responsibility, which has just magnified the stress. I'm not a particularly anxious person, so I deal with it pretty well (ie I stuff it deep down inside where it can fester forever), but still… I need a break. Will everything be on fire when I get back? Probably. Will it take me weeks to fix it? Probably. Do I care right now? Not a damn bit.
I am so ready for cooler temps, lower humidity, the smell of pine trees permeating the air, 10 days of nothing but poniesponiesponies, and hanging out with all my best horse peeps. The horse show aspect hasn't even registered. I don't even care about that.
Of course, it is still a horse show so I still have to pack all that crap. You will be delighted to know that, true to form, I haven't packed anything yet. Because that's who I am as a person.
But I did laundry last night, so that's step 1. Go me. This afternoon I'll pack the trailer, and tonight I'll pack all my own stuff. I'm pretty excited to be pulling Henry's blanket and my jackets and vests back out, not gonna lie. Bring on the 40 degree mornings, Flagstaff. I'm so ready for this trip that I'm not even stressed about it, or any of the logistics of our 16 hour drive. I just want to put my best bud in the trailer and hit the highway headed west.
I have done one thing so far, in that I dyed and cleaned up Henry's tail. It's been a long time since I dyed it and it was back in it's natural rust-streaked state, so now it's black again. Or "Brown Black". Thanks Clairol.
Actually, I've done 2 things. I downloaded 8 new books to my Kindle so that I'll have reading material while we're there. Priorities, ya know?
As always when I leave for more than a few days, I'm going to miss Presto. He will probably be delighted though, just eating and sleeping. I know that he's in great hands, so I'm not as nervous being gone as I have been in the past. The barn owner actually takes better care of him than I do, I think. She was relatively horrified that he went to his FEH show a little ribby and covered in bite marks (I mean, he's 2…), and now that he's qualified for championships she's made it her own personal pet project to make him beautiful before then.
I gave up on caring about this horse's missing chunks of hair somewhere around month 2 of his life, but she is going to town with the coconut oil. By the time she's done he looks like an appaloosa. He's also spending like 20 hours a day eyeball deep in hay, which I have zero complaints about. Of course, he just keeps growing up, not out. This growth spurt has to end eventually though, right?
We're planning on leaving as the sun is coming up tomorrow morning, so we can get to our layover location before the worst heat of the day. Just like our last trip to Coco, we're staying with Bobby's husband's parents again at their farm in New Mexico. I will try to post regular updates from the road, as long as my WordPress app will allow. I'm not taking my computer and I won't have WiFi (my heart just cackled in glee at both of those things), but I'll do my best.