Presto's got a new little half-sibling! Well… he will (hopefully) in about 325 days. Sadie is officially in foal.
It was an end of season hail mary, one last attempt before wrapping things up for this year. Michelle decided to try fresh instead of frozen, and after we wracked our brains for a few days trying to think of a stallion available fresh that got us both excited, we landed on a bit of an "outside the box" option.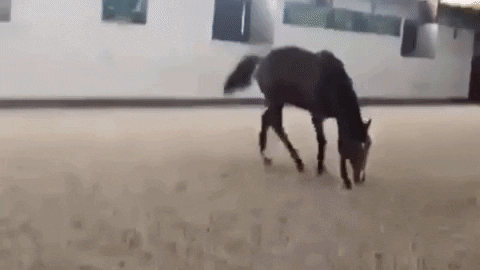 When we were in Ocala for the FEH symposium in February, we both really loved one colt in particular. He's still a baby, but there was something about him that grabbed both of us. His pedigree is superb, he's a fantastic mover, really nicely put together, and should be able to jump a house. He's stuck with me ever since. Michelle got in touch with his owner, who agreed to have semen collected and shipped, and now here we are. It worked! This will be his first foal.
He's by the showjumper Herald 3, who jumped through the 1.60m level. Herald 3 is by Heraldik xx, my personal favorite, out of a mare with L and M holsteiner lines on the bottom. If a lot of that sounds familiar it's because you've seen it before in Presto's sire, Mighty Magic, who's dam is by Heraldik with L and M Holsteiner lines on the bottom. What can I say, I have a type.
Hopefully that little black dot settles in there and makes itself at home.
We've also still got Peyton in foal to Ramiro B, and Daisy and Stormie are in foal to the French jumper pony Usandro. First time using the frozen Usandro semen that WTW imported, and first pregnancies! These will be his first foals in the US. So that makes 4 foals coming in 2020, hopefully, which is a good number. For the ones that didn't get pregnant this year for whatever reason, they'll start early next year.
And if you haven't seen this video of Stormie's 2019 sportpony foal, Nunez… you're missing out. He's the zoomiest little creature I've ever seen! Too bad pony racehorses aren't really a thing.
Happy Wednesday!