Over the course of my 4 day weekend, I spent approximately 8 hours in the saddle and  24 hours with horses in some regard. I also got to sit on 3 different horses and do a wide range of activities, from riding tackless to schooling XC to foxhunting to a dressage lesson. It did not suck. I have to figure out how to get more 4 day weekends and make all of them like this one.
The shenanigans started on Thanksgiving Day, which was my least horsey day of the weekend. Still, I snuck away before lunch so I could ride with Hillary, her hopping Inca over some fences, and me swinging up on Henry tackless to take Presto for a pony around the field. Reason to love Henry number 9 million-and-something (who can even keep count anymore). Not many horses would tolerate this kind of crap, but he's a trooper.
On Friday I hauled down to Pine Hill for a mini-XC school, one more little tune up with Trainer before the show this weekend. The ground was still very wet, so we couldn't jump much of the Prelim stuff, but Henry popped over everything like it was all very ho-hum. I think he feels ready. Granted, I think he's been ready for a while, it's his pilot that's had some catching up to do. Although you know what's weird as hell? THIS.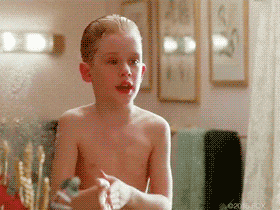 I'm kind of weirdly excited though, and mostly just hoping we don't get any more rain before Sunday. I don't think the course can handle it, and I really want to go show my pony. Everybody do an anti-rain dance.
After I got off of Henry I got on another green horse to hack him around while the next group schooled. Another bay thoroughbred who was a very good boy. Aren't they all?
I stayed over at Trainer's on Friday night so that we could get up early to go FOXHUNTING the next morning. Although Henry had to sit that one out, since he'd XC schooled the day before and I really needed a dressage lesson on Saturday. Guess who Trainer offered up for me to ride instead?
It's Flat! Her OTTB that I keep threatening to steal. I love him, I'm the captain of his unofficial fan club, and I dunno what Trainer was thinking letting me ride him because I was really tempted to just sneak off and keep riding him all the way home.
And Flat (naturally) was a super fantastic good boy for his first hunt. He waited patiently all the times we had to stop, handled himself really well in the group, didn't mind the hounds, and boy did he love the gallops. I can see why he was a winning racehorse, he's so athletic, you can feel it just sitting on him. This horse is going places, y'all… you heard it here first. We had a blast out there, and Henry will get his turn in a couple weeks for the Blessing.
After hunting we got back to the farm and I hopped on Henry so Trainer could help me with a couple of the parts of the Prelim test that I struggled with at Texas Rose. Some minor tweaks led to massive improvement (hey, guess what, I just wasn't doing shit right… shocking, I know…) so he got to be done relatively quickly and then we headed home.
On Sunday a cold front started to blow through, with a nasty wind, which made me feel kind of (but not really) bad that my main activity for the day was body clipping Henry. Again. For the 3rd time in 8 weeks. I am about freaking tired of clipping, if he could stop trying to be a woolly mammoth that would be super.
He at least got to go on a nice long walk hack with Annie and Presto first, in which the horses were total morons and proceeded to spook at everything. Parked trailers, grass, hay bales, gates, trees, a bag, each other… you name it, they were spooking at it. They had fun though, and that's what matters, right? Then he got stripped naked and now he just looks goofy as hell with his super fluffy legwarmers.
I hope everyone else had an equally horse-filled (and food filled!) long weekend! Only a few more work weeks left until the next one.