The local venue where Henry and I sometimes go for winter combined tests is offering a whole new type of event this winter.
Yep, a very very low key, super chill dressage freestyle show. You can make your own test, pick your own music, do it solo or with a partner or as a team, and even wear a costume (I'm pretty sure that's Timon and Pumbaa in the picture). If you're trying to make me way more interested in dressage, you're doing a good job. They even said that equipment rules will not apply, so I'm welcome to do my test bareback and bitless. Which is kind of my dream. Henry is much easier to ride bitless in general, and I've always felt like it would be fun to play around with a test that way. I do bareback and bitless "dressage" rides with him at home pretty regularly. Yeah I know, I can feel all the DQ's screaming internally at the idea and/or principles of bitless dressage. Take the whole dressage part of this to be a very loose description of what's really happening and do some deep breathing, it'll be ok.
I'm a little less into the musical aspect of things. That seems like a lot of work. I honestly just want to do my test to Pink's "Raise Your Glass" and have fun with it, even though the music does not at all work in the real dressage freestyle format. Unless my horse was trotting a few thousand miles per hour. Which technically he probably IS capable of, but pretty sure no one wants to experience that, especially his bare back and my pelvic region. Raise Your Glass is my favorite song on my horse show play list, though, very fitting for us, and if I can't make that work then I don't know if I'm interested. Unless a Missy Elliot song is also possible. Then maybe. Omg, what if I could weave together Raise Your Glass with Get Ur Freak On or Work It???
But anyway, I'm torn. I think the show sounds super fun until you get to the dressage freestyle aspect of it and then it feels suspiciously like hard work. I feel like I have to get into tempo and beats per minute and make all the music line up right and have a test that makes sense and flows and BLAH BLAH BLAH. I don't know if I'm into all that, and honestly the dressage freestyle boringness has never been very interesting to me. I just wanna go be dumb and incorrect and do a bareback and bitless dressage test to a fun song like an oblivious idiot because why the hell not. I have enough real work to do right now related to our attempted move-up (my brain is at max capacity), so I just want something silly and fun that feels like the opposite of real work. Which I guess I could totally do if I just ignore all the rules of dressage freestyles and how they're supposed to work. That's definitely an option.
But then we circle back around to the effort required to figure out a test and music and I start questioning my commitment again. I don't even have a dressage arena at home, how would I figure out and practice the timing? That seems complicated. Then again… where else will I ever get a chance to make up my own bareback and bitless dressage test?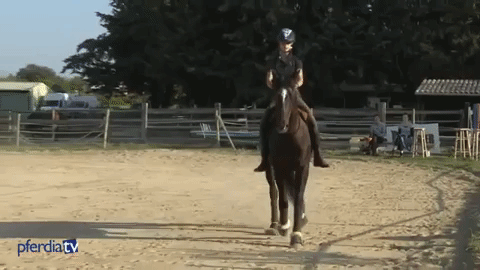 What to do, what to do. Is anyone out there good at this kind of thing? How do I make this work, with a minimal amount of time/brainpower invested and no arena in which to practice?