This past weekend as I was sitting in my nice comfy chair, sipping on my vitamin water, jump judging at a horse trial, my friend Michelle (Presto's "other" mother, and owner of Willow Tree Warmbloods) was attending her very first breeder's course.
In these courses you learn to do some of the vet work yourself, to avoid having to haul mares and foals to the vet a lot, reduce some of the cost, and make everyone's life a little less stressful in general. When you're breeding several mares a year, many of which have foals at their side, and the closest vet is an hour haul away, the simple act of going for an ultrasound becomes an ordeal and introduces some unnecessary risk. Hence why a lot of breeders choose to buy some of their own equipment and do the basic stuff themselves. A lot of it isn't rocket science.
So there's Michelle, arm-deep in a mare, taking her first shot at an artificial insemination. That's a normal thing for your average wife and mother to be doing on a Sunday afternoon, right? Her friend had even come along with her to the course, so she can help assist Michelle with her mares during breeding season. As Michelle was completing her first go at AI, she simultaneously learned what can happen when the mare has a full bladder.
https://www.facebook.com/michelle.beck.77/videos/10156010271589496/
The best part of this, once I was able to stop crying from laughing so hard, were the reactions when she posted this on her facebook page. All the breeders and horse people were like "Oh yeah, that's happened to me too – warning, don't wear boots unless you can seal the top!" wheras all the non-horse people were somewhere between squeamish and vomiting. The guys more so than the women, of course. It really highlighted just how much gross stuff we, the species known as Horse People, become completely accustomed to over time.
I showed the video to the SO and he was part laughing and part looking like he might throw up. That of course just made me laugh even harder. Then I had to make a meme for Michelle because that's the kind of friend I am.
We horse people definitely do a lot of gross stuff. I've been shot in the face with puss, hit in the head with poop, touched so much pee that it doesn't even register anymore, had smegma in places no one ever should, been elbow deep in a mare to reposition a foal, covered in snot from head to toe on a fairly regular basis, and laid out and inspected a lot of placentas. Not even deterred. In fact, I took way more pictures of that one infected placenta than could ever be considered normal. Because fascinating. But bring in a human with a cut and I am OUT. Or human babies and poop. Gross. Nasty. Ew.
There's so much we do every day and don't even blink at anymore, yet normal people would find revolting. Like the time SO went running to the bathroom to wash his hands because Henry left a lot of slobber behind in the process of eating a peppermint.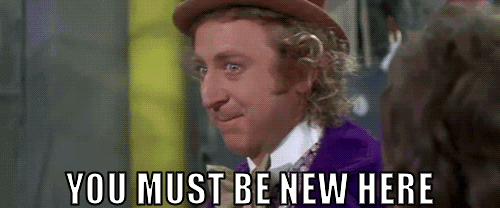 We're weird people, that's for sure, but there aren't too many badass chicks out there who can say they know how to AI a mare. You might be covered in piss, Michelle, but high five to you girl. Horse People are my favorite. Oh and extra special thanks to your friend for getting it on video, since I've watched it more times now than I care to admit. That is pure entertainment right there.