If you've read any of my past breech reviews, you guys know that I am a big fan of the Ovation Aqua-X breeches. They're comfortable, they're flattering, and they're super affordable.  They're also very lightweight and cool, which is what I need here in Texas for at least 9 months of the year. But when we started talking about doing some foxhunting and I realized I needed to buy a pair of tan breeches (I am so completely assimilated as an eventer now that I legit did not have tan breeches anymore), I figured I should opt for something with a thicker fabric. Foxhunting is generally a cooler weather sport, after all.
So I reached out to my favorite Ovation rep and asked for recommendations. I liked the Aqua-X so much that I decided it was worth giving one of their other models a try. When I described what I was looking for (heavier fabric, but not an actual winter breech… there's a lot of galloping involved, you warm up fast, and you're in the saddle for a long time) she immediately recommended the Celebrity Euroweave.
I opted for the knee patch with a euro seat, since they were for hunting, in the regular length. The fit isn't quite as good on me as the Aqua-X (which fit like they were made for me) in that the waist is just a little bit gappy. I have this problem a lot with breeches, since I carry more weight in my hips and thighs. They're definitely a better fit in the waist than any of the Equine Couture, TuffRider, or Pipers that I've tried… the amount of gap is pretty similar to how Tailored Sportsman's fit me. Other than that, the fit was pretty good, and they were definitely comfortable. They have my ever-coveted sock bottom, which has become a requirement for me, wide belt loops, and some cute piping detail at the pockets.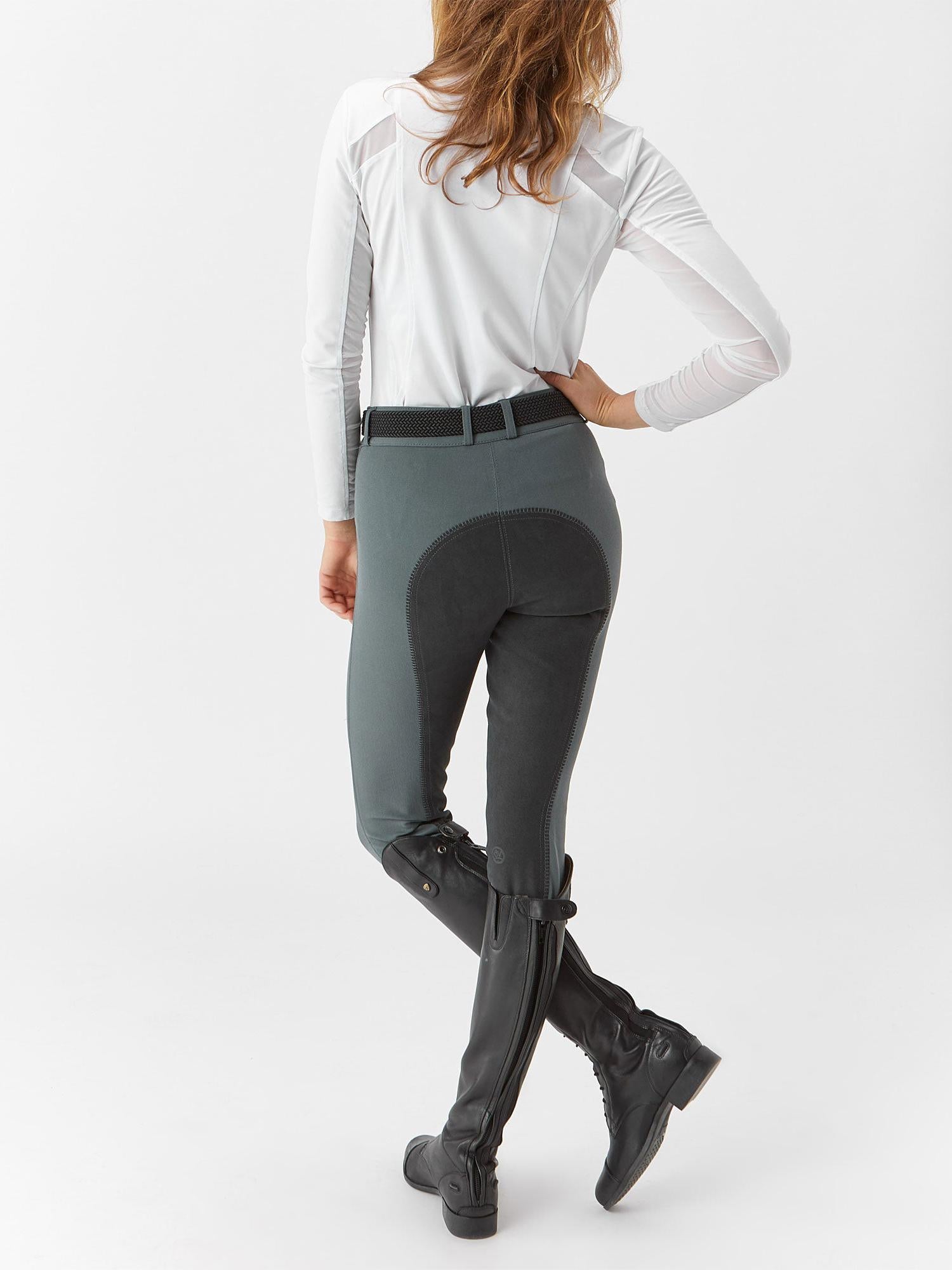 I tried them out for the first time at a tiny schooling show for a couple of dressage classes, and they were quite comfortable. The most impressive thing was how well they washed up afterwards. I am a huge pigpen and seem to just attract dirt, slobber, stains, and general yuck. I just threw these in the regular wash and they came out looking new again.
The next test was rolling them out for their intended use – hunting. One of the reasons the rep recommended this particular model was that they have a bit of a stretchier fabric that uses Dry-Tex™ technology to help wick away any moisture, making them a great choice if you're going to be wearing them for long periods of time. I wore these things for 12 hours that day, 3 of which were mounted, and I never once thought about my breeches. To me that is the ultimate compliment. They were super comfortable, and the weight was perfect for galloping around in upper 50's temps.
The Celebrity breeches come in knee patch and full seat, tons of color options, and regular and long lengths. At under $100, they're a pretty solid buy for a cooler weather schooling breech or a mid-weight show breech (see-through, they are not!).
Oh, and I did finally take the plunge and order some Aqua-X breeches in full seat. Verdict? I love them! Finally, a pair of full seats that I actually like. We look so legit at our dressage lessons now (j/k, we don't, but hey at least we've got the right wardrobe).