I've been using a lot of hair-related products on Henry lately. Y'all might remember his episode of face funk that come on seemingly out of nowhere and left him with a couple of very attractive bald spots on his face. Yay summer. I'm happy to report that, just two weeks later, those are pretty much completely gone. This is the comparison photo from when we started and then one week later.
A WEEK!
Now the hair has filled in a lot more and you really can't even tell there was ever a bald spot. Pretty damn miraculous, I must say. I was worried that it would just keep spreading, but luckily I was able to stop it in it's tracks. That hair grew back a whole lot faster than I expected too, thank goodness, because I was having nightmares about all the hair falling off of his face. Seems reasonable.
And exactly what product is responsible for saving us from that?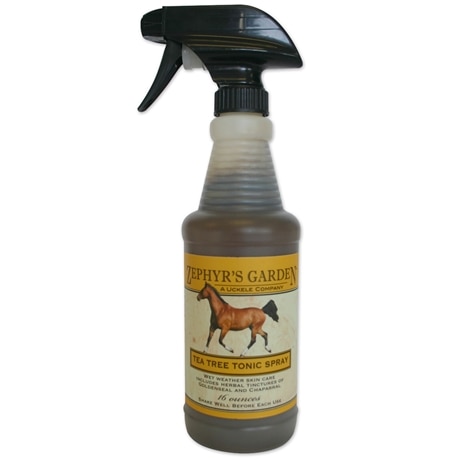 My favorite (and as I've now figured out, summertime must-have) Zephyr's Garden tea tree spray. I reviewed it last spring (remember that video where Bobby sprayed some in my mouth? It tastes TERRIBLE, do not recommend eating it.) and it proved super useful last summer to keep the leg crud at bay. I've been using it for the same purpose this summer, with much success, but man… it really blew me away with how well and how quickly it fixed that facial disaster.
Henry's also been getting more soap bathsagain now that we're in prime sweat season. I've kind of had my eye out for a new shampoo to try… something that smells really good, leaves them shiny, and is all natural. A lot of those are pretty pricey though, and I just have a hard time spending $25 s pop on a bottle on horse shampoo and conditioner. So when Teddy's Tack Trunk (aka She Who Never Leads Me Astray) suggested the Espana line, I jumped on it.
I got the "bundle", which includes the silk shampoo, conditioner, and a detangler/sunscreen spray plus the large size natural sea sponge for $52.50. Each of these things is available separately in the shop as well, with the shampoo and conditioner coming in at $13.95 each, the spray at $14.95, and the sponge at $14.95 (or the small sponge is $7.95, although for bathing I'd def stick with the large), so the bundle makes it about $5 cheaper. Either way, those prices are easier to stomach. Especially because their shipping is super cheap and crazy fast.
My two favorite things about the shampoo are the smell (it's a really pleasant scent, not too floral and not too medicinal) and the fact that it rinsed out really easily. I hate having to rinse a thousand times to get all the shampoo out. I lathered him up with the sponge, washed his tail, put conditioner in his tail, and then rinsed everything. He was super clean, smelled amazing for days, and was really shiny when he dried. What more can you ask for from shampoo?
I was even more impressed with the conditioner. Normally when I dye his tail I save all the remnants in the conditioner packets (like a crazy packrat) because it's the best I had found for detangling. Now I don't have to worry about that, because this stuff is even BETTER.
I basically never brush Henry's tail unless we're at a show, so it tends to be pretty tangled. I just slathered the conditioner in there really well, let it sit for a few minutes, rinsed it, let him dry, and when I took the brush to it, the tangles just fell right out. Normally I have to carefully pick through his tail to get it detangled without breaking the hairs, but not so with this stuff. It definitely takes the prize spot in my bathing bucket.
Now Henny is so fresh and so clean-clean… AND he has hair on his face again! If you guys are interested in trying any of the bath products, TTT is going to run a sale on all bath-related stuff through Sunday.  Use coupon code GIVEMEABATH for 10% off!