After a fairly solid dressage and double clear XC, the pressure was on for stadium. We were tied for 4th place after XC, with only a 1.3 penalty point spread from 1st to 6th, so if I wanted a ribbon I couldn't afford a rail or a time fault. And when I saw the course, I immediately started dreading it. Why? Because it looked tiny. For some reason I can't seem to sit up and ride like a normal person until the jumps basically force me to do so, and Henry is never impressed with little fences. But my coach reassured me that it was riding spookier than it looked, which is good news when you're on Henry… he jumps a lot better when the fences are "scary".
We also decided to switch him back to his plain french link snaffle for stadium. At the jumper show a few weeks ago I thought that the Dr Bristol was too much, so now it's relegated to XC only.
When I got on for stadium on Sunday morning and walked to warmup, I felt tired. I don't really know why, but I was just totally drained. In retrospect, I probably should have done a better job of staying hydrated in the heat and humidity. And eating… I tended to not eat all day. Whoops. Also when I walked into warmup Coach said "Did you really braid??" and Bobby rolls his eyes and says "Of course she did". No one else braided. But a) I had the time, so why not b) it's a big recognized show, I don't want to look ghetto c) pictures are always 100x better when the horse is braided, and I'm superficial like that. Plus I had to put a purple lucky braid in there for my mom. Henry was jumping well, therefore the lucky braid worked, therefore they can shut it.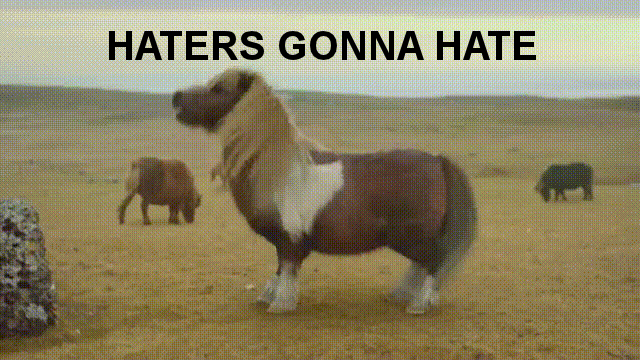 We went in the ring, saluted, and picked up the canter. The course started off immediately with a line, so I went right into a decently forward canter. As we were coming around the corner to the first fence Henry spotted some disassembled jumps sitting outside of the ring and immediately got looky, and I thought to myself "Excellent!". No sarcasm there… looky is a good thing for him. He has no stop in him at this height, but he'll be more careful if he thinks something might eat him.
The first line rode really well. Then I started to come out of the corners and pull. And pull more. And pull more. For some reason my go-to reaction for bigger fences is forward, yet my go-to reaction for little fences is to pull and slow down. We jumped into the third line weak, yet I felt that the appropriate reaction was to land and pull. Why? No idea. Serious case of the stupids. Luckily my horse is fantastic and marched right down there, added a stride, and plopped over the oxer despite my best efforts to murder it and us.
My riding didn't get much better as we went along, but Henry didn't seem to care. He hopped around easily, never so much as tapped a fence, and by some miracle we were clear. This horse you guys, seriously. I was embarrassed for myself, but SO proud of him. He really stepped up to the plate all weekend and showed some serious maturity. I could not have been more pleased with him. He's come a long way in a year, and he seems to just keep getting better. Winning ribbons is nice and all, but having a horse that seems so happy in his job, physically and mentally, is what it's all about. It gives me all the feels.
After stadium he ate the rest of his 1lb bag of fancy cookies while I apologized profusely, and by the time he got his liniment bath and graze, they had posted scores. Remember my efforts to come as close as possible to Optimum Time on XC in case of a tie? The tie remained after stadium since we were both clear, but I was 3 seconds closer to Optimum so I won the tie!
We finished 4th, 1.3 points away from 1st place in a big division that I didn't think we had a chance of placing in. Again… this horse, y'all. Worth his weight in gold. And cookies.
The other cool thing about the weekend was that my family came down to watch. Apparently one of the items on my grandma's bucket list was to see me ride in a show, so my uncle drove down with her from Arkansas to Louisiana and my dad met us there. My family has never seen me event, and I don't think my dad has seen me show since I was 16, so it was fun to have them there.
What a great weekend. What a fun, gorgeous show. What a fantastic pony.
Oh, and we're officially qualified for the Coconino N3D! Mission accomplished. Next stop, Arizona!