There have been several bloggers lately writing about taking a minute to appreciate the small victories, or celebrate the good work they've done with their horses in general. I thought Lindsey's post was a really good read, and it instigated a lot of self reflection on my part. This is kind of a tricky topic to talk about, so bear with me here. I haven't really worked all the way through my own feelings about it yet, thus this is mostly just rambling about all the things that went through my head. Brace yourselves.
While I don't think I'm a totally glass-half-empty person, I do think that I'm my own worst critic. I'm not good at genuinely believing that I've done a great job. But it also seems to me that, while no one wants to be (or listen to) the person who is constantly saying "go me", I can see some benefit in being able to, every once in a while, celebrate our small victories.
Honestly, I'm a bit jealous of people who are capable of that genuine "go me" mentality and have the ability to pat themselves on the back. It seems like it would make things a little bit lighter and more rewarding. But it also seems like it's just not in me at all. I can't think of a single time where I got off my horse and felt like I'd done a really outstanding job. An adequate job, yes. Even a good job (and good is a really hard word to get out of me) on rare occasions, but I'm always acutely aware of the things I could have and should have done better. I think my most often-used positive self-descriptive word is probably "decent". The idea of telling people that I thought I've done really well is even borderline mortifying to me. In my world, that's just not something you say. At least not in situations where it's intended to be serious, instead of laced heavily with sarcasm and self-ridicule.
I've heard, in other aspects of life, that it's easy to be satisfied with what you're doing until you know just what something truly outstanding looks like. Once you get a glimpse of outstanding, your bar is forever raised. I've been around a lot of good horses and a lot of good riders, and while it's not really fair to compare myself to them, I can't help but to keep them as my bar. Which also means that basically my bar is perpetually out of reach. Usually if I'm celebrating a job well done, it's because my horse was amazing and he deserves the praise. What I remember about my own performance is all the things I could have done better. When I sit here and reflect on how far we've come, while I do think we've come a long way, my very next thought is "I wonder where he'd be by now if I'd done x y z better, or if he had a better rider". And in a lot of ways, that's what motivates me every day to try to be better.
I'll be honest, it sounds weird to me when someone says "I rode really well" or "I kicked ass". Maybe someday I'll be good enough to where I'll feel like I can legitimately say that (probably not, because unless I'm suddenly Buck Davidson type status I could never see those words coming from my mouth) but right now it's completely unfathomable. I wish I could walk away from something feeling impressed enough with myself to say that, but I'm too busy running through my mind every moment where my performance was inadequate. Sometimes that gets a little tiring, and it's easy for me to feel defeated, but it seems to be my nature.
I'll also be honest and say that I've found that I'm a little judgmental of someone who heaps self-praise upon themselves. I just can't help but see it through my "it could have been better" eyes. And my mindset really makes zero sense, because I could even be thinking "Man, she did a GREAT job there" but as soon as that person starts praising themselves, I'm like "Well, hold on a minute now, Kanye…".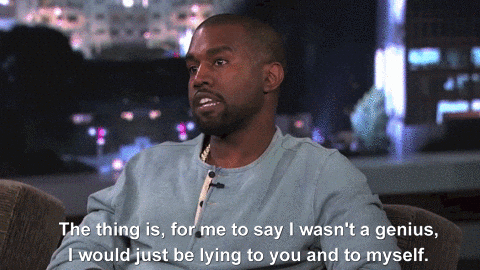 I can't even tell you why I have this mentality. I'm a pretty confident person. I don't think I totally suck at riding. I don't think I'm a hugely negative person in general. I would like to say that it's just a side effect of always striving to do better and to be better, but I really don't think that's true. Maybe it's a humility thing? Not a clue there either. I didn't really even realize I felt this way until I starting seeing it and realized that my first knee jerk reaction to it was that it made me uncomfortable. Ah, the things we learn about ourselves…
Where do you guys stand on this? Do you think self-praise is a good thing or a bad thing? To what extent and how often? Do you have a pretty easy time congratulating yourself on a job well done, or are you more hyper-critical? And more importantly, why do you think you have that outlook? Rider psychology, you are a tricky thing.