Surely y'all knew this was coming, right? I figured I might as well go ahead and do a post about Gemma's breeding (and a bit about her history) while it was all still fresh in my mind.
Gemma's JC name is Emily Who (all of her breeder's horses names end in Who) and she raced 11 times starting in 2019 and most recently in December 2021. Astute observers may notice a gap in her race record between November 2020 and September 2021… this is because her breeder/owner retired from racing, brought all his horses home, and then an online herd dispersal sale was organized. That sale went live in the summer of 2021 (you can see Gemma's sale video here… it's nice to see what she'll look like when she's got some weight back on!), which I vaguely remember because Michelle and I had looked at the online catalog and bookmarked a few mares of interest.
We didn't end up buying anything from that sale obviously, but Gemma was sold to racing people, bought back to the track in September, and raced 4 times for them. While she never won a race, she was second a couple of times. This race was probably her best performance, where she finished second. She didn't seem all that interested in being a racehorse. To make it all even slightly more ironic, her breeder lives in Lamesa TX which is where the vet clinic is that Presto spent so much time at as a foal. The world is really small sometimes.
Anyway, on to the pedigree side of things. Her breeding is the thing that attracted me to her most. Her sire Abstraction was an unknown to me (which makes sense, he's a New Mexico based stallion and his oldest crop is just now coming 6, so it's a bit too early to have seen sporthorses from him yet) but I was very familiar with the rest of his pedigree: Pulpit – Quiet American – Nureyev. Pulpit of course is an AP Indy son (we'll circle back around and talk more about Pulpit in a bit), and we've talked about AP Indy a lot on this blog in the various In The Blood posts. He comes up A LOT in sport, especially in eventers. Quiet American is by Fappiano, another big one for eventers, and Nureyev is also seen in sport a ton.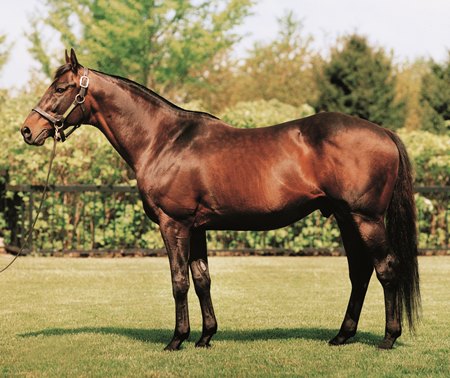 On the dam's side she's Crafty Prospector – Secretariat – Ack Ack – Forli. Her second damsire is Secretariat himself… you don't see him up that close very much these days. Crafty Prospector shows up in the pedigree of plenty of sporthorses, including Jess Phoenix's 5* horse Bogue Sound, Clark Montgomery's 4*L horse Caribbean Soul , 3*L horse Banjo, and 3*L horse Outrageous Dance to name a few. And then of course on the bottom of the pedigree, Ack Ack and Forli are always good to see in an eventer.
What's really interesting is that she's bred quite similarly to two of my favorite thoroughbred sport stallions: eventers Saketini and Redtail Achiever. Saketini is by Bernardini, who is AP Indy x Quiet American. Saketini also has the mare Meadow Blue on his damline. Redtail Achiever is also by Bernardini so you get the AP Indy x Quiet American cross again, plus his damsire is by Mr P, he's also got Nureyev and Bold Ruler, and they both have Ack Ack on the damline as well.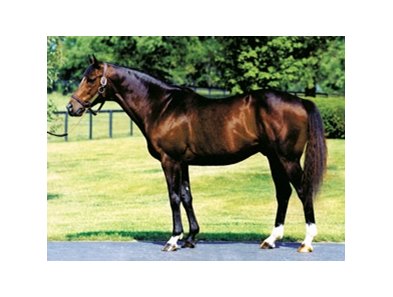 Ok now back to Pulpit himself, her sire's sire. I was particularly interested to see him in a mare because two of my favorite up and coming 4*L event horses – Sorocaima (Buck Davidson) and Campground (Erin Sylvester) are out of Pulpit mares. You see plenty of Pulpit in eventing at all levels as well as jumpers up to 1.35, but he does seem particularly effective on the dam's side of the pedigree.
I'll stop there, otherwise we'll be here all day, but that's a brief peek into her pedigree and why it appealed to me as both a sporthorse and a broodmare. That combined with her conformation and her movement made her impossible to pass up!