Originally I had a much heavier post drafted for today but that can wait til tomorrow, right? Good. Because my temporarily-Ocala-based Texas friends really came in clutch yesterday on Presto's birthday and they deserve some blog time. Plus there's cute pics, so no one should mind.
I'll be honest, when I posted about Presto's birthday yesterday morning I was kinda bummed to be missing it, but as the day went on and more people commented on social media and the memories started flooding back, I got more and more sad about not being there. Have I ever in the history of all my horses cared that much about a birthday? No. They get a cookie, a "happy birthday", a picture, I spend a few minutes lamenting about them getting older and time flying by, and everyone moves on. But with every Presto birthday I vividly remember how close he came to not ever actually having any, and they hold a lot more meaning. The memories of that time around his birth are still so sharp, and still so weighty… it's inevitable that I get dragged back into them a bit. All those hours sitting in the dirt, agonizing over his bloodwork, cleaning up his runny butt, constantly checking his joints for heat or swelling and praying to every god that has ever existed that I wouldn't find any, helping run the endless bags of fluids and plasma, bawling the entire hour home worried that I was making the wrong choice, being too terrified of getting a bad phone call to fall asleep, then getting up and doing it all again the next day, day after day after day. Just thinking about it is, even now, still enough to make my heart skip a beat and my blood run cold.
So every year when I put some sort of goofy hat on him and take his birthday pictures, its not so much about the birthday itself as it is about what he overcame just to be here and to have that birthday. Every single one feels like a milestone. Plus I know the memories that are going to start popping up over the next couple weeks, and I always dread them. I don't avoid them, because I feel like it's important to remember, but they instantly transport me back to those horrible moments just the same. The trauma lingers on his people much more than it ever did on him, thank goodness.
And the thing about it with him is that I'm not the only one. "His people" span far and wide, some that know him well and others that have never even met him in person, with so many having gone through it all via the blog, right alongside. I know I'm not the only one with a lot of emotion tied up in this horse, and the fun celebratory hat pictures are just as much for his "fans" as they are for me. Everyone was so supportive during that time, and has remained supportive of him and invested in him ever since.
So those were the real thoughts that were running through my mind as the day wore on and I was thinking about his birthday, and how it was the first one I've missed. There was some sadness in that for sure, alongside the fact that I do miss seeing his crazy goofy giraffe face every day.
My friend Julie is down in Ocala right now with some of our Texas contingent, at a farm just a few miles down the road from where Presto is. Upon learning that it was his birthday she immediately offered to go see him and take him an Oatmeal Cream Pie (since I was feeling like such a bad parent for not thinking ahead enough to have a box mailed to him). Already way above and beyond for her to do that, so I was thrilled.
Y'all may remember Julie from The Best Henry Selfie ever, from Coconino 2019:
Anyway, she sent me some pics and videos of Presto, and y'all my icy little black heart melted a bit for real. Not only did she go say hi to him and get him an OCP, she got him a little birthday cupcake, a hat, and a birthday boy ribbon to wear for some pictures. If I couldn't be there, it was certainly the next best thing. If that's not a seriously proper birthday party, I don't know what is. And now the streak of Presto birthday hat/headband photos remains unbroken!
All in all he had a pretty awesome 4th birthday, I think. More treats than he could even stuff in his mouth, visitors, some fancy accessories… what more could a giraffe kid want? And then after his formal party he put on his clubbing attire and went out for another pasture party.
Holly says he's embarrassed by his club outfit. I said nah, the dorky outfit is 100% on brand. In Presto's mind he thinks he's going to the club like this:
But he's really going to the club like this: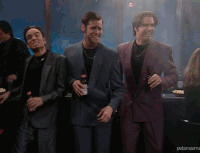 Complete with footage of how he gets his forelock ready: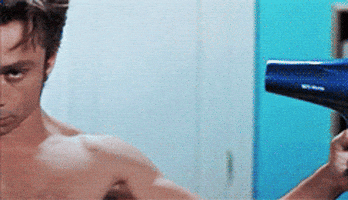 So ya know… dorky outfit is totally appropriate.
Many many many thanks to Julie (and Megan… I should have warned her about the stipulations that come along with this horse but I think she's catching on) for arranging and pulling off this little birthday party and pics for me and Presto. It means A LOT more to me than you think.