Being the only 5* of 2020, Pau was particularly good this year. The field was absolutely stacked with quality (as evidenced by the fact that the top 21 horses after dressage all had scores under 30), there were some question marks about how the event was going to go down, given how unconventional the year has been. Lots of tried and true 5* veterans were in attendance, and right alongside them was a healthy helping of 5* first timers. Add in a sprinkle of course designer Pierre Michelet – known as Michelet the Menace – and it had a real anything can happen vibe.
Anyone familiar with Laura Collett's story, or at least has seen some of the roller coaster moments of her past few years or her relationship with long-time mount Mr Bass, had to have been pleased with her win. Laura and her young gun, London 52, were the buzz of the pre-Pau discussion, mostly with the "can he or can't he?" question lingering in the air. London has had some up and down moments as he's gone up the levels, and while he has all the talent in the world, the real question was whether or not he had enough heart for 5*. He answered that question unequivocally on Saturday, and it was really fun to watch. This quote from Laura in Eventing Nation's post-Pau recap admittedly had me a little choked up.
Anyway, moving on to pedigrees!
We've done these breakdowns enough by now to where some things aren't much of a surprise anymore. Would it even be an eventing competition if we didn't have multiple horses with Contender in their pedigrees? Of course not, and this field is no exception with Contender showing up within the first 3 generations of 4 different horses (3 times on the sire's side, once on the dam's side). We also see other familiar names with multiple representations, such as Cavalier Royale (4 representations, all on the dam's side), What do Contender and Cavalier Royale have in common? The legendary Cor de la Bryere – Cavalier Royale's sire and Contender's grandsire. Again this isn't news, we see A TON of Corde in upper level event horses, and indeed if you go further back in the pedigree he is represented in many more horses throughout the field (20 to be exact) via various sons and daughters.
Two thoroughbred stallions have multiple representations within the first few generations – Laudanum xx is the sire's sire of two horses and Ben Faerie xx is the dam's damsire of two (half siblings!). We also see some other familiar thoroughbred stallion names throughout the field, such as Mytens xx, Shaab xx, Ghareeb xx, Exorbitant xx, I'm a Star xx, and Sky Boy xx. There are no full TB's in the field but 8 horses have a full TB parent (7 as the sire, 1 as the dam) and an additional 8 horses have a full TB within the first two generations. There are also two horses with a full French Anglo Arab parent (both as the dam).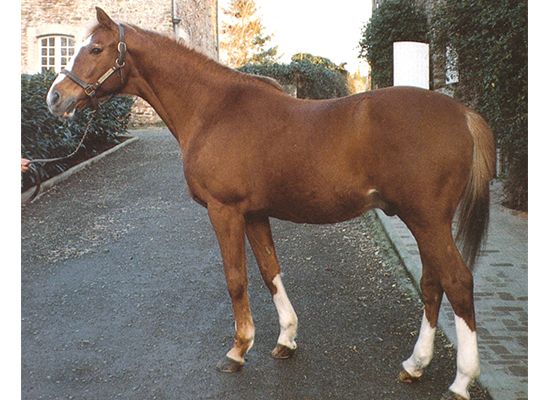 The average blood percentage of this field is slightly higher than we're used to seeing for a European 5* (likely because of the high number of British and French entries, which tend to have more blood) at 59%. If you average the blood percentage of the horses that managed double clear XC rounds, the average drops slightly to 55%, partly due to 5* first timer Charly van ter Heiden, who managed a phenomenal XC performance despite a blood percentage of only 24%. When you average the blood percentage of horses who managed to showjump clear on the final day, the percentage goes back up again a bit, to 57%. The average blood percentage of the top 10 finishers is 54%.
One entrant, the aforementioned Mr Bass, is sired by a stallion who now stands in the US after a successful carreer in Europe – Carrico. Carrico has enjoyed success in the jumper ring, the hunter ring, and also as a sire across several disciplines. While Mr Bass (out of a mare by Exorbitant xx – definitely eventing blood) is his most successful eventer offspring so far, he's not the only one, with several others creeping up the FEI levels behind him.
Not for the first time, we've got the half-sibling duo of Xavier Faer and Faerie Dianimo in the same field (we talked about those two and their incredible dam in last year's Burghley coverage, another time where they competed at a 5* together). In this field we also saw one of the half-siblings we mentioned a couple weeks ago in the Mondial du Lion coverage – Colorado Blue (by Jaguar Mail) is out of the same dam as Hush a Bye Baby. This was Colorado Blue's first 5* attempt, and while he impressed with a courageous double clear XC, he sadly was one of 7 horses who didn't make it past the second horse inspection. (I know I should try not to be biased but I am a fan and will be keeping an eye on this one for the future!)
If we examine the dams of the horse's in this Pau field, only a few of them had sport careers themselves. Two of the French entrants as well as GB entrant Zenshera had dams that competed through 1.30m showjumping and 1.35m showjumping, and of course we know about Faerie Dazzler. Otherwise, we see a lot of career broodmares amongst the dams of these entrants. We talked about Colorado Blue's dam and MHS King Joules' dam in the Mondial du Lion post, but there are even more who have produced a string of good foals, which means a lot of half-siblings that have been successful in sport, mostly in the jumper ring. Just to name a few of the more notable ones – Scuderia 1918 A Best Friend has a half sibling showjumping at 1.50m level, Zenshera has a half sibling showjumping at 1.60m level, Carneyhaugh Rua has a half sibling currently competing at 3* eventing, and Trompe L'oeil D'emery has 4 half siblings showjumping, one through 1.60m level.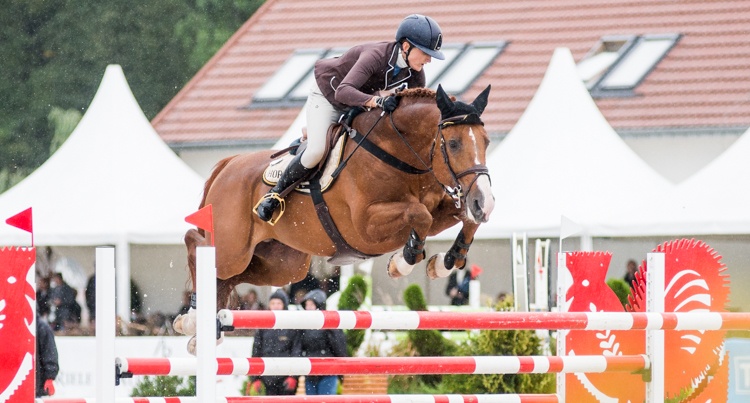 As you can see, jumper breeding with a heavy dose of blood once again dominated another 5* field, with a couple entrants having some dressage breeding (Dimaggio and Flemmingh being the closest in the pedigree) but none being completely dressage bred.
My last In The Blood post for 2020 will be in a couple weeks, with the 4*L field for Tryon! I don't have the time required to dig into this year's FEH/YEH field (which always takes FOREVER to find and build the pedigrees of those young horses because without fail they're either not entered anywhere or only partially entered) but USEA has done a pretty good job of covering it, so check out their coverage if you want to see more info on the babies!