You know how facebook goes out of it's way to show you posts in groups that your friends have commented on? Smart feature, most of the time. Total tattletale, some of the time. See, this is how I busted Leah buying yet another bridle, which honestly just made me feel a lot better about myself and the fact that I too probably have a few too many bridles. Pretty sure she has more than me, therefore by the rule of comparison I can't be that bad, right?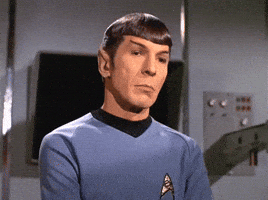 Anyway, I busted her buying a unicorn bridle, which 1) totally excusable, why would one NOT buy a unicorn bridle? Duh. 2) turned out to be the gateway drug that let me down quite the rabbit hole and now has me coveting something entirely different. Just remember, Leah started it. Anyway, she bought this one:
I gotta admit, the noseband is rad. I kind of love the oil-slick type look that the piping has. It doesn't really work on any of my creatures or match any of my stuff, but it's a pretty noseband none-the-less. And in that same post the seller had a picture of another bridle they carried, one that is definitely more up my alley. Navy. Navy sparkles.
Still though, as much as I love it and as beautiful as it is, I don't own any dressage bridles that I can't also show in (truth be told I only have one black bridle at all actually, it's a schooling bridle AND a show bridle) and this sparkly blue noseband is probably a bit too brazen for me. Maybe if Henry was stronger in the dressage phase I would be that brave about drawing attention to his head, but as it is the only "flair" on his dressage bridle is the black rhinestone browband. And Presto, well… his face is already a bit busy for color and sparkle like that I think.
But these two bridles are both from Waldhausen, which did make me go investigate their entire bridle selection. If you want color, that's certainly the place. Pink, blue, green, gold, red, purple… they've got just about everything, and an assortment of sparkles too. But the more I thought about that sparkly blue bridle, the more I was like… "wouldn't that be perfect in black?". Picture it, for Presto: black dressage bridle, spikey punk rock browband, black sparkly noseband. Punk rock sparkle bridle. His personality 100%. I think he could pull it off too. With the help of photoshop I was able to reimagine the blue noseband in black.
And from that moment on I was kind of obsessed with the idea. Naturally though, Waldhausen doesn't make that noseband in black sparkles.
By this point I was already pretty far down a rabbit hole (again, totally Leah's fault) but I was about to go even further. Y'all ever googled "black sparkle bridle" or "black glitter bridle"? It's an experience. I forgot how much DQ's are into sparkles these days.
Just a couple of the many many options that pop up.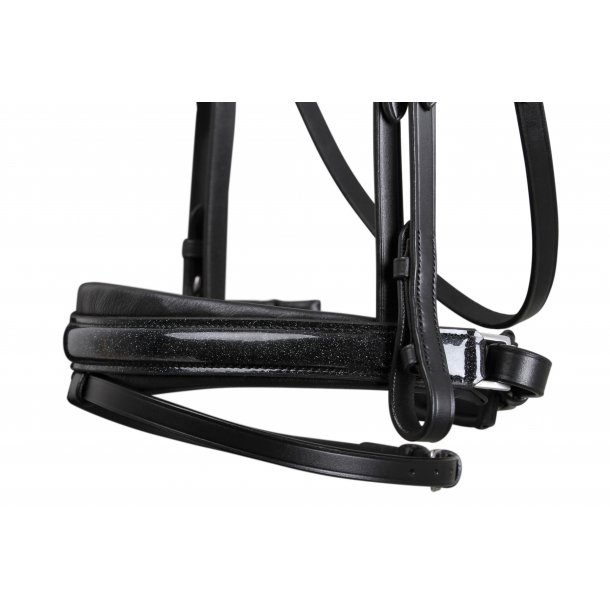 And unfortunately they're also really into patent. Like, most of the sparkle options also included patent. I do not like patent. I also didn't really like the ones with a big block of glitter as the noseband, I preferred it more as the padding or piping. A little more subtle that way. DQ's, you know perhaps you've gone off the deep end when the eventer is like "I dunno, it's just a lot…". Anyway, I finally found The Perfect One at SD Designs, AND you could buy the noseband by itself (yay)…
but of course… totally sold out in Full size. I stalked every store they listed as a distributer (dozens, literally dozens of stores that I clicked through, some of which I also emailed because they showed as having some in stock) – same thing, all sold out. So I decided to be that super annoying person and email SD Designs to ask if they were planning to make more of them, and if so when. They did respond, which was great, but alas, no, they are not planning on making any more of them. Cue sadness.
By this point I was already in way too deep. There's no abandoning an idea like this and going about your life as if it never happened, I'd already invested way too much of myself in this as-yet-still-a-figment-of-my-imagination punk rock sparkle bridle.
Luckily these days we don't have to just learn to be satisfied with off the rack options. Custom bridles and bridle parts are a big thing these days, especially in dressageland where somebody always seems to have an idea for more sparkle or more color or more patent. Some people put me in touch with a couple OTHER companies that can make pretty much anything you want for a shockingly good price, and I may or may not be "in discussions" about this currently.
So basically I tell you this whole story to make it clear that whatever happens, if indeed another bridle is acquired (let's be honest, it will be sooner or later, these ideas never just die), it wasn't my fault. I was just minding my own business scrolling through facebook when I was ATTACKED by a wicked temptress.