Yeah I know, I don't usually do these bloodline posts for short format events, but… since 2020 has killed pretty much all of my nerd joy, y'all are just gonna have to give me this one. Plus this was kind of an interesting field at Strzegom (in Poland) last weekend. It drew a good mix of been-there-done-that horses and up-and-comers, from all across Europe. If you're itching for some cross country live stream action like I was, you can watch the replay here (they've also got the replay up from the 2* pony division, which I'm not gonna go into here but it's pretty freaking fun to watch).
If you haven't seen the results yet, I'll go ahead and ruin it by saying that Michael Jung and fischerChipmunk won it on a 19.4, almost a 15 point margin over the second place pair. However much of this was down to XC time – Chipmunk was the only double clear, not particularly surprising since most of these horses have had quite a light year so far and many probably weren't really going for the time.
While the upper level European fields and the short format events tend to always be lighter on full TB's than American events, this one had particularly little representation with only one full TB. This field definitely was not lacking in TB blood though, with 14 starters (23% of the field) having one full TB parent and 32 (53% of the field) having a full TB somewhere in the first 3 generations. French anglo-arab blood had some presence as well, with 8 horses (13% of the field) carrying some AA within the first 3 generations.
The average blood percentage of the field was 52%, which is slightly lower than what we tend to see at 4*L or at 5*, but not significantly off. The range of blood percentages was all over the board, with the lowest at 18% (Sacre Coeur – who was withdrawn after XC. Interestingly, this horse has also showjumped to the 1.55m level.) and the highest – if we toss out the full TB – at 99% (FRH Butt's Avondale – who finished 11th). If you average the blood percentage of only the horses who went clear on XC, it stays pretty much the same – 54%. If you average the horses that finished in the top 10, it's again about the same – 53%. You don't see any variation until you average the top 5 finishers – then it's bumped up to 61%.
Looking at the TB names with the most representation here, we see some of the same we're always used to seeing. Heraldik shows up in 5 horses, Jape in 3, Chef's Supreme in 2, Sir Shostakovich in 2, Betel in 2, Hand in Glove in 2, plus some we've seen several times before in other fields, like Sunlight, Esteban, Ostermond, Star Regent, Hill Hawk, Nobre, Sadler's Wells, Lucky Boy, Likoto, etc.
I think my favorite part about this particular field is that we had THREE full siblings participating – Bandaras, Belfast 35, and Barbados 26. I've yet to see that before! It's quite a feat, all things considered. All 3 are Polish-bred, by Moravia out of a full TB mare, Babilonia (by Jape). Moravia was bred in Germany, by French AA stallion Monsieur out of a Westfalen mare, and Babilonia is a Polish-bred TB by turf champion Jape. Clearly these two were a good cross and brought lots of blood – their offspring are 70%. All 3 horses completed, with Banderas the highest placed at 27th.
Moving on to the warmblood stallions who had multiple progeny in the field, we've got more familiar names. Valentino had 3 direct offspring, Jaguar Mail had 2 direct offspring, and Stalypso had 2 direct offspring. Valentino especially should perk the ears of American breeders, since he now stands in Canada and is available to us here in North America via fresh semen. His highest placed finisher was Valentine FRH in 7th place.
If we move beyond just direct sires and go back a couple more generations, stallions that we see multiple times are Contender with 5 appearances (3 via his son Contendro), Ramiro Z with 2, Silvio with 2, Empire with 2, Lavall with 2, and – less typically – we also see the dressage stallion Flemmingh twice, both times via the dam's side. Not such a surprise considering that although Flemmingh was a very successful dressage sire, he has a very "jumper" pedigree.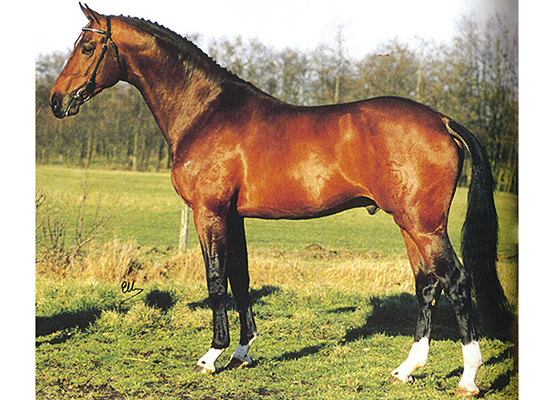 There was definitely not as much repetition of the same sires in this field as we're used to seeing, probably because the Polish horses gave the field more diversity than we typically see in the western Europe events. Those tend to be dominated by Irish and German blood (we only had 3 Irish horses in this field).
And of course while the mares produce many fewer offspring and therefore are harder to spot patterns with, we all know they are the most important part of the equation. If we look more closely at the dams of the top 10 horses, we find some really cool mares among them. FischerChipmunk's dam Havanna produced several offspring, including 2 Chipmunk full siblings, one of which is eventing at 3* level and the other has made a career in the A/O jumpers and GP through 1.35m. Dimitri N.O.P.'s dam Jorine produced a whopping 15 foals, most of which competed in dressage (one to GP level). Herby's dam Naomi competed in sport herself, showjumping through the 1.30m level, and has produced 9 foals, mostly showjumpers (successful through 1.50m level).
I don't know whether you guys love this stuff as much as I do, but boy does it feel good to get my spreadsheets up and running again. I'm really missing the 5*'s this year, but hopefully this will tide all of us over for a little while, until the next interesting event comes along. I'm holding out hope for some of the big fall events, at least in Europe!