I've been using these since December, but I was really waiting for some hotter weather to give a complete review. It's easy to be an ice boot in the winter… it's harder to be an ice boot when it's hot.
They are the Mayk Equipe Cold Compression Ice Boots, and I got them from Riding Warehouse. I've been on the hunt for a good ice boot for years, and haven't been particularly pleased with any of the ones I've had or tried in the past. Most just didn't get that cold, or didn't stay that cold. Using real ice on a regular basis is a bit of a logistical nightmare though, so the ease of an ice boot has always been really appealing. When I saw that Majyk Equipe came out with these, I really wanted to try them. They looked rugged and heavy duty, and I liked the added optional compression factor.
My first impression is that they were way heavier and more substantial than I expected. Most of my ice boots have been pretty light (bordering on flimsy, if I'm honest) and these had some real heft to them due to the substantial inner ice pack. They come in a carrying case to make them easier to transport, which is really helpful for toting them to lessons or schoolings or shows. The velcro is very heavy duty and secure, and the outer material (meant to reflect sunlight to keep the boots cooler) is extra rugged as well. I lovingly call these things the Space Boots, because they legit look like something NASA would make.  They're also longer than other ice boots I've had, covering everything from the knee to the hoof, and you could position them slightly further up or down depending on your needs. This is a big perk for me with a horse that has a slightly lumpy right knee.
The ice pack liner, which covers the ENTIRE inside of the boot, is removeable if you'd like to just toss them in the freezer or ice chest to reduce space. You can also throw the whole ice boot in there if you want, a nice perk for those of us who are lazy. The liners are easy to velcro in and out though, if that's your preference. They suggest to cool the liners/boots for 3-4 hours before use. The ice packs get quite cold, but still stay very flexible and easily mold around the leg.
The real question though – do they work?
I've been using them on Henry after more intense conditioning days and harder jump schools. I just put the whole boot in the freezer, then after I ride I hose him off and slap the boots on for 20 minutes. Every time, without fail, his legs are cold when I take the boots off, and the boots are still quite icy themselves. No other ice boots I've tried have still been this cold by the time I've taken them off, and with most of them his legs weren't particularly cold either.
I have used the compression feature a bit too. I do pump up the boots at least a little bit every time, because they are a one-size fits most (15h to 18h) and I think he needs a few pumps to help them stay snugly in place. I've gone a little further with the compression a few times too, adding more pressure – Majyk Equipe suggests 18-20 pumps for compression, but you can stick a finger in the top to check that you get the pressure just right for your horse. I don't think you're going to get a ton of compression from these, if that's the feature you're after, but the option to add some is nice. The hand pump is attached to the boot and stores in a little pocket on the outside, behind the knee. It's easy to use and quite straightforward.  Pump up to add air, press the valve to release it.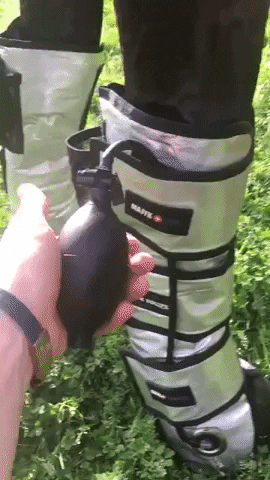 Overall I've been really pleased with these. They definitely stay colder than any other ice boots I've tried, and I love the ease of being able to just throw the whole thing in the freezer. Definitely worth a closer look if you're in the market for ice boots!