People keep asking for updates on the tiny house, but the truth is there isn't much else to say yet. We're just waiting, continuing the save up the money for the down payment, and continuing to have way too much time to overthink all the different options and change our minds 300 times.
Following the builder on Instagram may have been our #1 mistake, because now we just see lots of pictures of lots of options. Shortly after the new year they posted new cabinet and tile options for 2020, and I was super excited because BLUE CABINETS.
Naturally the SO hates blue as much as I love blue, so he was not a fan. At least we both agreed that we don't like the busy tile? That's something.
I keep going back and forth between white and gray cabinets, depending on what pictures they've posted last. Honestly, this is torture. SO likes a very black and white type of look, which I am not on board with so much considering it's a farm and those are the two hardest colors to keep looking clean, plus I think it looks too formal for the setting. The white cabinets look good, and that's fine, but that's about where my desire for anything white/black ends.
We've also made little to no progress on picking exterior colors. They posted a gray/white/navy one that I LOVE, but he still likes the white exterior with the black roof, which I hate. He does like the gray as a second choice, though, so that's the most likely option.
Roof color? Anyone's guess. Neither of us likes what the other likes. He likes black, which I do agree looks nice, but I really don't want a black roof under the Texas sun. I find none of them to be particularly exciting, honestly. Which is maybe my problem with being able to just pick colors in general. I know what I don't like, but I just don't get that excited about this stuff in general. Do I really give a shit if my cabinets are gray or white? Will I even notice after day 1? Yeah no. Someone just pick for me.
I've had more success with other things, though. I joined a few "tiny living" groups on facebook, so I can see more about other people's challenges and solutions. I've watched just about every documentary or tv show I can find about it too, gathering little nuggets of wisdom or ideas as I go along. I've even bookmarked a couple of things online that I want to get/build in to help us maximize our 399 square feet.
Since I've been living at the farm I've challenged myself to a bit of quasi-minimalism. I didn't bring a ton of clothes with me (not even enough to fill a small closet) and I'm using very few dishes/kitchen appliances. Really it's kind of an experiment to see how much I really need and use on a regular basis. Honestly – waaaaaaaaaaaaaaaaaay less than I even thought. So far I haven't needed a single thing that I didn't bring with me, clothing wise, and the dishes in regular rotation aren't even enough to fill a sink. I'm feeling really good about the idea of donating or throwing away the vast majority of what I have left at home. The thought sounds EXCITING, really. Liberating. Somebody back a dumpster up into my driveway, give me a day, and that house will be empty.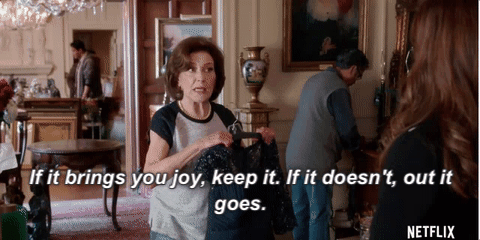 I do have a lot of horse stuff, and I like having a lot of horse stuff, but I have more room for that in the barn and outside storage spaces. Still though, I've already done a first pass through what I have and started to list things for sale, and have another big box of things to donate. This is a really good opportunity to clean house.
The SO, as I predicted, is not having as much luck with this part. So far he hasn't cleaned out anything, and is basically just planning to move all his stuff (and there is a lot) into storage. I tried to reason him out of some of the kitchen appliances (like the popcorn popper, which I've seen him use one time in the 7 years we've lived together) but he's adamant that he uses it all. I can't force it, so… he'll have to get there in his own time. Probably after he's paid a year or two of storage fees for no reason.
Mostly he's been spending all his free time working on getting his '56 Mercury fixed up. He really wanted to have it mostly restored by the time we move, since he will lose garage access, but considering he had to completely rebuild the engine (not planned) and now has several backordered parts impeding progress, it's definitely not going to happen in time. So he's currently semi-panicked about finding a garage space he can rent to keep the car and his tools in, and be able to work on it from there. He hasn't found much so far, especially ones that aren't stupid expensive.
I do still need to talk to some professionals about our options with the septic. Park Model RV's are meant to hook into an existing septic system, which we won't be able to do, so we're going to have to get a little more creative. If it was just me I'd do a composting toilet and be done with it, but SO would 100% die at that idea so I wouldn't dare even mention it. He's very much a "living in 2020" type of guy, with all the creature comforts that that entails. From my research I do know that there are other options, most likely some kind of external tank, it's just a matter of pricing them and figuring out which ones will work the best. For that I need a professional.
So… that's kind of where we're at. Mostly still a lot of stuff up in the air and things to figure out. I think it's just going to feel this way until we finally order the house and get the process officially started, which is still a few months away. Until then… we wait.