I am kind of functioning at peak anxiety level right now. Work has been BONKERS in a way that it has never been before. Not just busy but also weird things happening and random problems that seem to sprout up every couple hours and need to be fixed, plus process changes and system changes that may or may not be working. Our customers are trying to wrap up their end of year spending so everyone needs everything RIGHT NOW. I don't recall a time when I've ever been this stressed out at work, and I've been here almost 15 years. It feels a little like this: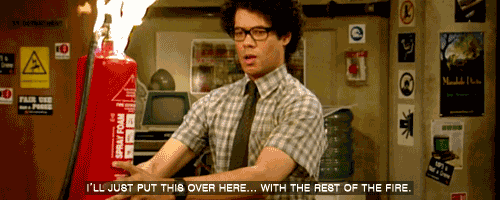 Plus the place that I like to escape to so that I can look at pictures of ponies and see all the fun things that are going on – social media – has been batshit crazy as well. It's like a weird game of "how freaked out can you make equestrians on social media in one week", and the universe accepted the challenge. The depo debacle, a trainwreck of comments at the ML reappearance, the FEI making helmets mandatory (I CAN'T BELIEVE PEOPLE ARE STILL ARGUING ABOUT HELMETS IN 2019), and then the GM thing. Bam bam bam bam one after the other. Like for real, I doubt the Chronicle's facebook page has ever gotten this much action in a week. It's madness.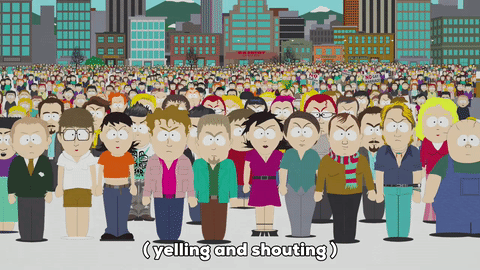 And then I had the bright idea to listen to the Hunting Warhead podcast, about the biggest child sexual abuse websites on the dark web, how they got busted, and the people who created them. It's beyond fucked up. I mean, really though, everyone should listen to that podcast, it's so important to understand, but jesus christ.
Oh yeah, and my horse is lame. Makes sense since I just finished paying an unrelated $1300 vet bill. WHY NOT GO FOR ROUND TWO. IT'S NOT LIKE I'M TRYING TO SAVE MONEY FOR A HOUSE OR ANYTHING. No profit sharing or bonuses at work this year either. Hope no one wanted Christmas presents.
Also this morning I tripped over nothing and fell down while carrying all the horses' breakfast. So. You could say things are going well for me at the moment.
In between torturing myself with real life, people screaming "it was a different time!" on social media, and dropping shit, I've retreated to the holy sanctity of memes. You can always count on a good meme to make you feel better, ya know? That's the kind of mindless entertainment I need right now. Here are a few of the week's favorites:
(Hair is currently burgundy as I work my way through my arctic fox colors…)
And perhaps the most relevant:
Might try that in the next meeting. That should go over fine, right?
I've also started putting together my big annual Black Friday sales list, which kinda makes me want to a die a little bit in and of itself, but hey why not. If any business owners are reading this, please shoot me a message via my comment page or on my facebook/instagram with info about your sale so I can make sure you get included. This will go live next Wednesday or Thursday and as usual I'll keep updating it as we move through the weekend. Hope everyone is ready for some shopping (I'm not, because horses)!
Happy Friday!