LeMieux has, undoubtedly, been one of the hottest brands of the past few years. Their matchy sets really put them on the map, and the product line has rapidly expanded to all kinds of horse and rider wear, grooming equipment, and stable supplies. I am not a fan of the matchy sets myself (thats… a lot of color…), but LeMieux does make some REALLY nice saddle pads. I've had my eye on the merino+ half lined dressage pad, because man LOOK AT THAT WITHER PROFILE. And the d-ring strap attachments are brilliant because I hate billet straps with every fiber of my being.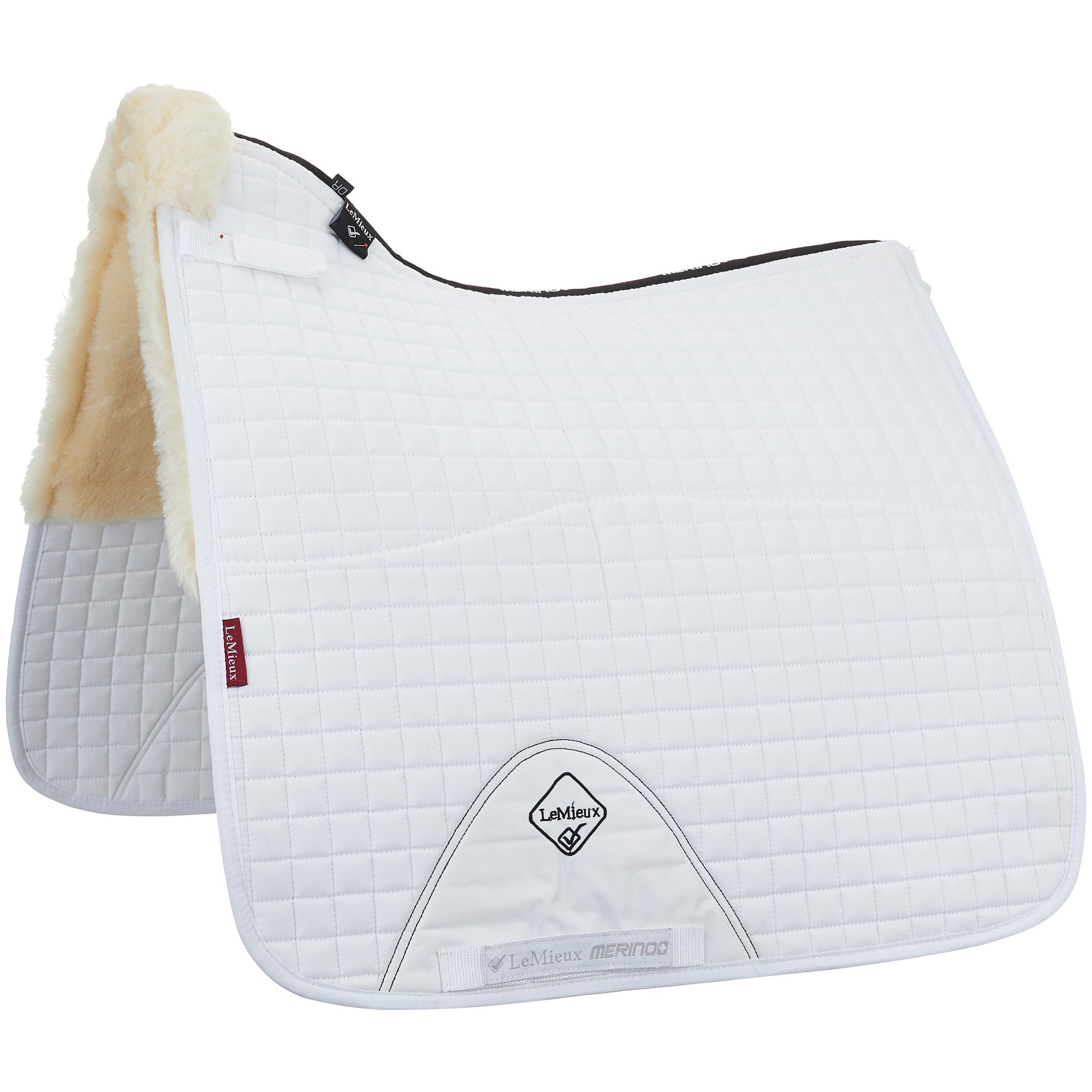 While LeMieux rose to fame on their saddle pads and polo wraps, those are admittedly two items from them that I don't own. I have three LeMieux things in my arsenal now – bell boots, bandage pads, and ice boots. And my feelings about them vary quite a bit.
The first thing I bought was the leather wraparound bell boots.
I'd had a pair of leather bell boots before and I LOVED the look of them but they died within a couple months. I mostly ride outside of the arena, and grass can really wear on the material. When I went shopping for a new pair I decided to try one more time on the leather but go with LeMieux. It's been 6 months, and while they're starting to show some wear on the bottom edges of the leather, they've certainly held up a lot better than I thought they would and far surpassed the previous brand. I feel like the leather gives a little bit more protection (Henry grabbed THE SHIT out of himself once to the point where he almost fell down and there was just a very slight ding in the leather. Probably would have been a rip in rubber.) and I haven't had a problem with them getting wet or muddy. I just hose them off. I've been happy with these, and feel like the price is really reasonable. Would love them even more if they came in navy (navy is a lifestyle, I can't help it).
The next LeMieux purchase was bandage pads.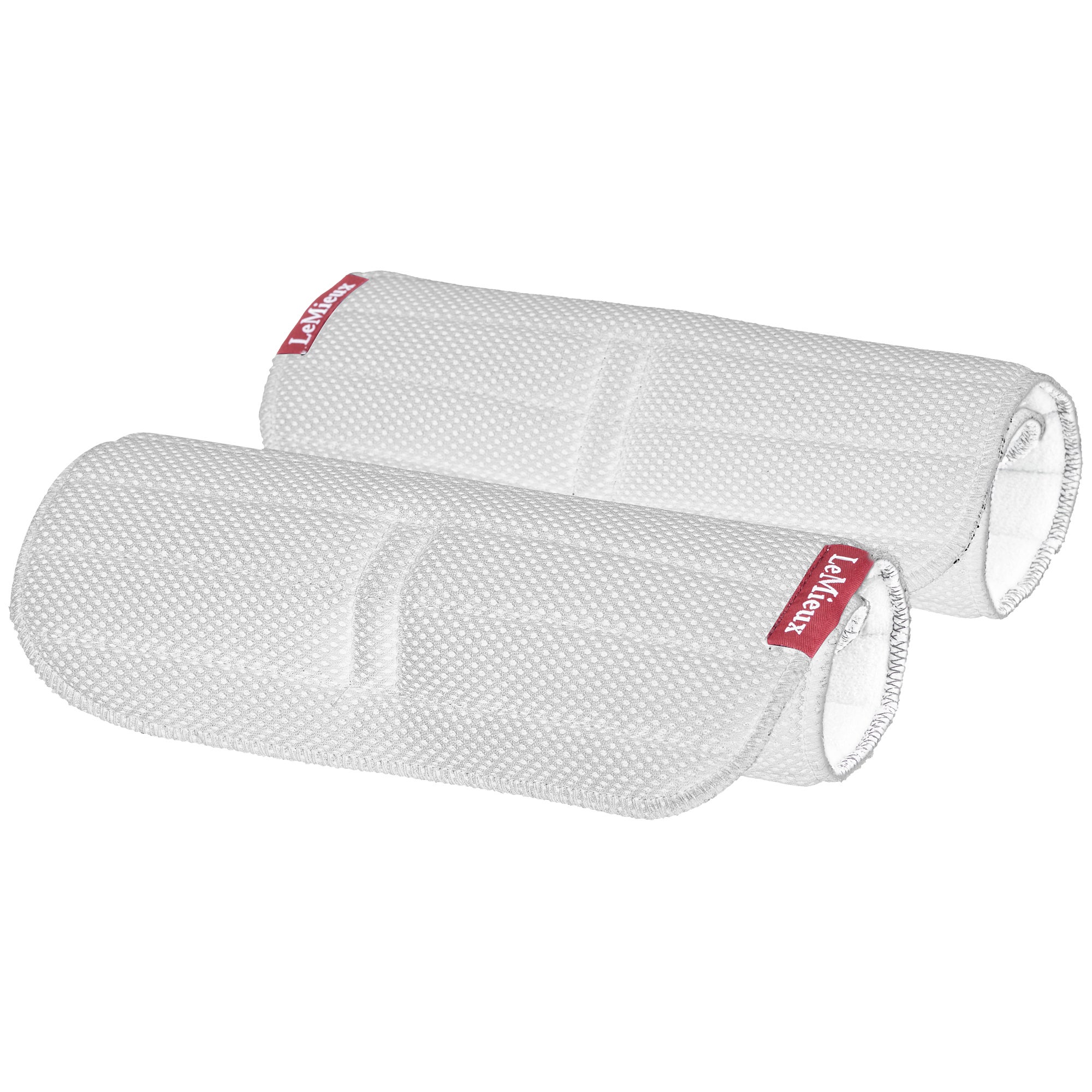 These were kind of an impulse purchase when I was trying to replace my really old no-bow's, couldn't decide what I wanted, and just panicked and threw something in the cart. LeMieux says they can be used as stable bandages or exercise bandages, and I use them as stable bandages, but I would say they're probably better suited as exercise bandages. I think they're just a bit small and short and thin and flimsy for a stable bandage, personally. I have a bit of a love/hate relationship with the towel-like material on the inner lining, because if I'm just dry wrapping, it's great, but if I'm wrapping over wet poultice paper, I'm not so thrilled. I also thought I would really like the velcro tabs in the middle but turns out I hate them because they're right where I want to tuck my wrap in to start it. I would probably like those features a lot if I was using them as exercise bandages, but as stable bandages they're not my favorite. They certainly work just fine as stable bandages but wouldn't be my first choice for that purpose.
The last and most recent purchase was the ice boots I impulse-purchased at Burghley.
Sigh. These things. I really like the boot itself… I think it's designed well, I like that it goes all the way down to the hoof, and that the elastic straps let you adjust it tighter if you desire. The interior pocket is insulated and has a zipper that allows easy access to take the ice pack in and out. So what do I hate? Said mother effing ice pack. It SUCKS. The shape is nice, and it doesn't get stiff, but it's SO THIN that it doesn't hold the cold at all. Like I took the packs directly out of the freezer, put them in the boots, put the boots on my horse's wet legs, and when I took them off 20 minutes later the legs and the ice packs were both warm. Not cold. Not even cool. Like body temperature warm. That's… relatively terrible. For the price of the boots, the ice packs should be a lot better than that. I know it's hot here, but geez.
I'm experimenting with making my own ice packs to see if I can make these work, since I do like the actual boot itself.
Despite not loving those, it was really fun to walk through the giant LeMieux tent at Burghley and get to touch/feel everything. I remain impressed by all the boots and saddle pads (in fact I talked both of my traveling companions into buying fluffy boots), and some of their clothing looked nice as well (anybody have the base layer?). Certainly no one can hold a candle to their variety of colors, that's for sure. Shit, they even make pompom helmet covers, and y'all know how I feel about that. I have a lot of regrets over not buying the sparkly pompom beanie hat. Maybe next time…