Sorry, literature fans, this post has nothing to do with The Little Prince. Although now I want to go back and read it for like the 200th time…
The subject of the day is sheepskin. Specifically sheepskin saddle pads. Extra-specifically saddle pads with sheepskin lining underneath the top half.
Shocker: Henry is a sensitive, delicate flower. Sometimes his coat decides that something in the universe has rubbed him the wrong way, and hair will start to fall out. Usually this is around the back edge of the saddle pad, several inches below his spine, although no area is immune. It's worse in some pads (the spur rub pad that I use when he decides that my legs – sans spurs, I might add – are rubbing him the wrong way OF COURSE seems to be the pad that his back finds particularly offensive) and better in others, but none of them seem completely exempt. I control the progression of the rubs by using an assortment of powders and lubes, but still, at any given time there's probably a rub on that horse SOMEWHERE from SOMETHING.
I had a real problem with this at Coconino, where he had a bite mark on one side that sat right under my leg, so I had to use my spur rub pad to keep it from progressing. In turn, the spur rub pad itself rubbed a bunch of hair off of both sides of his barrel along the back edge of the pad, because Henny. And once it started, even switching to the Ogilvy pads (which are what I've had the most luck with for him) couldn't stop it. I tend to play this game of musical saddle pads in the winter too, when he's body clipped and therefore anything that touches him is a good reason for a rub. It's why he has to wear HUG blankets. It's a little ridiculous.
Every time the rubs occur, I feel like I have a bit of a gap in my arsenal of equipment. This was especially true at Coconino, when trying to stop one rub resulted in 3 more. At that point it became a battle to keep as much hair on him as possible, especially when I was riding him twice a day. I really found myself needing some good old fashioned sheepskin, something that I used to own but don't anymore. It was kind of a PITA to own and maintain. Especially in Texas where it's hot AF. But it is the best thing for the delicate flowers, and I think I'm at the point where I need something, some kind of sheepskin option to use when the random rubs try to emerge, even if I don't use it all the time. Naturally, I started googling and quickly fell down a rabbit hole.
I like the contoured shape under my jump saddle, more like a cross country pad. The situation is a little complicated by the fact that I have two different types of saddles. I ride him more in the jump saddle (and I use that saddle for our longer conditioning rides, where he's more likely to get rubs), but… would I need a dressage version too, to cover my bases? Anything sheepskin is expensive, naturally, although finding a dressage one isn't as hard and they're not as pricey.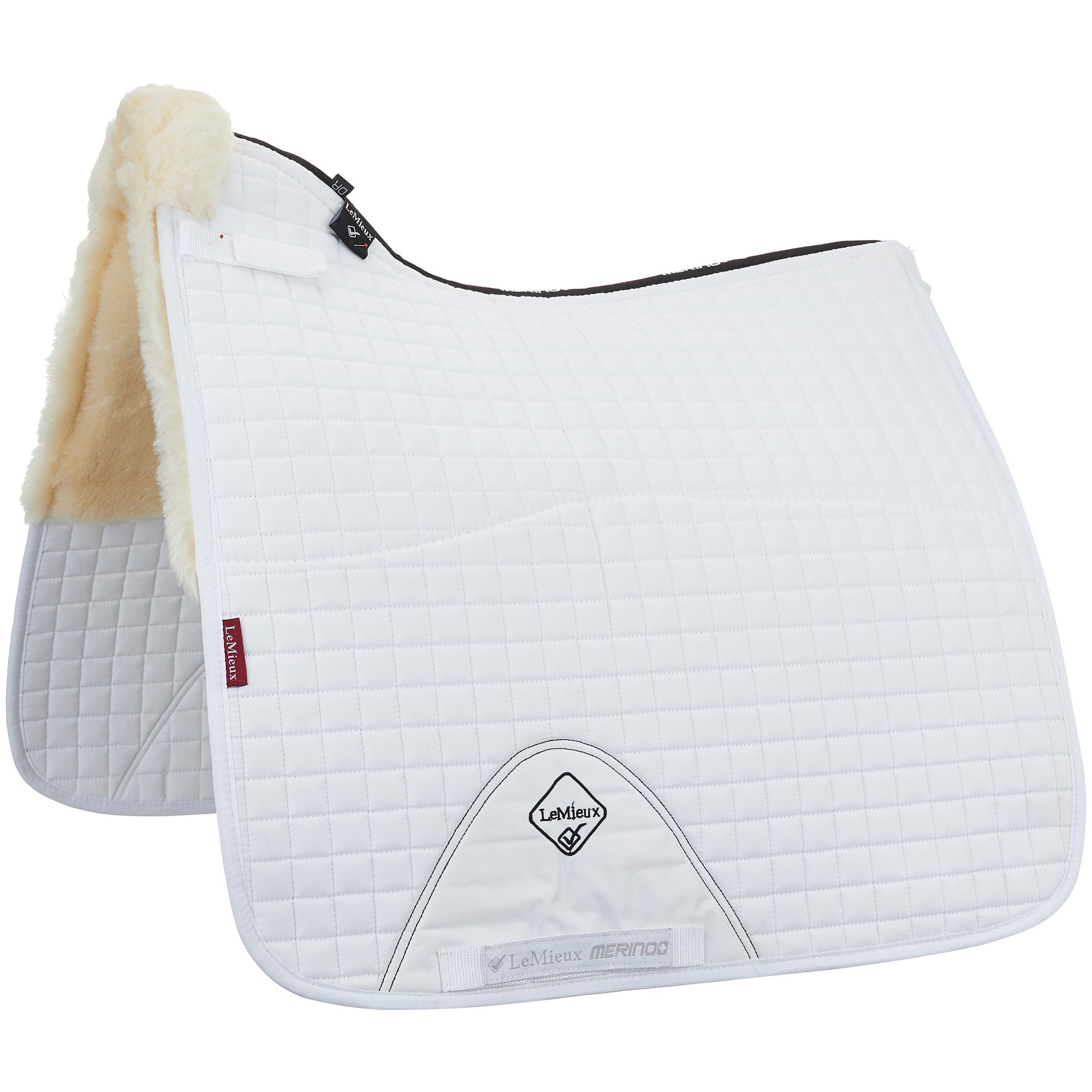 The cheapest solution is to just get a sheepskin half pad and use it under the regular pads. I have some concerns about that setup sitting well on him, though, and ending up too bulky, or fitting well under one saddle but not the other. Both of those scenarios are a potential recipe for more rubs or maybe even backsoreness, which defeats the purpose. But maybe I'm being too paranoid and it would be fine? I guess I could just use the half pad by itself if I had to, although I don't particularly want to.
So basically I think my options are:
Buy just a sheepskin-lined jump pad (there are so many options, my eyes started to cross, so I quit googling. Which are your favorite contoured ones?) and hope that's enough to curb the issue
Buy a sheepskin-lined jump pad AND dressage pad, to cover all my bases (again, suggestions welcome on which ones)
Buy a sheepskin half pad (dressage shape, I guess?) to use underneath the pads I've already got, and hope that doesn't cause additional/different issues.
And the follow-up question to any of those – do I want them to be shimmable? I currently don't have anything shimmable, so it would be a nice option to have with Presto coming up the pipeline since my saddles are fit to Henry, not to him. I don't know that it's totally necessary though.
I am a little overwhelmed with possibilities. I don't really want to spend a lot of money on this, but I will if it keeps my horse happy and covered in the appropriate amount of hair. I could also just wait and see what I find while we're in Europe next month. I dunno.
Help, the indecision is crippling.