I talked a lot last week about the subject of gratitude, the power of saying thank you, and how much it really enhanced my Coconino experience. My horse, my coach, my friends, my family… I mentioned how important all of them are in this whole crazy endeavor. But there's someone else, who, while might not directly impact the experience, is often there to document it. And we all know just how true "pics or it didn't happen" really is.
If you've paid attention to any of my picture captions here or on Instagram, you've seen the name Dusty Brown. He's not a horse professional or a show photographer, he's a horse show husband to barnmate Julie and and horse show dad to barnmate Kate. He hauls the horses, fixes whatever is broken in whoever's living quarters, and, my particular favorite: he takes pictures. And not just pictures, but like… AWESOME pictures.
Dusty is super dedicated to doing a good job. He doesn't wander aimlessly around and stumble upon lucky shots, he's got a list of ride times (which in our group is lengthy), a plan of action, and he's out there way in advance plotting all of his angles and what jumps he wants to get. He even has this badass 360 camera thing that he sets up so it can get really cool video like this.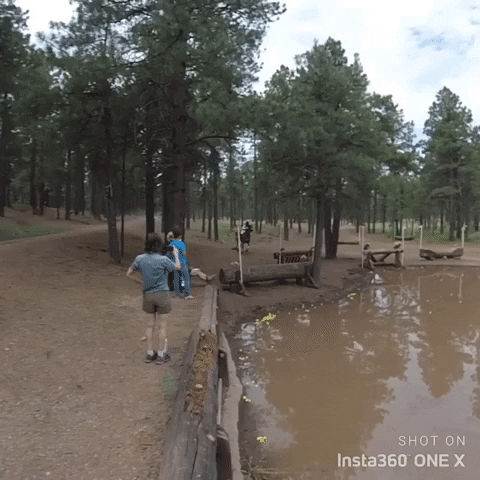 He's got a great eye, and for some reason he seems to not mind sitting in the woods all day, taking pictures of rider after rider. He is a better person than I, in that regard. Dusty also has the uncanny ability to remain in the background of whatever is going on, which allows him to get fantastic candid shots. I never even see him, I'm pretty sure he's got an invisibility cloak or something. He's also great about capturing whatever he sees along the way that he thinks might make a cool picture. He's pretty much always right.
And then, after he spends all that time trudging around the show, taking pictures of all of us, he edits and uploads the best ones into an album. This is no small feat considering we had 19 horses with us in our group this time and there were thousands of photos to go through. Dusty also somehow manages to always get in a completely different position or at different jumps from the show photographer, so you end up with totally different pictures. As a blogger who always needs media, it's just as exciting to have him at a lesson or XC schooling, too. I don't know WHY he does it, but I'm really appreciative of the fact that he does.
He even does special photo shoots for sale horses, snagging some beautiful pictures. We all know how much those matter, yet how much of a pain in the ass it can be to get them.
Three cheers for anyone who's willing to stand around (or run back and forth from ring to ring) all day and take pictures or video. It's not the most glamorous part of this whole thing, but if you ask me, it's one of the most important. After all, once it's all said and done, all we really have left are the memories and the media. Thanks for being there to help capture it.