Despite eventing in Area V for the last 5 years, I've never been schooling at Holly Hill. I've shown there twice, and it's probably my favorite venue, but we've definitely never been there to school. Probably because it's 5 hours away in Louisiana. But… everything is far for us, so I still really really wanted to go, and finally talked Trainer into it as well. Of course, if you're going that far, it's not going to be a day trip. We planned to make a weekend of XC schooling, so Hillary and I left midday on Friday with Dobby and Henry.
The complication was my sprained ankle. I had taken Monday and Tuesday off from riding, did a bareback dressage ride on Wednesday, and by Thursday I figured I should see if it would hold up or not. I put my boot on, got in my jump saddle, and went out to the jump field. My ankle felt okay, aside from when we landed from the jumps. The bigger problem was that the tendons on the outside of my lower leg were really sore and angry. The pain was survivable though, so I iced it and wrapped it and took the NSAID's, hoping that would be enough to make it better by Saturday.
By the time I mounted up for my XC lesson on Saturday morning, it was definitely improved. I could still feel it, especially those last few strides up to fence when I tried to sink into my heel, but it was good enough. After a couple warmup fences we started at the water, hopping a log in, then adding a skinny out, then doing the drops in. The drops definitely had me grimacing on landing, since Henry will apparently never just drop down without some kind of flamboyance, so we only did them a couple times.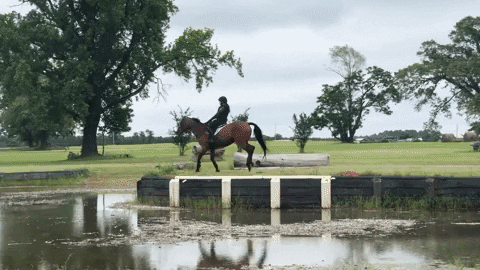 Mostly I wanted him to pop off of the brush-topped one, since he's never seen one like that before, where you really can't see the water until the last second. He didn't bat an eye. His style is weird, but I'm happy with how brave he's been about the down banks, considering that's been his bugaboo in the past. He likes to pat the ground at the edge, but he's definitely going, so that's ok with me.
After the water we went and jumped a little two stride combo to a brush on an angle, which was no problem, and then headed over to another bank complex. We jumped the little bank up, two strides to bank down, then a bending line to the skinny wedge. I got him there a little crooked but he locked on and went anyway. He's always been pretty good about skinnies, but he's definitely reading and looking for them a lot more these days.
Then we went to the weldon's walls, which I might never stop hating. We jumped the Training one last fall when we ran here, and he didn't care about it but I rode it terribly. We started by jumping the Training one a couple times, then pointed to the Prelim one, which is a little taller and a lot skinnier, a wall of brush just floating in the middle of a ditch.
He stopped the first time, because I rode it completely backwards and made it kind of impossible for him. Fair enough. Then I decided maybe to put my leg on and ride up to that bitch like I meant it, and he jumped it fine. Stupid weldon's walls. Y'all are gross.
Then we went down to the coffin complex, which is set at the bottom of a pretty steep hill. I didn't get him rebalanced well enough at the top of the hill, so we were still having a discussion a few strides before the first big log. The energy was backwards, Henry didn't have his eye on the jump… it was really a terrible approach on my part. He tried to stop at the last second, realizing what was ahead, but the momentum from the hill didn't really make that possible and he hit the log. I ejected over his shoulder, and he tried hard to stay upright and not land on me as he tried to climb over the jump. It all happened in slow motion, and I just stayed tucked in like a turtle on the ground while he flailed around above me. Somehow he did manage to miss most of me, grazing my right hip and thigh.
I got up slowly, but was fine, and Henry seemed fine too. Both of his right boots had been pulled down in the scramble, but the only mark on him was a scrape on his nose. I got back on, trotted a few circles to make sure he was ok, went and jumped some smaller fences, and then we came back to the coffin and broke it down into pieces. The ditch to the log one way, then the ditch to the log the other way, then the whole thing. Henry, bless him, seemed undeterred by our mishap.
My biggest fear in all of this has always been hurting or ruining my horse. I'm not particularly scared of getting hurt myself, but I would be devastated if anything happened to Henry. This one rattled me. We've managed to avoid disaster so far… this is the first time I've come off him in over 5 years, and definitely the worst mistake I've made. But the bigger and more technical the jumps are, the less he's able to pull us out of hairy situations. I know it's important not to let this accident live in my head, but I also know that it's important to remember it so I don't make the same mistake again. I also know that when you start pushing the boundaries and doing things that are hard, mistakes will happen. I'm still processing it, I think.
To be honest, I'm not particularly happy with how I'm riding right now. Sometimes we're just rocking and rolling and everything is clicking, and sometimes it's not, and at the moment I feel like I'm in a downswing. The mojo we had a few months ago isn't quite there. I'm not being as proactive or as focused as I need to be. Maybe all the other upheavals in my life are having an effect that I wasn't really aware of. I'm re-evaluating and re-arranging my schedule to try to get things back on track and refocused. I have to be a little better than this.
We ended the day with plans to come back out the next day and tackle a few things again, and smooth some stuff out. Mother Nature, however, had other plans…