It's time for me to start buying tickets for my Burghley trip, thus it's also time to sell some stuff that's been accumulating for a while.
I can take Paypal or Venmo for payment. Shipping is not included in the prices, shoot me your zip (here or via my contact page or via facebook message) for an estimate. I am not organized enough to hold things for people, so whoever pays first is who gets it. Sometimes it takes me a few days to get things boxed up and shipped out, so if you need something quickly please let me know and I'll make every effort to get it out ASAP. Once things are paid for I will mark them SOLD here, so if there's still a price showing, that means it's still available.
Le Fash Paulo Alto white shirt size Large. This is a sold out style, white with a gray and yellow floral fabric at the cuff and collar and mesh vent under the arm. Brand new with tags, pristine condition. $70
Schockemohle Carina Grip silicone full seat breeches, navy size US 28, brand new with tags. $130
Schockemohle Libra grip silicone knee patch breeches, tan size US 28, brand new with tags. SOLD
Tredstep Solo Grip full seat breeches white size 30, brand new with tags. SOLD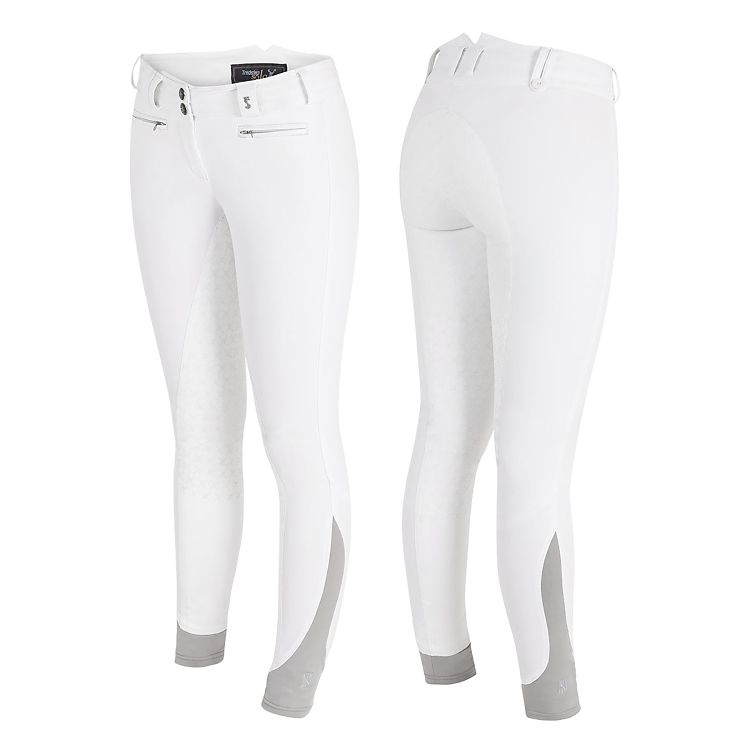 Winston Equestrian breeches size 30, white with gray knee patches and gray/silver piping stitching around the waist and pockets. Some typical boot mark staining around the knees, not visible with boots on. Good condition, not worn much. Very similar to Tailored Sportsman or Pikeur Ciara. SOLD
Mrs Tutton's (high end Australian brand) short sleeve navy and white pinstripe show shirt with navy pleather piping and collar detail. Australian size 12, so 36ish. – $35
Used Ego7 brown tall boots size 38 M/+1. Size chart is here. PLEASE READ THE FULL DESCRIPTION AND LOOK CLOSELY AT ALL PHOTOS. These boots have been well-worn and while they still have plenty of life left in them for schooling, they could use a couple of repairs. The interior lining of both boots has torn under the laces, more so on the right one. That boot will need an interior patch as there is currently a hole in the tongue. The right boot also needs a new elasticized lace, the current one is broken. My cobbler quoted me $25 for these repairs, but your experience may vary. I have replaced the zipper tab pull (just the pull tab was broken) on one boot. Zippers are sound. The sole, exterior leather, and inner leg E-tex material is in good condition, except for a small nick near the spur area on the heel of one boot. $100
Oh – and if you haven't hit it up yet, Riding Warehouse currently has an additional 20% off their entire Clearance section (discounts automatically applied when you add items to the cart). There are some great deals to be had!