Not only are we getting to recap the best phase today, I also have great news!
Course walks with Bobby are back! At least this time. And they also feature Bobby's dog, Walker, because apparently it IS possible to get more derp into one picture.
My XC time was a couple hours after stadium, but a lightning delay added an extra 40 minutes in there. I started prepping my studs early, which is good, since I realized I was somehow missing some of my favorite grass tips. I had plenty of time to go down to the vendor and buy more (I feel like I'm buying studs at every show, wtf) and stand around talking for a while before I had to go get ready. Henry took a nap, as he always does before XC. He's figured this game out by now.
All the rain over the winter meant that they really didn't change the course much from the last time we ran here at the schooling show. It was a little disappointing, but I also completely understood why and agreed with the decision. Dragging all those portables around could have really torn up the footing, and none of us want that. So since Henry and I had pretty much already seen this course before, barring a couple minor tweaks, it gave me the opportunity to focus on ironing out some of the things I hadn't liked about the last run. Mainly – let him keep coming forward at the fences. Last time I took an extra pull in a couple places where I didn't need to, so this time I really wanted to focus on riding out of the forward pace and not try to micro-manage so much. As long as he's balanced, I need to trust that I can keep coming at the jumps.
Full helmet cam footage is here:
He came roaring out of the startbox, again. I'm pretty insistent that he stands politely in the box, and he generally obliges, but it's so funny how he's gotten to where he knows the countdown. As soon as I told him he could go, his ears went up to my eyeballs and he was off like a rocket. Pretty sure he never showed that kind of enthusiasm leaving a starting gate.
The first jump was an inviting little house, the only challenge being that it's positioned a bit oddly out of the startbox. I just came out pointing to the right, got him lined up, and let him hop over it. I landed clucking, encouraging him to open up, since the next two fences are galloping. The rolltop at 2 is wide but relatively small, and going uphill, so you can just keep coming at it no problem, and then the red wagon at 3 is off of a bit of a turn, which serves to help rebalance you naturally. I could have kept him coming a bit more open at 3 but they all jumped well out of stride and he landed full of running.
Then we were twisting through the woods over the Time Warp combo at 4, which… if you've ever felt a horse screaming "I AM SO FUCKING AWESOME" inside of his own head, that was where Henry was at by this point. There is no greater feeling in the entire world than galloping around cross county on that horse. I genuinely feel sorry for folks who have never ridden one like that, because they really haven't yet lived.
Then it was around to the log stack with the big downhill drop, through the crater, and up over the skinny brush. They built the brush up a lot bigger than at the previous shows, which made me happy. I didn't like how I rode it last time (I took a pull I didn't need to take in the crater, rather than just channeling him forward between my hands/legs) so this time I took one half halt coming down the hill, then turned his shoulders, rode him forward back up the hill, and ping – he jumped it perfect. Like maybe a little too perfect, he rattled me a bit loose.
After that we went left to the Irish bank, then up through the trees to the chevron. He's jumped both of these well every time, but last time I rode a little sloppy off the Irish bank, so this time I made sure to focus on keeping my eyes up. Definitely an improvement (funny how that happens). I also really let him keep flowing forward more around the turn to the chevron, and Henry jumped it perfectly right out of stride. He doesn't need my "help", which is really just interference sometimes, as much as I think he does. The horse is pretty well-schooled by now, I have to trust all the basic work that we've done to get to this point.
The chevron birthed a Bobby
An Insta friend was jump judging the bank and got a cool view of us going through there.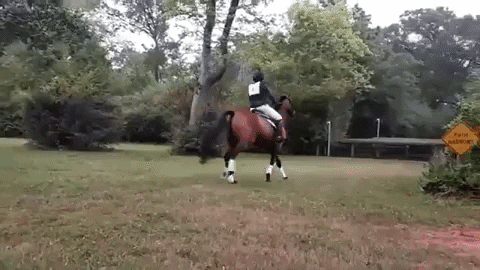 Then we had a bit of a galloping stretch back through the woods, so I let him open up as much as he wanted. The approach to the trakehner is a little awkward because there's a tree right in the middle of your path, so I took the inside route and let him keep coming, slightly angling the trakehner. I got him a little bit close there, but he gave precisely zero shits.
Then we weaved around the little paths, dialing down to more of a showjump canter to hop over the little skinny rolltop out of the woods and back into the main field. From there we went to the water, jumping over the log down into it, then out the other side and over the bending line of arks. Henry slipped just a touch coming out of the water, so I rode a little quieter into the arks, but he handled it all just fine.
After the arks we had another longer gallop stretch back up the hill, with just a little bench along the way. He hopped that right out of stride like it wasn't even there, then we were up the hill and hanging a left turn to the corner, then around the pond back to the boat table. He totally locked onto an unflagged jump before the corner (again – he did that last time too) and I had to turn him off of it, but he immediately locked onto the corner instead. The footing around the back of the pond was muddy so I eased off the gas, but once we were clear of it he was back up to speed in a flash.
From there we headed back down the hill over the rolltop to down bank to chevron combo. As soon as I turned to the rolltop he was like BYE FELICIA and I was like a kid on a school pony, just along for the ride. He was polite about it, and patted the ground at the chevron like I asked, but he knows that combo really well by now and didn't particularly need my input.
The last two fences are pretty simple so I let him cruise again, hopping over the train car out of stride and then cruising over the last big box. I saw a little bit of a long one there, but there was no way we were fitting in another step without it being real ugly, so I just sat up and let him go for it. He pinged over it with no problem and cruised through the finish.
And just like that, we've got a USEA-official Prelim horse! We had 8 time penalties, which seems about right for my horse and a course as twisty and wooded as this one. Originally they had me as being a minute and 20 seconds over time, which… we all agreed there was NO freakin way… so for the first time in my eventing career I got to lodge an inquiry. I really appreciated the TD, she came over and I explained that they had me exactly a minute over what I thought I'd come in at, and she had seen me go so she knew there was no way I'd been that slow. That would have been basically Novice speed.
She immediately went in the office, looked at the sheets, and corrected it for me, no problem. I apologized for being a pain in the butt and calling her up to the office for that, but she insisted that it was her job and that it was important that it get recorded correctly. Super nice and professional, I really appreciated it. They also handled the lightning delays throughout the day completely by the book, which I have seen others NOT do at other shows in the past. So props to all the officials/staff/volunteers at this show, they did a good job of making sure everyone was safe and things ran as smoothly as possible.
Once again we were the only Prelim entry (which makes me really sad, this is SUCH a good show, but with all the rain and being a one-day and with how the season works out, the upper level people just didn't come) so we won by default. I'm happy with a completion with a clear XC.
With how the rest of the shows work out schedule-wise, and the heat, we probably won't run again until Coconino. We have a lot of little dressage and jumper shows planned though, and a lot of XC schooling. This show was exactly what I needed to give me a good confidence boost and make me feel like we're ready to tackle some harder questions. Henry is still just eating it up, and I'm starting to figure out how to trust the more open pace a bit more. We have some things to go home and work on, and I'm really looking forward to it. We're in a pretty fun place right now in our journey, with all kinds of new challenges. It's hard, it's intricate, and it's unfamiliar, but I love it. This horse is pretty freaking cool, y'all.
Bobby's alright too, I guess.