I know what you're thinking… "girl, how many helmets do you need?". You're not wrong, I do have several helmets. However, I would say that the correct answer to how many helmets a person needs is the same as how many horses a person needs: always one more than however many they currently have. A gal needs options, ya know?
In all seriousness, though, I needed a new skull cap. My previous Charles Owen Pro II was at the end of it's lifespan, and to be honest I almost never wore that helmet anyway because it just never fit me right. Or rather, the padding squished down so much that it never fit after the first couple rides. I really love the idea of a skull cap for cross country, something that is actually required in the UK by British Eventing due to safety concerns involving a fixed brim contacting a solid fence. It was also kind of bothering me that my usual show helmet – a Samshield – performed so poorly in the Swedish study that focused on oblique impact. I've mostly been riding in the Traumavoid since then, and it just felt wrong strapping the Samshield to my head for cross country.
With the difficulties I had finding a Charles Owen skull cap that fit, I felt a little stuck. There are other brands, of course, but none that had the same kind of proven commitment to safety that CO has shown, and most were not readily available in the US. And then I found out that Riding Warehouse was now carrying some of the Champion line of helmets. Champion is another UK-based brand, with a reputation equaling Charles Owen. The fit is also a bit different from CO, so I was hoping that their Pro-Ultimate SNELL skull cap might work a bit better for me. I have not been disappointed.
The first thing I noticed was that the structure of the Champion ain't no joke, it looks and feels incredibly sturdy, like I could drive a tank over that thing and it wouldn't notice. It's made of fiberglass and Kevlar, so… maybe you actually could. You know a helmet is serious when the Charles Owen looks and feels a bit flimsy in comparison.
The ventilation, while still not fantastic (helmets lose structural integrity when you start poking a lot of big holes in the shell, so this is typical for skull caps), is also better in the Champion. The harness is wider and sturdier, and the chin strap buckle is METAL, and fastens kind of like a seat belt. I have always wondered why we put relatively fragile plastic buckles on something that is only effective if it stays securely in place, so seeing that metal buckle made me happy.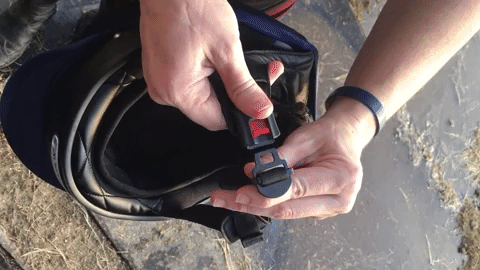 The lining of the Champion is also completely removeable for easy washing. Aside from just a better fit for me in general (which is so good that I can leave the thing unbuckled, shake my head, fling it back and forth, and it still doesn't budge), the Champion also feels more padded and comfortable against my head. With the Charles Owen it almost felt like the shell itself was sitting against my skull.
In the UK, Champion has developed a reputation for safety that rivals that of Charles Owen. In fact, they even submitted the Pro-Ultimate skull cap for SNELL testing, a standard that is optional for helmet makers, but goes well above and beyond our typical ASTM/SEI testing standards. There are currently only 4 equestrian helmets in the world that carry the most recent 2016 SNELL approval.
Why is SNELL so special? Mostly because their testing methods are different, and their pass/fail standards are higher. Their standard has the highest crush resistance rating (a BIG thing for me, or probably anyone who remembers Ollie's horse falling and rolling over his head at Rolex 2010) of over 2,200lbs, they have a higher drop test, and use a variety of differently shaped objects during impact testing.
They want the helmet to cover more of your skull, but not obstruct your peripheral vision, and they check for stability. SNELL also tests the helmets in different weather conditions, temperatures, and from different angles. For full details on their testing, you can read the PDF here, or if you want a summarized version watch this video. It's from the old standard, not the 2016 updated one, but it's really cool anyway. Seriously, if you do nothing else today or get nothing else out of this post, watch that video. I highly recommend. It's fascinating. Even more fascinating that many of the basic standards don't test helmets nearly this thoroughly. It's easy to see why SNELL approval is so difficult to achieve.
In addition to meeting a higher safety standard, the helmet (and all Champion models) also has a great replacement policy: within 1 year of date of purchase 50% off retail price, within 2 years of date of purchase 40% off retail price, within 3 years of date of purchase 20% off retail price. Since these are distributed in the US via Toklat, it means that you won't have to wait as long for a replacement from overseas, and it means that the helmets carry the ASTM/SEI certification labels as required by USEF rules.
The Champion is slightly heavier than the Pro II, I think, although not enough to be noticeable while wearing it. The better ventilation and comfort cancels out any possible additional weight, IMO. It only comes in black, but of course, you can put any skull cap cover on it that you want. I've never been much of a skull cap girl, but I find myself reaching for this helmet more and more often. If you can give me comfort AND safety, I'm all in.
While the Champion helmet is a bit pricier than some other skull caps, coming in around $450 regular retail, it's not out of the realm of what is normal for a helmet these days. And honestly, for the superior fit, design, and highest safety rating, the price seems plenty reasonable. I want to go out on cross country with safety equipment that I trust, and having a SNELL certified helmet strapped to my head offers a little bit more peace of mind that I'm doing what I can to help minimize risk.
If you're in the market for a new helmet, I highly recommend looking into the new Champion line at Riding Warehouse. Aside from keeping safety a priority, they also make some really pretty and unique helmets. If the other models are anywhere near as well-made and comfortable as the Pro-Ultimate, you won't be disappointed. And of course, RW has a very easy/free return or exchange policy if you're unsure of fit or sizing.