Alright, on to the more fun phases! As I explained yesterday in the dressage post, I've changed up my format for show recaps to help me reflect on things a bit better. And for the jumping phases especially, I think this is really important.
What went well?
I'm going to be brutally honest here for a minute and tell you that I was straight up shitting my pants before stadium. Emotionally, anyway. The course was big and it was technical, and the rounds I had watched before I went to tack up were not going very well. When all of the very experienced people in Intermediate are having lots of problems (including the 4* rider) it does not leave one's confidence feeling particularly bolstered. I was starting to wonder wtf I had even been thinking, to try this, and at Texas freaking Rose – the biggest, most intimidating venue in Area 5 – of all the places.
As I was tacking up I told Henry that I really needed his help here. That I was going to do the best I could to help him out too, but he would have to meet me halfway if we were gonna do this. It might make me sound like a total loon, but I swear he understands.
We went in the ring, I took a deep breath as the whistle blew, and I committed to just TRY. That's all. Just try. If we failed then so be it, but I'll be damned if we came this far just for me to curl up in fetal position and ride in as if we were already defeated. I am a lot of things, but I'm not a quitter.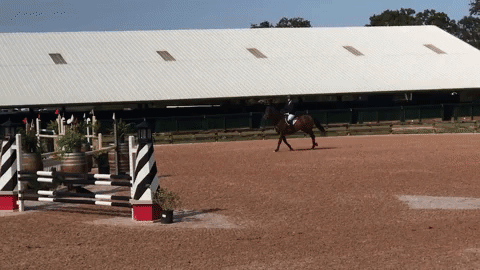 So I did try. As did my little gem of a horse. It wasn't perfect, there were rails, but we did it. We fucking DID IT.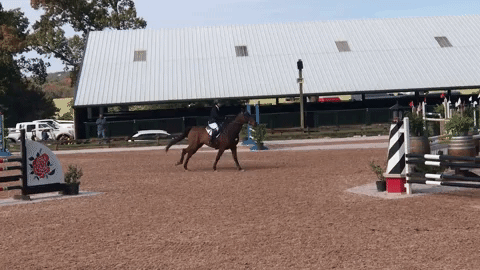 Sometimes I helped him, sometimes he helped me. When I made a mistake, I rallied and kept riding instead of just crumbling and letting things fall apart.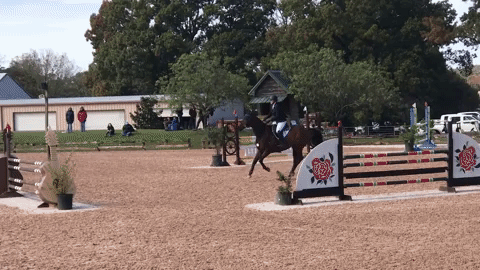 It was very much a team effort, and we got it done together.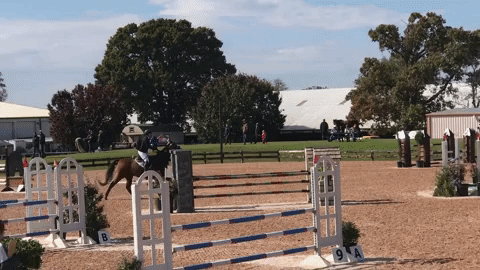 I think I did a bit better job of sitting up than I did at Holly Hill, and I tried to keep riding forward without running him at things in a blind panic.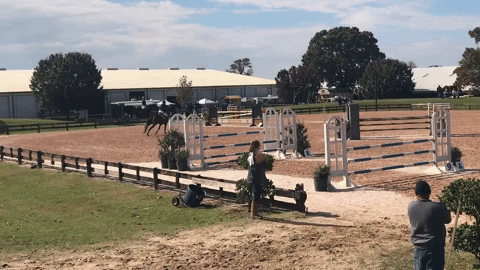 We made it through, and it wasn't tragic, and I've never been more proud of a horse in my entire freaking life. Which is saying a lot, because I'm proud of Henry pretty much always, but never more so than on that day.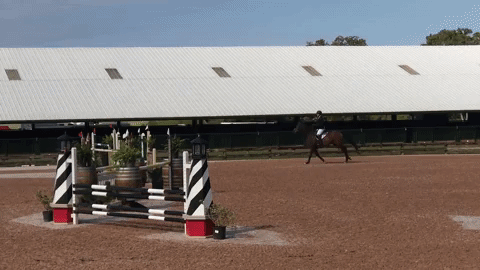 Rails be damned, there may have been a few happy tears on the way back to the barn, a whole lot of smooches in the stall, and Henry may have eaten like 2 dozen nickerdoodles.
What could have gone better?
Look, I was so happy to have completed the course in one piece that I did not even give a single shit about everything that went wrong. But, of course, there was plenty.
I suffered a little bit from show ring paralysis (I always do), and all of my half halts came a couple strides too late. This resulted in our one really big OOPS on the course, when after the triple I failed to get him back in time and we got down to the next oxer on a yucky half stride. Bless Henry's golden little heart, it would have been much easier for him to just slide to a stop, but he tried his best to jam another step in and then climb over the oxer. It was hideous and embarrassing and we took a rail down with us, but he got us to the other side in one piece.
What can we work on to improve things next time?
The biggest thing is what I've been working on for a while – making adjustments sooner. I'm pretty good at landing from a slightly under-powered jump and immediately riding forward (like fence 1) but I'm not so good about landing from a bold jump and immediately re-balancing. While I'd much rather make a mistake going too forward rather than pulling too much, I still have to keep the balance. It's especially important to do it sooner rather than later when he's in this really mild hackamore, because last-minute adjustments just don't happen.
I also need to give Henry a bit of a longer distance to the oxers, especially when they're square. He just does not jump them well from a deeper spot, never has, and despite all of our efforts, I don't think he ever will. Which is totally counter-intuitive, but there it is.
So overall, was it a great round? No. Does that mean I'm any less proud of myself or my horse for getting through it semi-capably? No. I literally never ever ever thought we'd even contemplate this level, much less try it, much less survive it, and here we are, staring it in the face. I feel so much more confident now, in myself and in my horse, and I know that we can actually do this. The finesse will come, but for now I'm just proud of us and I can't freaking wait for the professional pictures.