It's gross and disgusting here in Texas (the hottest May on record does not bode well for the rest of the summer), which means the bugs have been out in force this year too. Henry's old Cashel fly mask was finally looking too tattered to survive yet another season, so it was time for a new one. This time, though, I opted for something different – the Rambo Plus fly mask. Or as I affectionately call it, the spaceship.
I picked it up (along with a coat that I'll review in another post) from Country & Stable, a tack shop that I've heard about from other bloggers. They had good reviews, offer free shipping over $100, and free returns. Although I'm always a bit hesitant to branch out to "new to me" shops, they had the items on my doorstep within just a few days. No complaints here.
I opted for the Rambo Plus mask for a couple of different reasons. 1) I've always had good luck with the durability of Rambo Products 2) I really wanted something that sat further away from Henry's eyes. The way his face is built, his eyes are a bit prominent, and I always felt like the Cashel sat just a bit too close to them. Especially if he rubbed his face on something or rolled in mud… then the fabric would end up sitting very close to, if not rubbing on, his eye. This mask is a little on the expensive side for a fly mask, at $40, but for something that he wears 5-6 months out of the year, every day, all day, for hopefully a few years – it seemed worth spending a little bit more money to get one that would be more comfortable for him.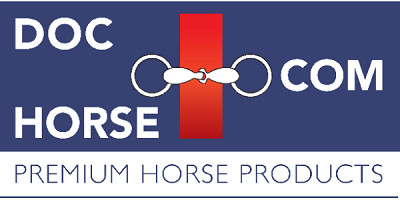 Yes, this thing looks utterly hilarious. I laughed and laughed and laughed when I first put it on him. He really does look like an equine UFO. But looks aside, the mask is pretty brilliant. It fits him well and stays in place. The ears are nice and big to give him plenty of space and airflow, and that thing definitely does stay WAY out of his eyes – even when it's muddy or he tries to rub. There are two velcro closures, one near the bottom of the jaw, and one near the top of the jaw. This makes the underside of the mask kind of anchor on the horse's jaw itself, making it more stable on the head and not quite as easy for the horse to remove.
The construction seems to be pretty top notch, too. The mesh itself has a sturdier feel than the Cashel did, a bit stiffer and more rugged. The edges have low profile fleece lining for comfort, and there's a removeable nose cover (which I took off, since my horse doesn't really need it). I'm optimistic that this mask will last him for quite a while.
The Rambo Plus mask comes in a few different colors – silver/purple (for all you weirdos that like purple so much), silver/navy, and tan/black. So far I think it's definitely a winner. When Presto stops growing so fast he'll get one too… I like it a lot more than the Noble Outfitters Guardian that I picked up for him a couple months ago. Similar design concept, but not nearly as well-executed, IMO.
Country and Stable was kind enough to offer a 10% coupon code, if anyone sees something good on their website and wants to give them a try! Facebookpony10 (of course, some exclusions may apply, depending on manufacturer restrictions).