I realized last week, as I was tearing my trunk apart looking for furacin to sweat a leg, that I had completely lost control of my horse medical supplies.
I used to have everything relegated to a small rubbermaid, but at some point I outgrew that and then just stopped putting things back after I used them, so all my supplies ended up separated, spread out, and lost. I couldn't even find my damn thermometer last time I need it, and ended up having to scrounge through the barn's med cabinet. That's the ultimate in pathetic.
So I've started pulling everything back together, taking inventory of what I still have, and jotting down things that I know are missing or have been depleted. I figured I'd wait and buy a container for all this stuff after I'm done assembling it, so I know what size I need. But so far I've been pulling all kinds of stuff out of the far reaches of my trunk… dmso, furazone, corona, ace, banamine, bute, dex, animalintex, vet wrap galore, etc. So disorganized.
I'm still figuring out what all I'm missing though, and keep paging through Riding Warehouse veterinary/health care section to try to fill in some of the gaps. They do offer a handy-dandy first aid kit that's already put together and packed with lots of the most crucial stuff… there's a basic one and a vamped up trailering one. Pretty tempted to get one of those as well, to keep with my small "trailer trunk", because I'm nothing if not paranoid, and that seems much easier than schlepping the entire med kit around when we're hauling.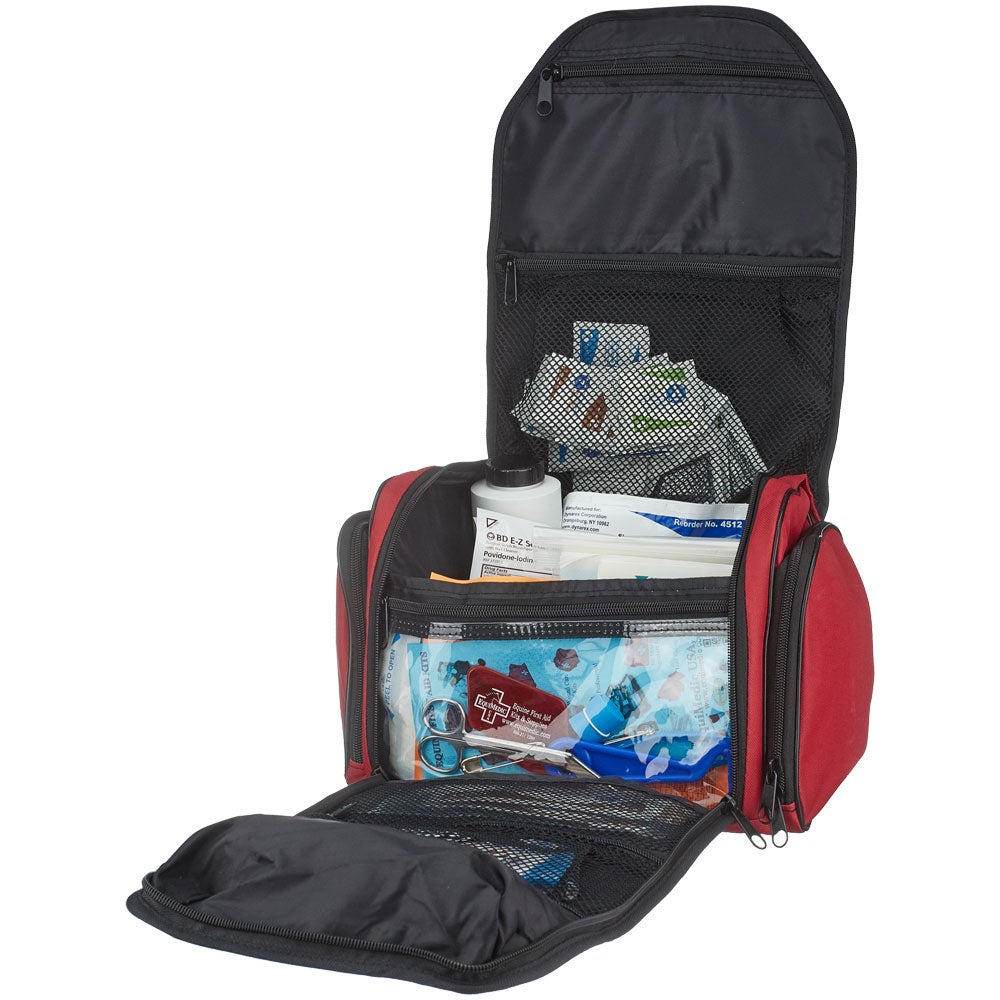 But I also need to complete my full med kid for the barn, and I've got a good portion of what I need already.
DMSO
Bute
Banamine
Dex
animalintex
vetwrap x 8 (apparently I'm good at buying that)
clear eyes
eye ointment
corona
swat
hoof boot
poultice
hoof pack
saran wrap
brown paper
scissors
duct tape
elastikon
cool cast
durasole
hoof testers
rasp
the world's nerdiest but best ice boots (these are a floater item since I always take them to shows, and they're a bit big to fit in a reasonably sized container)
wraps and bandages (also a floater for same reason)
liniment
alushield
omeprazole paste
safety pins
rags
syringes – 10cc and 60cc
needles
dosing syringe
rubbing alcohol
witch hazel
But most notably missing (so far) are:
Betadine (I swear a lose a bottle every year)
new thermometer
stethoscope
bandage scissors
more furacin, I'm almost out
more latex gloves, I have 2 left
thrush stuff
hoof nippers
twitch
gauze
Epsom salt
diapers
head lamp
How I lost my thermometer, stethoscope, and twitch somewhere over the past few years is a mystery, but they are definitely MIA. There's probably more, too, but I can't think of it off the top of my head right now.
So, what do you guys have in your med kit? Do you keep a separate first aid kit in your trailering supplies?