I have a few items in the queue for review that all have everyone's favorite thing in common: stuff I didn't think I'd like that much and actually ended up loving. It's always fun to be pleasantly surprised.
My quest for great breeches seems to always be ongoing. I have a couple of brands that I really like but you know how it is… everyone always needs more breeches and more breech options. I especially have been on the lookout for something a bit similar to my Aztec Diamond breeches. Those have been my favorite pair for a long time, but they're now going on 3 years old and I'm not sure how much life they've got left in them. Sadly, ADE changed their fit after that season, so I haven't been able to get any of their other models to fit me as well. But I do love the fabric of those, and the silicone knee grips. They were kind of like my lower budget version of my very beloved 5yo pair of Animos.
Enter the Ovation Aqua X. They have 3 of my most favorite features: 1) fantastic, comfortable, quick-dry tech fabric 2) more of a mid rise 3) silicone knee patches.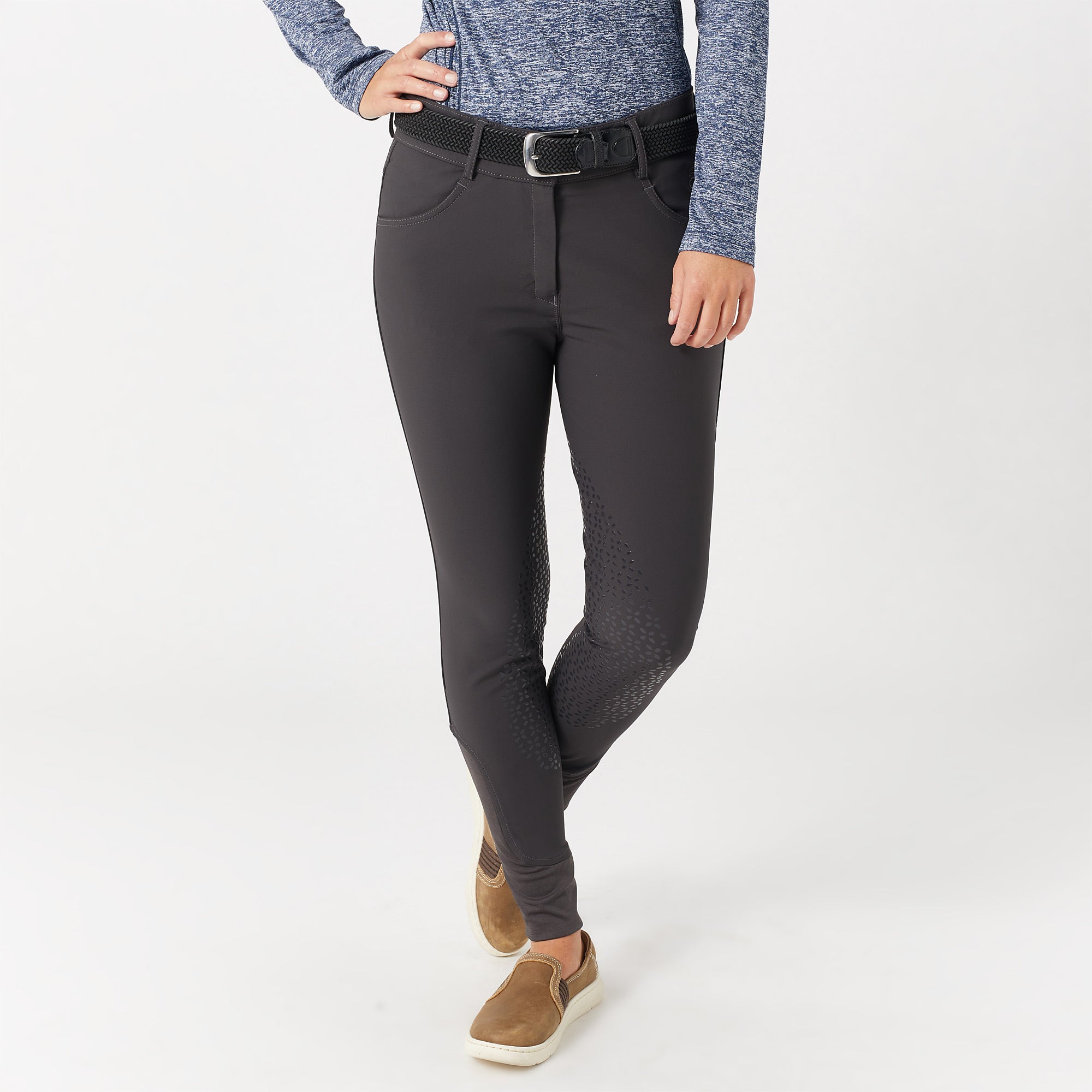 I had a pair of Ovation breeches many many years ago, back when they were a mostly cotton blend. They were ok then but I didn't have them for very long before I sold them, and that was the last time I really even looked at Ovation breeches. I've had several other Ovation items that have served me quite well… schooling helmets, bridles, breastplates, a couple saddle pads, etc. For a low budget brand, I've had pretty good luck with them over the years. I'm just such a breech snob, I guess it never occurred to me to circle back around and check out some of their newer models.
When I got the Aqua X breeches I was immediately impressed with them. The fit is really excellent on me–I love that the rise isn't too low (no worries about needing a belt!) and they are SUPER flattering in the saddle. When Trainer first saw them that was one of her first comments: "They're so flattering!". Which I think translates to "You look less fat in those pants than you normally do.". Whatever, I'll take it. The fabric is nice and light without being too thin, and they dry really fast. I think these will be fantastic in the summer when I start sweating buckets in some very unflattering places.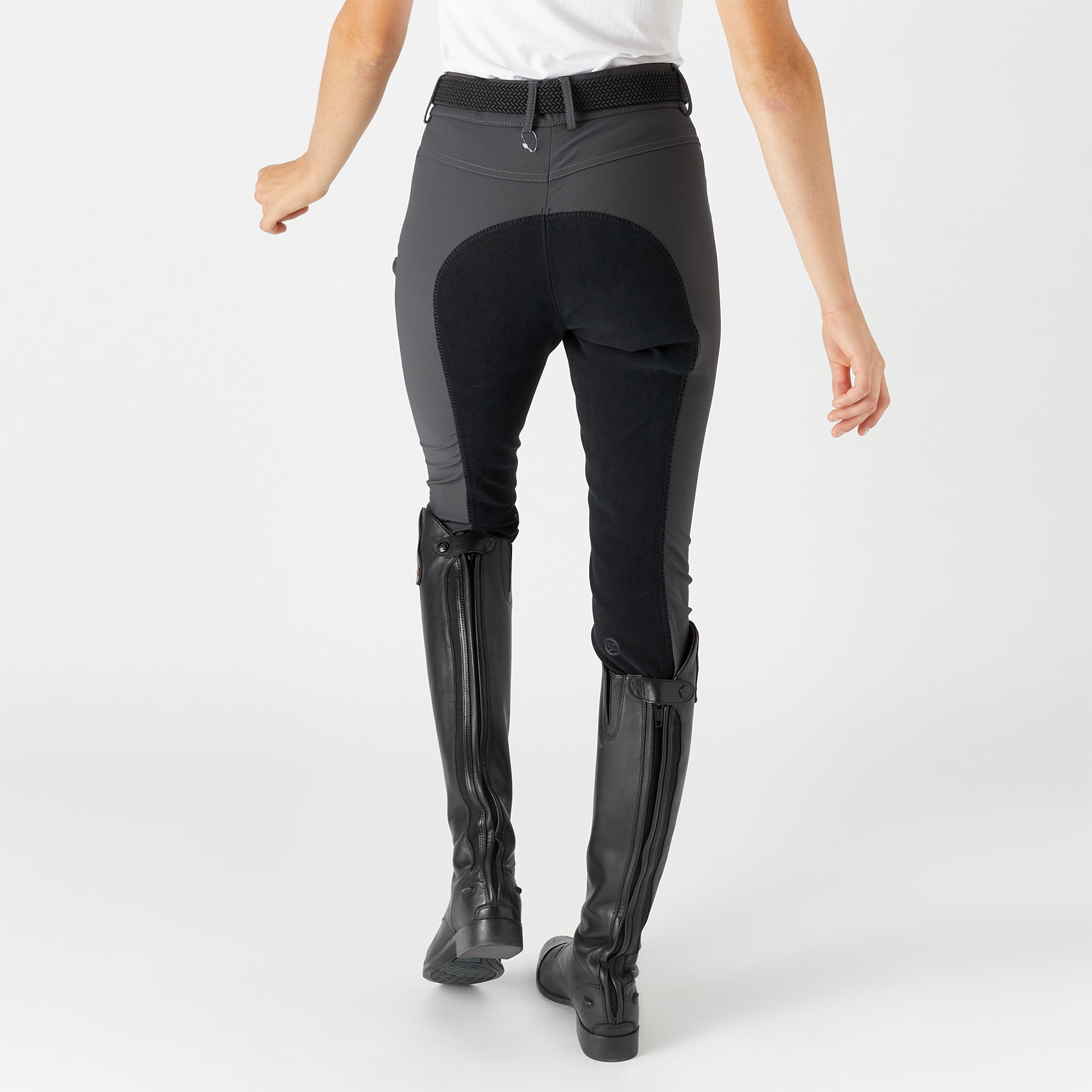 I also find them to be extremely comfortable. They're nice and stretchy without getting saggy, and have the ever-so-popular euro seat and mesh sock bottom, because velcro is literally the devil. These breeches are marketed as summer breeches, although here in the South they're quite suitable year-round. They're made from MIPAN Aqua-X material, a "cool-to-touch" nylon/lycra blend (no cotton to fade or sag!) that also offers UV protection… this same fabric technology is also used for items like cooling sleeves that are so popular with cyclists and golfers.
My only minor complaint about these is that I would like the silicone on the knee patch to come a couple inches further forward toward the knee, just to give them extra grip in the saddle. They aren't slippery, but they aren't as grippy as my Animos (which, granted, are like weary sticky spray in pants form). Otherwise I haven't come across anything else that I don't like. In fact, I've been wearing these things almost non-stop since I got them. I also wish they came in a huge rainbow of colors, but apparently they're working on that. 😉
Price wise, the Aqua X are very budget friendly. They come in both knee patch and full seat, and retail for only $116.95 from Riding Warehouse. Currently only beige and gray are in stores, but Aegean Blue and Navy should be arriving by late March (rumor has it that black and hunter green are coming in the fall also). Plus there's almost always a coupon code floating around for RW (message me if you need one!) and they have free shipping over $50, making these breeches an even better deal.
If you're looking for a lower budget, comfortable, light weight breech, especially for summer or a warm/humid climate, I definitely recommend giving these a try!