As I've been buying a few of the things we need for our new eventing adventure, mostly dressage stuff, I've been faced with a few choices. Back when I evented forever ago there weren't a whole lot of options… black or navy coat, black velvet helmet, tan or white breeches, a plain stock tie, white saddle pad, etc etc. If you wanted to be bold you put a clincher browband on your bridle, wore gray breeches, and had piping on your saddle pad. I just don't remember there being a whole lot of other things to choose from. Granted those were the days before there were so many online stores, lots of social media, and more liberal fashion trends.
For the most part my choices so far have been more conservative for dressage. No fancy browband, all black tack, and a plain white saddle pad. I have a couple of logo pads for xc and sj, white shirt and navy vest for me, navy bonnet for the pony. No crazy colored helmet covers or horse boots or anything like that.
I am not cute enough to get away with this outfit.
nor am I chipper enough to pull off this much yellow
I did have a little bit of fun with the colors on my coat… black with french blue lapels and white piping. The only other place I could think of to have a little bit of fun, and breathe a little life into my otherwise dreadfully boring dressage look, was my stock tie.
We've probably all seen the folks with cream colored stocks, pattered stocks, and satin stocks.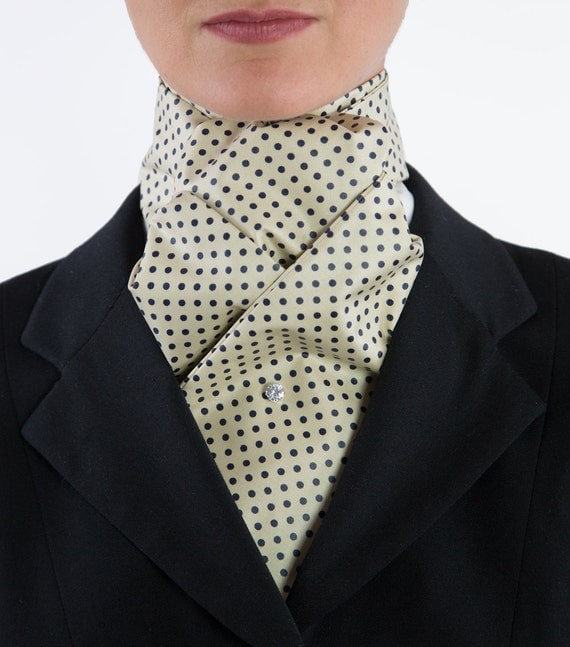 Some of them are a bit TOO bold for me, but I love the look of piping so I decided to spend the $5 more and have one made to coordinate with my coat. It's a white pattered tone on tone fabric, has black piping around neck, and some blue and black piping around the loop. A little more fun than plain white but not too out there.
What do you think of having a little bit more fun with what is generally a very conservative look, like in the dressage or hunter ring? What about something "looser" like jumpers or XC? Are you a super conservative traditionalist or braver and bolder? And if you like to spice things up a bit, what do you prefer: more fun tack, more fun rider clothing, or both?