Y'all probably know that I have been a big supporter of Cambox pretty much since it first came out. I've been rocking my isi2 (the first generation model) since 2016 and have absolutely loved it. I really cherish my helmet camera videos, and every once in a while I do go back and watch them again. It's fun to be able to relive those moments in a way that pictures can't really capture. 
My favorite part about the Cambox, and what sets it apart from most of the other popular cameras, is the size. It's very small and discreet, attaching just under the brim of the helmet… you can't even see it unless you look closely. It's also extremely lightweight (can't feel it at all) and much safer than something that mounts on the exterior of your helmet. British Eventing banned those cameras because of concerns over how they can potentially affect the angle or trajectory of your head hitting the ground – part of why this brim-mount style of camera came about in the first place. I had worn a GoPro a few times before the Cambox, and they were definitely light years apart in ease of use, weight, and visibility. Winner: Cambox. No contest.
So when Cambox came out with the isi3, I was pretty excited. It had all the same awesome design features of my isi2, but with a few key improvements. Physically, the two main changes were little tabs on each side to help make removal easier, and the ability to change the angle of the camera without needing any tools. Both improvements showed that they're definitely listening to user feedback. But the biggest perks of the isi3 are the capabilities that are built inside, particularly the WiFi and the improved video quality. The isi2 was 720p, whereas the isi3 is full HD 1080p (although you have the ability to switch it to 720p if you want). The main selling point for me, though, is definitely the WiFi. 
The isi2 was more basic. A button to turn it on/off/pause, a little slot for the tiny memory card, and a cable to charge it and to upload your videos to your computer. Any issues I've had with the use of that camera have tended to be centered around knowing just how charged it was. It had LED indicator lights that told you when the battery was low, but nothing precise like we've all become so accustomed to with our phones. Since the isi3 has it's own WiFi, it also has it's own app, with all kinds of information available right there at your fingertips. Which, naturally, I'm relatively obsessed with.
You can check the camera angle, check your battery life, switch modes depending on weather conditions, set the camera exposure, change the volume of the audio (what, no one wants to hear my heavy breathing?), take photos, see exactly how much space is left on your memory card, and upload your videos straight from your camera to your phone. Plus you can control the camera via the app to start/stop/pause recording, if you'd rather use that than the buttons on the camera itself. I LOVE having the app, it takes all the guesswork out of using the camera and offers a lot more video options. And it's a big perk to be able to directly and wirelessly download the video straight to my phone rather than having to wait until I have access to a laptop and find the cable, particularly since I like to post my videos to social media. I also noticed that the vibrations (which along with the LED lights help you know whether you're recording or not) are much more obvious and easy to feel/hear on the newer model. Two big huge thumbs up for all of the improvements in the isi3.
The isi3 runs about $100 more than the isi2, depending on which package you buy, but I have to say that for me it's definitely worth it. All of the improved features address every single little complaint or issue I ever had with the isi2, while still keeping all the fantastic features that made me love it in the first place. Having the WiFi capability is huge, and adds a ton of ease of use.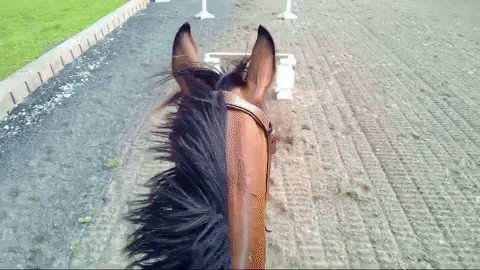 It also comes in lots of fun colors too, because clearly they understand how important that is to eventers especially. I have a basic blue, but there's also everything from the most discreet all-black to lime green to hot pink to red white and blue (okay there's no navy or hunter green, we've found my one complaint). They also have a North American base in Colorado now (Cambox are made in France – in Nantes coincidentally, where Presto's spirit human Mimi lives), which simplifies shipping and service for US customers. Mine shipped really quickly from Denver. You can use code 900FBPONY for a discount, and yes it will stack on top of any other deals or offers! I don't get anything from it, I'm just such a big fan and a loud mouth that they were kind enough to create a code for my readers. 
I also noticed, for those of you who seem to perpetually have gift cards burning a hole in your pocket, that Riding Warehouse is carrying the isi3 now too! I loved my isi2, and I love my isi3 even more. Well done, Cambox.