We did a thing, guys.
Yesterday Hillary and Karen (how appropriate that a group of bloggers was involved, considering this horse was created and raised on a blog) came over to help me put a first "real" ride on Presto. Karen was the official photographer/videographer, and Hillary was my groundperson. Considering I'm not dead and also have extensive video (next month's training vlog will have more!), they both performed their duties exceptionally well. 
I brushed Presto, tacked him up, and we headed out to the arena. I don't have a round pen, and the only arena is the dressage arena with it's low walls, so I opted to use a lunge line for the first ride. We went out, I lunged him both ways at the walk and trot for a couple minutes first to make sure the whoa worked, then I handed over the lunge line to Hillary and climbed aboard.
I haven't actually swung a leg over him since that one and only time I sat on him last May, but he didn't seem to care. We've continued the mounting block sessions in that time, so the idea of the human standing there or leaning weight over was well-established. I swung aboard and he was like "oh yeah, ok, we've done this before.". Then we asked him to walk off and he was like "Whaaaaaat? I cannot possibly move with this giant lady on me omg how?". With some encouragement we got him walking, and after a few wobbly steps he adjusted to carrying a human.
Hillary led us for a couple minutes as he got the idea, then we moved on to lunging on a circle at the walk. We tested the whoa (works exceptionally well), the go (much more difficult) and the steering (lol). After a few tries he got the basic idea of squeezing leg = go somewhere (where, who knows, just somewhere), so we took the lunge line off and went for our maiden solo voyage.
Not too bad for a first attempt. 
We wandered around for a while, stopping and going and attempting some steering, then we figured, well… might as well try trotting? So we put the lunge line back on, and with more encouragement and a lot of clucking, we got a couple trot circles each direction.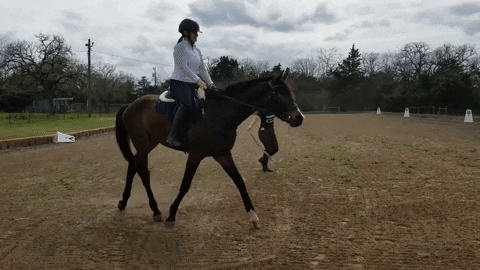 He tried to get a little "naughty" the second direction by snaking his head around (which was really just his attempt to stop, because whoa is his favorite) but we kept asking him to go forward through it. Definitely never any consideration of bucking or bolting or anything like that. His main motivation is clearly laziness. Next time we'll use a lunge whip. I opted not to for this first ride because every once in a while it can make him a little over-enthusiastic, but clearly I don't think we're going to have any issue with whoa.
Despite the ground driving we've done he's remained fussy about the bit and steering. The wolf teeth are out and the dental is up to date, so at this point he just has to get used to it. It'll come with time. His attention span is also approximately 3 seconds long, he'd be concentrating on what we wanted and then look off into the bushes or trees or across the pasture and completely forget. Nothing reactionary about it, just gawking at things that are clearly far more interesting than we are. 
He is definitely very narrow at the moment, much like his mother was at this age. It feels good to sit on him though, and actually ride him a little. I definitely think a summer of trail riding and hacking will be just what he needs to help him figure out his legs and his balance and get a little stronger in his body. Hopefully I can get a handful of rides on him in the next couple months and get the forward/steering established enough to be ready for some summer adventures. 
And with that, Presto is officially a riding horse. For a first ride I think it went really well. He was a little confused but certainly never worried or upset at all, and I think he'll learn quickly. He got an extra cookie last night, because the horses that get ridden (ok Henry, it's always just Henry) get an extra cookie at night check as a thank you. He still seemed skeptical as I gave him his second cookie (and Henry was mad to witness this) but I'll buy him over to my side sooner or later. The "working" life has it's perks.
Many many thanks to Hillary and Karen for helping out and documenting the occasion. It takes a village!