It's been a bit of a boring summer as far as purchases go. First I was saving for Coconino, then I was saving for Burghley. The purse strings have stayed pretty tight around here. I didn't even buy myself anything nice for my birthday, and usually I get myself the best birthday presents. But my front porch hasn't remained totally barren, as I've picked up a few "actually needed it" items lately.
First: new bell boots. The pretty navy blue fake leather Horze ones that I bought in Ocala in February died pretty quickly. At the previous barn we were riding in tall grass every day, and it just totally wore away the outer fabric and tore them to shreds. The exposed inner fabric grabbed onto every single burr and sticker, so after a while those boots basically turned into weapons. This time I opted for something a little heavier-duty and went with the LeMieux leather bell boots. I like how the leather ones look, and they can take a pretty good whack without ripping or tearing or coming off.
So far so good, they're nicely made and rugged and seem like they'll take some abuse. Definitely way nicer than the Horze ones. I've been using the LeMieux for about a month and they still look new.
In the same order I picked up a "real" girth for Presto. His first girth was a very basic $15 ugly synthetic straight-cut type of thing, perfect for holding a saddle on but not much else. That one is getting a little small, and Presto is definitely shaped a little weird – like a horse that needs something anatomically shaped. Plus if I'm going to actually ride him a few times over the winter (even if it's just 10mins of w/t) I'd like for him to have a comfortable girth. Kind of important. Henry's are still a bit too big, so I scooped up a FlexRider anatomic girth on sale. It's cheap, it's shaped nicely to give elbow clearance, it's got elastic, it's got roller buckles and the lining is comfortable. What else do you need in a starter girth? I grabbed a 22″, which fits Presto great (for now), and he's seemed happy in it the two times he's worn it. I think it'll serve our purposes just fine.
I already did a preliminary "preview" of the Premier Equine pads that I picked up for Princess Henry, but I just want to update and say that I really love these pads. The rubbing issues are gone, and Henry seems to really like them. I love how they sit on him, the cut is pretty perfect. I will definitely be picking up some white ones at some point to use as show pads. I do wish PE would make more color combos that aren't quite so… uh… garish?
I dunno who I have to bribe to get a hunter green/natural or a hunter green/navy, but I'm willing to do that. Even a nice charcoal/navy would be really nice, and no one's eyes would be bleeding. Although maybe I should be glad that I find most of the colors to be offensive, since it prevents me from buying tons of them.
But anyway, thank goodness that they do have boring navy and boring white (and boring black, if for some strange reason you prefer that to navy, which I would find confusing but ok) for people like me. They really are super nice pads for the price, I continue to be super impressed. They do 20% off sales on different items every day, and these pads seem to come up at least once a week, so that makes them an even better deal.
On a similar note, while I was scrolling through RW getting links for this post, I happened upon these space boots.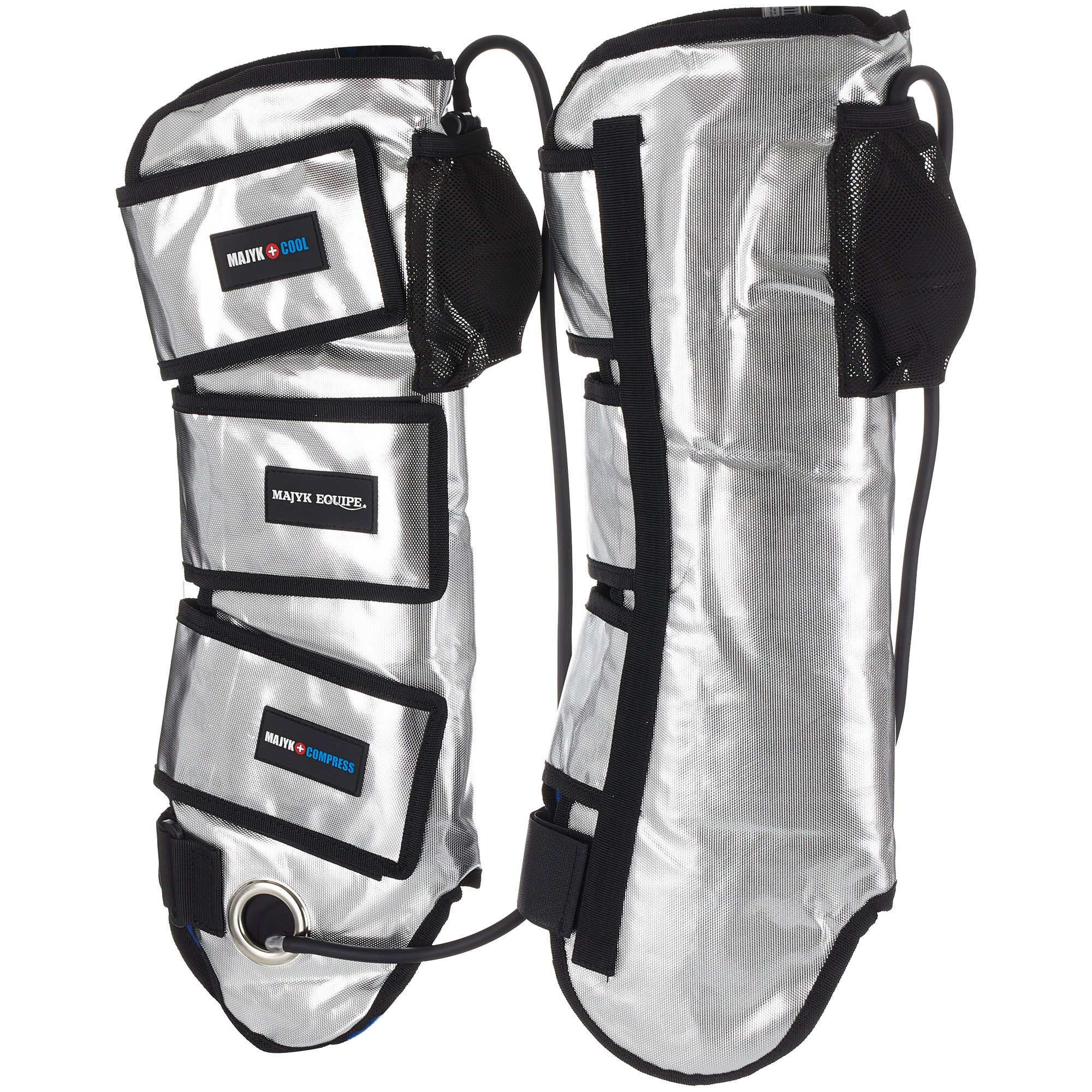 Ok they're ice/compression boots, but they look like space boots. In the coolest possible way. Like… NASA horse. I kind of love them, and I'm really intrigued by them considering that I'm in the market for just this exact type of thing. Anyone seen or tried these boots yet? I have always been a Majyk Equipe fan…